Sat, 31 Dec 2005, 09:59 AM



End of the Year Things...



By Bob Frey


Photo copyright 2005 Auto Imagery, Inc.





Watch for one of the great alcohol funny car drivers in the history of the sport to possibly, I said possibly, get out of the seat this year and turn the driving chores over to someone else. And watch for an Olympic champion to possibly, I said possibly, be racing at the Winternationals. Are these two items related? Possibly, I said possibly..And what Top Fuel driver can be seen on television doing commercials for a hair replacement product? .And look for a new fire suit, helmet and safety company to get involved in drag racing this year..As one of several hundred (or at least several dozen) journalists / reporters / announcers / staff members / people whom
National Dragster
asked to select the 2005 Performance Awards I was anxious to see the final list when it was published. Before I submitted my choices I spoke with a couple of folks whose opinion I value greatly and then, after careful consideration, came up with my list. I have to admit that when the final version was published in the December 16
th
issue of the magazine I was impressed with the choices even though several of them didn't match up with mine. It is, after all, a subjective poll and everyone is entitled to their opinion. It's also very hard, if not impossible, to get a consensus on things like "the best run of the year," or the "most improved" driver and things like that. Still, it's a very worthy endeavor that the folks at
Dragster
undertake each year and I'm glad that they asked me to participate. Having said that, here are a few of the choices where my selection and theirs went in different directions.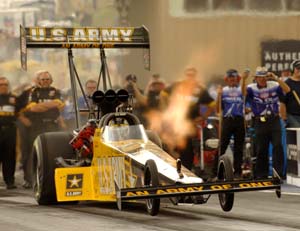 Schumacher at Denver.
As good as
Tony Schumacher
was it surprised me to see that his run of 336.15 mph at
Columbus
was chosen as the "Outstanding Run by a Top Fuel" car for the year. Now don't get me wrong, that was a great run, and so was his 337 mph blast in Brained but for
sheer
power I thought that his 331.45 mile per hour sprint in
Denver
was the most astonishing run of the year. That's 331 mph at a mile up in the air, now that's impressive..Tony also won the "Professional Driver of the Year" and that should come as a surprise to absolutely nobody. I did, however, have a different choice for the "Sportsman Driver of the Year."
Peter Biondo
was the choice of the folks at
Dragster
and it's really hard to argue with that selection. Peter had a great year, another one, and he won Indy and he won his fourth national championship and he did it in dominating fashion. But my vote went to
Steve Torrence
who had a great year himself. Steve went to thirteen races and he made eleven final rounds and won a national championship in his rookie season Steve had a career year in his first year in the class and when you add the fact that he was taking over after the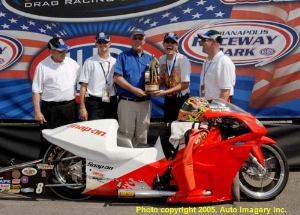 Johnson in Indy Winner Circle at Reading
untimely death of
Shelly Howard
I think it makes his accomplishment even more outstanding..
Andrew Hines'
six-second run at Gainesville seemed like a logical choice for "Run of the Year" in the professional class but I very rarely take the obvious choice and that's why I picked
Greg Anderson's
208.33 mph shot at the same race. 208 in a Pro Stock car is pretty impressive and I thought it was the run of the year, but I realize that there aren't many guys who can say they were barrier-busters or history makers like Andrew can. Having said that, I guess his run was the run of the year. Ironically, I had Andrew's run as the best in the Pro Stock class for the year and Greg won that for his Gainesville showing so I guess it all balances out, doesn't it?...Andrew also won the
N.D.
award for the "Outstanding Performance by a Pro Stock Motorcycle" at an event while I gave the nod to
Steve Johnson
.
Did you hear, Steve won Indy?
The Houston final round between Tony Schumacher and Cory McClenathan was chosen as the "Top Fuel Race of the Year" and I had that second on my list. I thought that Clay Millican's 4.53 win over Doug Kalitta's 4.47 at Pomona was pretty special so I voted accordingly..Tony was the winner again with his one race performance in Chicago, a race where he put 138 points on the board and that means that he won the race, qualified number one and set the national record. OK, so that was a pretty good weekend but so was Scott Kalitta's run at the Winternationals when he made all four elimination runs in the 4.40 range..In the Funny Car department we agreed on the "Race of the Year," the match between Tony Pedregon and John Force at the final event of the year. Anytime you can beat John, anytime you can beat John on a holeshot, anytime you can beat John and keep him from winning the championship, well,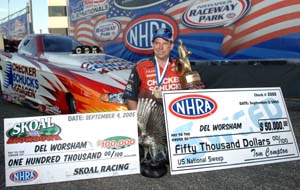 Worsham swept Indy.
anytime you can do all of that on a single run that's pretty special. And it was.I liked
Gary Scelzi's
331 mph run at the Winternationals for the "Run of the Year" in the Funny Car class but the nod went to
Cruz Pedregon's
great 4.680 at
Chicago
. Granted, that was the quickest run of the year but brother Tony went 4.680 at the same event and not many other guys ran 331 in a Funny Car, or in any car for that matter, during the year..There had to be a consensus of opinion on the best showing by a Funny Car driver for one event and that went to
Del Worsham
for his Indy sweep.
Del
still hasn't lost the smile from his face after that one, but then,
Del
's almost always smiling, isn't he?
It's hard to disagree with the choice of Ron Erks' great run at Maple Grove for the "Outstanding Sportsman Race of the Year." I mean, when you go .005 on the tree and run 8.903 on your 8.900 dial that's pretty good. And when it comes in the final round after your earlier final round appearance in Super Gas at the same event that makes it even better. And when you have to beat a guy (Jim Morrison) who went .010 on the tree and ran 8.904, well, you deserve something don't you? Of course you do and that's why I picked the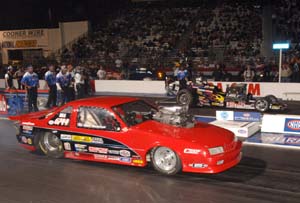 Smithfield vs Kaplan
Competition Eliminator final round at the last race of the year. Hey, anytime you can get a couple of supercharged cars going at it in the final round that's something special. I mean it only happens like once in every twenty-five years of so..
Jeff Taylor
, may be, pound-for-pound, the best driver in the sport (or is that Peter, or is it.) was the editor's choice for "Outstanding Performance by a Sportsman Racer" at an event for his great showing at the Columbus Sports Nationals. All he did was win two events in one day (one the rain-delayed race from
Bowling Green
) and that's special, not to mention really hard to do. In retrospect, that may be the best performance of the year but I voted for
Hillary Will's
run at
Las Vegas
in this category. All she did was qualify number one, set low elapsed time and top speed and win the race. Tough choice..Now that I think about it, just who is the best pure driver in the sport? Just thought I'd ask..
Tom Conway was tabbed as the "Comeback of the Year" for rebounding after the death of Shelly Howard and tuning Steve to that Top Alcohol Dragster national championship and that is very richly deserved. I, however, picked Warren Johnson for his fine season after a less than Warren-like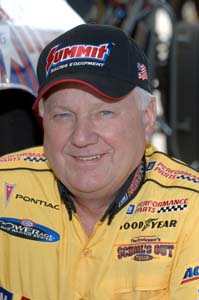 Warren Johnson
year the year before.
Bob Glidden
put it even more succinctly at the SEMA show when he said that Warren, well how can I put this, didn't do well last year (not Bob's words, his words rhymed with 'lucked)..It's hard to disagree with
Jack Wyatt's
win over
Robert Hight
in Bristol as the biggest "Upset of the Year," but I did. I tabbed
Dale Creasy's
win over John
Force

in
the first round at
Chicago
. OK, so both were major upsets but there's just something about beating John Force that makes this special, and for Dale to do it at his home track made it even more special..I went with
Steve Johnson
's Indy win as my "Upset of the Year" for an event while the other selectors agreed on
Allen Johnson's
win at
Phoenix
. I guess anytime someone other that Greg Anderson or
Jason Line
win a Pro Stock race it's a big upset, but how many times does a guy who lost Indy on Monday win it the next day? Just thought I'd ask..The "Most Improved" awards went to
Ryan Schnitz
and
Jimmy Jones
in the pro and sportsman classes and, as you probably guessed by now, those weren't my choices. I gave the nod to
Rod Fuller
and
Bernie Harrington
. As good a year as Jimmy Jones had, and he had a great year, the fact that Bernie almost cracked the top ten in points just got my attention. Now that I think about it I should have voted for both of them, because Jimmy and Bernie both had great seasons and they get extra credit for being nice guys, too..There was an award called the "Oh No" award and it went to
Brandon Bernstein
for losing on a bye run at Denver.
My vote.the "Crash."
Ken Koretsky
and
Bruce Allen
were involved in a wreck that has since become known simply as the "crash." Even people who have never talked to me about drag racing asked me about that crash and that has to be the "Oh No" award for the year, only because there isn't an award called the "Oh S___
"

award
, is there?....We all sort of agreed on the "Mechanical Men" award that went to the crew chiefs for the champions,
Byron Hines, Rod Downing
and
Jeff Perley, Mike
Neff
and
Alan Johnson
although I did have Tom Conway on my list, too. Hard to argue with any of them I think.
The folks at
National Dragster
are to be applauded for a great effort with these awards, even if they didn't pick all of mine. Taking an entire year and trying to pick out the highlights isn't easy, especially when you had a year like we did on the NHRA
POWERade
tour. They also should be commended for doing a great job with
National Dragster
in general. Here's a magazine (or newspaper as it used to be called) that was once the only place where you could get the results from the national events and you couldn't wait to have it show up in the mailbox. Now, in this always changing media world, they've made great strides in keeping it current, up to date and informative and that's quite a challenge. So, for the end of the year, a big "congratulations" to everyone at
National Dragster
, keep up the good work and I'll try to do better next year.
By the way, one thing that has to get the "best of" award is the new book by drag racing's greatest photographer, Steve Reyes. Called "Quarter Mile Chaos" the book features hundreds of Steve's best shots, some in color but most in black and white, and it is now available for purchase. You can find it on e-bay or at most of the on-line book stores. Whatever you do, if you consider yourself a fan of this great sport, get a copy of this book, you won't be disappointed. I am very fortunate to have known Steve over the years and I have a couple of his classic shots (that are in the book) on my wall at home. Among them are the classic shot of Larry Bower's clutch explosion, Lew Arrington's "Brutus" Funny Car exploding a transmission on the starting line and others. They are all amazing shots and you can see them all through the talented lens of Mr. Reyes in his new book. Hey, it's not too late to get one for that special someone on your gift list (like yourself).




NHRA: 10 Most Recent Entries [ top ]

May 21- TOPEKA - Pro Mod Championship Points
May 21- TOPEKA - Monday Video
May 21- TOPEKA - Monday Pro Mod Wrap Up
May 21- TOPEKA - Monday Wrap Up
May 21- TOPEKA - Championship Points
May 21- TOPEKA - Summary of Eliminations in Top Fuel
May 21- TOPEKA - Summary of Eliminations in Funny Car
May 21- TOPEKA - Summary of Eliminations in Pro Stock
May 21- TOPEKA - Summary of Eliminations in Pro Modified
May 21- TOPEKA - Summary of Eliminations in Top Alcohol Funny Car