Tue, 27 Dec 2005, 02:29 PM



Scott Kalitta Wins Down Under in Sydney's Boxing Day Racing Festivities



Courtesy of Todd Myers


Photography Courtesy of www.dragster.com.au





Teammate and Native Australian Dave Grubnic Wows Countrymen En Route to Final Round



SYDNEY, Australia --
In the quickest side-by-side drag race in Australian history, two-time NHRA Top Fuel World Champion, Scott Kalitta, who announced in November that he will switch from Top Fuel to Funny Car in the 2006 NHRA POWERade Drag Racing Series, grabbed the title trophy and bragging rights over his Kalitta Motorsports teammate and native Australian Dave Grubnic in the final round of Top Fuel eliminations at the USA vs. Australia Boxing Day Top Fuel Nitro Thunder at Western Sydney International Dragway in Sydney, Australia Tuesday.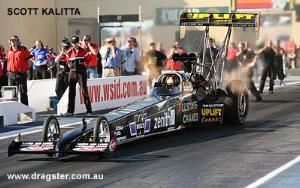 Scott Kalitta
Kalitta's charge of 4.788 seconds at 298.21 mph was just barely enough to overcome Grubnic's pass of 4.805 sec. at 259.66 mph in the finals. The final round Tuesday capped off two days of drag racing at WSID. Competitors made three qualifying attempts Monday to have the opportunity to race in Tuesday's final eliminations.
Kalitta, 43, is quite happy to leave the Top Fuel class on such a high note. "This whole experience down here has been great," Kalitta said. "My family made the trip over here with me and we have had a blast.
"This will be something I remember for the rest of my life. Everyone here has been terrific and the facility at WSID is really top-notch. I want to thank all the racing fans here and all the staff at the track for making us all feel so welcome and for giving us a great place to race."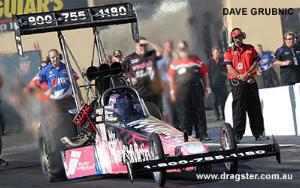 Dave Grubnic
Grubnic, a native of Brisbane, Australia, was No. 1 qualifier (4.657 sec., 321.58 mph) in the eight-car field for the event Down Under. His stellar qualifying lap made him the second quickest and the second fastest man to traverse a quarter-mile drag strip on Australian soil. Grubnic became the sixteenth and final member of the Australian four-second club with his second qualifying session effort of 4.82 sec. He also became only the sixth driver to surpass 300 mph in Australian history with his 305.36-mph posting in that same session.
"This has always been a dream of mine," Grubnic, 43, said. "I have always wanted to run in front of my family and friends in Australia, and the fans here have always been so supportive of me.
"I wish we could have taken the trophy away from Scott, but I'm really happy just to be here and get to race in my homeland. I'm really happy for Scott too. He's moving on to Funny Car next year in the States, so to get a win in his last competitive ride in the cockpit of a dragster is great."
Grubnic, driver of the StriVectin-SD Top Fueler, has posted consecutive NHRA top-five championship points finishes, and he picked up an emotional and long overdue first NHRA national event win this past May in Topeka, Kans., to become the first non-native North American to win a Top Fuel trophy. He is an 11-year nitro dragster veteran.
Kalitta was the No. 2 qualifier (4.809 sec., 297.61 mph) for the Boxing Day, a national public holiday in Australia that got its name from an old tradition when employers boxed gifts for their workers on the day after Christmas, event. In the United States, Kalitta has garnered 18 NHRA national event wins (17 Top Fuel, 1 Funny Car) in his 24-year drag racing career. He and his family reside in Snead Island, Fla.
Kalitta and Grubnic drove Kalitta Motorsports-prepared dragsters during the fast festivities. The two cars they drove were sold out of the Kalitta Motorsports stable to Australian racers and businessmen Santo Rapisarda and Jim Read earlier this year. Longtime Team Kalitta tuner Jim Oberhofer was on-hand to turn the knobs on Grubnic's Read-owned dragster while drag racing journeyman tuner and driver Glenn Mikres called the tuning shots on Kalitta's Rapisarda-owned rail.
The American "invaders" were joined in the final eliminations field by reigning Australian Top Fuel champ Darren Morgan along with Phil Read, Bob Shepherd, Terry Sainty, Steve Read and Luke Shepherd.




NHRA: 10 Most Recent Entries [ top ]

Jun 23- NORWALK - Saturday Wrap Up
Jun 23- NORWALK - Total Qualifying Bonus Points
Jun 23- NORWALK - Pro Stock Motorcycle Qualifying, Session #1 Bonus Points
Jun 23- NORWALK - Funny Car Qualifying, Session #2 Bonus Points
Jun 23- NORWALK - Top Fuel Qualifying, Session #2 Bonus Points
Jun 23- NORWALK - Pro Stock Motorcycle Qualifying, Session #2 Bonus Points
Jun 23- NORWALK - Pro Stock Qualifying, Session #1 Bonus Points
Jun 23- NORWALK - Pro Modified Eliminations Ladder
Jun 23- NORWALK - Pro Modified Final Qualifying, Session #2 Order
Jun 23- NORWALK - Funny Car Eliminations Ladder