Tue, 27 Dec 2005, 10:41 AM



Bob Gilbertson to Debut New Graphics in 2006



Courtesy of Berserko Bob



CHARLOTTE, N.C. --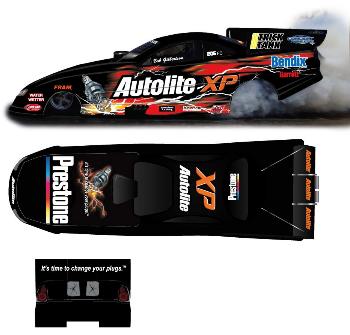 Gilbertson's Funny Car rendering.
Bob Gilbertson's Autolite XP Spark Plugs/Prestone Antifreeze nitro Funny Car will have a new look for the 2006 NHRA POWERade season. Gilbertson, who will be campaigning a Dodge Stratus next year, will have all new graphics designed by his co-crew chief Nick Boninfante, Jr.
"Nicky is a pretty talented guy in more ways than one," Gilbertson said. "He knows his way around a fuel engine as he's been doing this for 20 years but he also has a hidden talent for art and when he came up with this paint scheme I was blown away."
Boninfante spent many nights after work at his family run business, Boninfante Performance Clutch Parts, coming up with the design and is happy with the way it turned out.
"There's a lot of great artists out there who design paint schemes, guys like Kenny Youngblood or Greg Ozubko and they were heroes of mine when I was growing up," Boninfante added. "I've always wanted to do a wild scheme like this and Gilby gave me the go-ahead and I'm really happy with the way it turned out, I'm sure it will turn some heads when we debut it at the Last Chance test session in Las Vegas."
The new car will also have some new sponsors on it's flanks. Red Line Oil and their Water Wetter line will join American Racing Wheels and Garrett Turbochargers as new marketing partners for 2006. Returning sponsors include FRAM, Simpson Safety Equipment and their line of GS3 Motocross accessories, Doug Herbert Performance Parts, Concept Haulers, Trick Tank, Boninfante Clutch Parts, Mechanix Wear, Goodson Machine Tools, Hedman Hedders, Relative 2 Motion Truck Wheels, A1 Technologies and Southland Sensors.
"We're pretty revved-up for next year," Gilbertson continued. "I'm really looking forward to getting back out there and with all the changes we're making I'm pretty sure we'll be in the thick of things and meet out goal of winning some races and finishing in the top ten, something that I don't think is out of reach."




NHRA: 10 Most Recent Entries [ top ]

Jun 17- BRISTOL - Summary of Eliminations in Top Fuel
Jun 17- BRISTOL - Summary of Eliminations in Funny Car
Jun 17- BRISTOL - Summary of Eliminations in Pro Stock
Jun 17- BRISTOL - Summary of Eliminations in Pro Modified
Jun 17- BRISTOL - Summary of Eliminations in Super Comp
Jun 17- BRISTOL - Summary of Eliminations in Stock Eliminator
Jun 17- BRISTOL - Summary of Eliminations in Top Sportsman presented by RacingRVs.com
Jun 17- BRISTOL - Summary of Eliminations in Super Stock
Jun 17- BRISTOL - Top Fuel Final, Round 4 Eliminations
Jun 17- BRISTOL - Funny Car Final, Round 4 Eliminations