Mon, 26 Dec 2005, 11:43 AM



At Sixteen Years Old He's Already A Champion



By Bob Frey


Photo copyright 2005 Auto Imagery, Inc.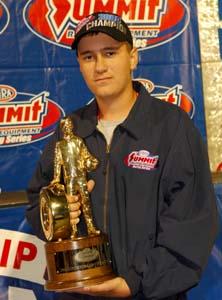 Kyle Roberts
There aren't a lot of sixteen year olds out there who can say that they have already won a national championship. Kyle Roberts can. Kyle, a third generation racer from Florida, flew twenty-five hundred miles across the country, from his home in Florida to the famous race track in Pomona, California, and then proceeded to win the Sportsman Eliminator championship of the Summit Racing Equipment Racing Series. "It was awesome. When I saw how many people were in the stands I couldn't believe it. I've never raced in front of a crowd like that before," Kyle said. At sixteen years old Kyle admitted to being a little intimidated by the crowd and he said that he believes that was reflected in his sub-par .105 reaction time in the opening round. "I was nervous and a little bit overwhelmed," he said about that round one start. "But I got it under control after that." I guess he did, as he put a perfect reaction time on the boards in round two and then went .008 in the all-important final round.
Kyle Roberts isn't the only drag racer in his house and he isn't the only champion, either. His dad, Kevin, had a pretty good run at the Division 2 Summit Racing E/T finals when he won the Race of Champions. "I had a pretty good year, "the elder Roberts said. "I won the track championship and then was fortunate to win the Race of Champions at the bracket finals. And then Kyle did even better. We're pretty proud of him." Ironically, the car that Kyle took to the national championship is the same one that his dad has owned and raced for years. "We've had the car since 1985," Kyle said. "Not only did dad race it for a while but a few years ago we drove the car to New York and dad raced it at Lebanon Valley Raceway and he won the Heavy Eliminator class in it." And just what were a couple of guys from St. Petersburg, Florida doing in New York? "I was born in upstate New York," Kevin said. "And my dad was the tech inspector at Lebanon Valley." So it looks like drag racing is a long-time Roberts' family trait.
Once Kyle had secured the spot in the Summit Racing Series finals in Pomona he and his dad had to find a way to get the car from one coast to another. "John Brannen is a friend of ours and he's a truck driver by profession and he offered to take our car to Pomona." In the true tradition of truck drivers all over the country, John wanted to make the best of the trip so he also offered to bring another Division 2 winner, Rod Johnson, to Pomona. "We had three guys from Sunshine Dragstrip who won at the division race and were coming to California," Kyle said. In addition to Kyle and Johnson, Paul Dorn, the Super Pro champ also was headed west and the fact that were some familiar faces in California made the experience a little easier for the sixteen year old. "It was nice having those guys there and we spent a lot of time together at the track." During the time trials Kyle did a very good job on the starting line. "I think my reaction times were something like .004. .007 and .020," Kyle said. "And that's why I was surprised at that .105 light in round one." Kyle said that after that run, and after he realized that he "got lucky" by beating Dustin Travis in round one, he settled down, concentrated and went about doing what his dad told him to do. "He gave me some good advice all weekend. Mostly it was mental stuff, like how to focus and put everything out of my mind except the race," Kyle said. Good advice from a man who has raced for years, won a lot of races and done it in the same car that Kyle was racing. In round two Kyle put that perfect reaction time on the boards as he beat Fenton, Missouri's David Gamber, and then he pulled it back a little bit in the final round and went .008 on the line before beating Arizona's Ray Baumgardner. "I knew I didn't want to foul but I had to be good on the line, because all these guys are good," he said. "I don't know why but I wasn't as nervous I the final round as I was in that first round but I wasn't." Maybe it was all of that good advice from dad, Kyle.
Kyle Roberts is still in school and he's taking part in the automotive academy program at his high school. "I'm pretty handy on the car. My dad and I have done a lot of projects together and I like the mechanical aspect of the car, but I enjoy the driving, too. It's about a fifty-fifty deal as to what I like most about it," he said. He also said that he thinks it's about the same percentage, fifty-fifty, when it comes to racing. "The car has to run well and be consistent and the driver needs to focus and do his job, too. Both things are important." The mechanical projects that he mentioned center around the 1983 Camaro that he races, a car that has been in the family since 1985. "It's a 350 cubic inch Chevy engine and it's pretty consistent." Kyle and his dad are always working to keep the car in top running condition and Kyle said that they "just got a new set of heads for the car today and we'll be putting on them real soon." Kyle also said that after racing and winning in California he returned to his home track where everyone recognized him and congratulated him. "It didn't help on the track, though, I didn't do too well. Those guys are tough."
Like a lot of sixteen year olds Kyle already had some plans for the future. "I'd love to continue racing. Top Fuel would be cool." When I asked why Top Fuel instead of Pro Stock or another class, Kyle said that "Top Fuel cars are the best. In a perfect world that's what I would like to do. Pro Stock wouldn't be bad but if I had my choice it would be Top Fuel." When you're sixteen years old and already a national champion it never hurts to set your goals high, and based on what he has already accomplished, don't bet against seeing Kyle Roberts, the Summit Racing Sportsman Champion behind the wheel of a dragster someday. And his father will be right there with him giving him advice that will make him a winner at that level, too.




NHRA: 10 Most Recent Entries [ top ]

May 24- BOWLING GREEN - Edmond Richardson Still Finds Major Thrill Racing at JEGS NHRA SPORTSnationals
May 24- NHRA Expands Leadership Team with Two Executive Hires and Two Promotions
May 24- TOPEKA - Lucas Oil Drag Racing Series Wrap Up
May 24- TOPEKA - Special Awards
May 21- TOPEKA - Pro Mod Championship Points
May 21- TOPEKA - Monday Video
May 21- TOPEKA - Monday Pro Mod Wrap Up
May 21- TOPEKA - Monday Wrap Up
May 21- TOPEKA - Championship Points
May 21- TOPEKA - Summary of Eliminations in Top Fuel