Sun, 25 Dec 2005, 01:05 PM



Kevin Brown Inks Three Year Deal with XBALM



Courtesy of Jokers Wild Racing Marketing



OGDEN, Utah --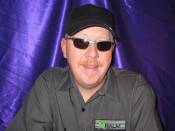 Kevin Brown
Kevin Brown of Jokers wild racing (Top Alcohol Dragster) inks a three-year deal with KTC, manufacturers of XBalm lip balm and apparel, XBalm is breaking new ground with their marketing entering the motorsports world, at present XBalm offers 4 fantastic flavors in their ever growing line of Extreme protection products, Mint, ICE, Citrus and Tropical are the flagship flavors from XBalm. They are planning the release of a new flavor at an upcoming event! Most people overlook the harsh outdoor conditions and damaging UV rays that they subject their lips to during daily activities. Wind, cold temperatures and dry air strip away natural moisture from cheeks and lips, leaving your face chapped and sore. Use XBALM's smooth, waterproof formula for extreme protection in extreme weather and every extreme activity.
"Todd and I are extremely happy to have the opportunity to join forces with Kevin, we both feel that the way he promotes his business adventures both on and off the track was exactly what we were looking for to use as an avenue to get involved with motorsports, Kevin is a real person and will not tell someone what they want to hear unless he believes in it and I like that quality in a person, we have full confidence in Kevin and his racing/marketing abilities, that is why we signed a 3 year deal with him, we can't wait to launch our marketing partnership with Kevin at the track" Kevin Ciampini
"I am so excited about this deal! I have found a home with XBalm, Kevin and Todd. I have never found a product like this that I had 110% confidence in, I tried a tube of XBalm and that was it.... I'm hooked, sponsorship or not this is one great product! I can't wait to get to the track! I can't sleep I'm too stoked to sleep...I have never found someone like Kevin or Todd! These guys are without a doubt the best there is.... and I want to thank them for this fantastic opportunity...I will make them proud" Kevin Brown
They team will again be tuned by Brooks Brown along with Steve Watson and crew in Jayne Brown (Team manager) Tyler Brown (Clutch specialist) Barry Sackett (Upper/lower end specialist) Mikell Newton (VIP Relations/Marketing).
The team is working on the car to get it ready for testing at the Strip at LVMS in early January, the team will be starting off the season at the WinterNationals in Pomona February 9-12 2006 and have several events on the tentative schedule for 2006 competing at both National and the Divisional levels.
Kevin Brown, The entire XBalm family and Jokers WILD racing would like to express their warmest of Holiday wishes to the entire racing world, fans and Friends. "PEACE ON EARTH" See you in 2006!




Drag News: 10 Most Recent Entries [ top ]

Apr 22- K&N Spring Fling Million Final Day Results
Apr 21- K&N Spring Fling Million Friday Results
Apr 20- K&N Spring Fling Million– Thursday Results
Apr 19- K&N Spring Fling Million- Wednesday Results
Apr 18- Buckeye S/SS @ National Trail April 28th
Apr 18- Don "the Snake" Prudhomme Returns To Baja Competition After 50 Years
Apr 18- K&N Spring Fling Million Tuesday Results
Apr 17- K&N Spring Fling Million Pre-Race
Apr 12- Summit Racing Equipment is Newest Sponsor of Midwest Junior Super Series
Apr 12- Summit Racing Named Official MWPMS Sponsor and Event Title Rights Holder