Thu, 15 Dec 2005, 12:17 PM



In a Short Time this Guy has Done a Lot



By Bob Frey


Photo copyright 2005 Auto Imagery, Inc.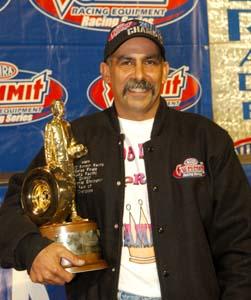 Mark Simonian
Jackie Jones, the Super Pro champion of the Summit Racing Equipment Racing Series has been competing for almost thirty years, and while that almost seems like the norm for guys who have won championships it's obviously not a requirement. Case in point, Mark Simonian, the 2005 Pro champion of the Summit Series. Mark, who has been coming to the races since he was a little kid, didn't start racing until 1996, and since then he has already won a Division 7 "Race of Champions" title and now, the ultimate prize, the Summit E/T Series championship. "This is, obviously, the biggest thing that has ever happened to me in my racing career," the forty-four year old Californian said. "To win this is, well, it's just the ultimate that a guy like me could hope to achieve." When asked how it felt to be the champion Mark said, "it's exciting and absolutely overwhelming." Until his appearance at Pomona Mark had never even competed at a national event or in front of so many people. "I've been to national events as a spectator but I've never raced at one. This was awesome." As a sidelight, Mark said that even though it was his first venture onto a national event track, the entire weekend he never noticed all of the people in the grandstands. "I never saw them. I was just concentrating on me, my car and my opponent." Sounds like a recipe for success, something that all racers should follow.
Mark's run to the championship wasn't without incident. "I banged my car up a little before the divisional race," he said. "After the race I had to get it fixed, plus I heard that if you're running at a national event they like you to have a presentable car so I went out and got it painted and it looks great." Mark wanted to send a special word of thanks to Jimmy Teague of the Hot Rod Shop who did the paint and body work on his 1969 Camaro. "I've had this car for a long time and it is an original '69 S/S car. It had a four speed in it when I got it but I've modified it a bit to make it easier to race. It's the only car that I have ever raced." Mark said that he used to come to the races with his sister and that he always knew that he wanted to race. "She just came as a spectator and brought me along and I loved it. I knew that when everything was right I would race. I used to work on the car and my dad would say that just because it has nuts and bolts that doesn't mean you have to take it apart. Well I did. I guess it's kind of a guy thing, huh?"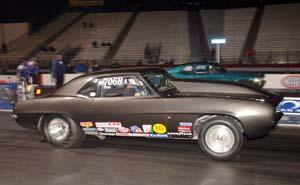 One of the keys to Mark's success in Pomona was the consistency of the car that he's had for so long and used to take apart. "The driver was all over the place early but the car did everything I asked it to do." By being "all over the place" Mark was referring to his reaction times during the time trials and qualifying runs, times that included a couple of red lights and one bad green light. "I felt like I was my own worst enemy but I knew that the car wouldn't let me down and on race day I just focused and everything fell into place." His reaction times on Sunday were .010 and a pair of .024 lights. Throw in one run where he went right on the dial and you have the keys to success. The last run was interesting because both Mark and his opponent, Rod Johnson of Florida, broke out, but Mark got the win and it is easily the biggest of his career. "It was a lot of fun and all of the other racers seemed like really nice guys. We spoke a little, like when we were in the staging lanes for our time runs, but on race day it was all business. On race day they're your adversaries, just like it is at your home track every week."
Mark Simonian has been married to is wife, Shirley, for twenty-three years. They have a son, Michael and a daughter, Kortney. "They both have cars but neither of them race right now," Mark said. "Kortney used to race in the Jr. Dragster program but she hasn't raced in a while. We'd like them to and they have the cars if they want to race, so we'll see." Mark was quick to thank his wife for all of her support as well as the folks at the tow shop where he works. "I've been at the same job for about twenty-five years and the owner of the business is very supportive." Like almost all of the racers who come and experience the Summit Racing E/T Series championships Mark was overwhelmed by the experience. "You couldn't ask for more. We got there on Wednesday and went to the dinner on Thursday night and from then on everything was done so well. I wish every racer could experience what I'm feeling right now," he added. "My wife and family had a great time and I hope to do it again next year." He then pointed out that after his last major accomplishment, winning the Race of Champions, he had a terrible year. "It was like everyone was gunning for me and I couldn't do anything right." Well I guess he got that monkey off his back early this time because shortly after going to the winner's circle in Pomona Mark headed for the Strip at Las Vegas Motor Speedway where he had a very good weekend. "I won one of the days and ended up tied for first place, but I lost the tie breaker because I had one buyback and the other guy didn't have any. Still it was a pretty good way to end the year." And there won't be a lot of time off for the champ because the 2006 season starts up real soon. "Sacramento opens their season on January first and I plan on being there," the Fresno, California native said. "I'm about midway between Sacramento and Bakersfield and I run at both places so I get to do a lot of racing." And he can get ready for a lot of the racers to take aim at him again this year, after all, he is the Summit Racing Equipment Pro national champion.




NHRA: 10 Most Recent Entries [ top ]

Apr 24- CHARLOTTE 1 - Steve Torrence Enjoying Four-Wide Success Heading to NGK Spark Plugs NHRA Four-Wide Nationals
Apr 24- CHARLOTTE 1 - Fact Sheet
Apr 24- Kalitta Motorsports Welcomes NASCAR Stars to the SealMaster Track Walk in Charlotte
Apr 24- zMAX Dragway Celebrates 10th Anniversary
Apr 24- CHARLOTTE 1 - NGK Spark Plugs NHRA Four-Wide Nationals Brings 40,000 Horsepower Thrill Show to zMAX Dragway
Apr 23- HOUSTON - Lucas Oil Drag Racing Series Wrap Up The NHRA Lucas Oil Drag Racing Series Wrap Up
Apr 23- CHARLOTTE 1 - J.R. Todd Aiming for Two Four-Wide Racing Wins in 2018
Apr 23- Mid America Dragway Joins NHRA Member Track Network
Apr 23- HOUSTON - Special Awards
Apr 23- HOUSTON - Sunday Video