Thu, 15 Dec 2005, 10:53 AM



60 Years of SO-CAL Speed Coming to Wally Parks NHRA Motorsports Museum



Courtesy of Bill Groak



New Exhibit on Legendary Speed Shop to Run Jan. 21-Apr. 9 9, 2006



POMONA, Calif. --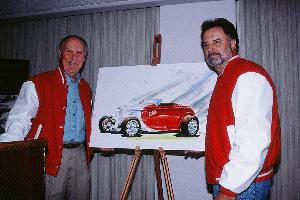 Xydias and Chapouris
The American phenomenon known as hot rodding was born and bred in Southern California in the 1920s. One of its most influential landmarks in the booming post-war era was an unassuming Burbank store called SO-CAL Speed Shop, which was founded in 1946 by Alex Xydias. Legendary street rod builder Pete Chapouris revived the SO-CAL name in 1997, teaming with Xydias to continue its legacy, and further its iconic stature in the industry. A new exhibit chronicling its history and trend-setting vehicles is coming to the Wally Parks NHRA Motorsports Museum. Called "60 Years of SO-CAL Speed," it will run from Jan. 21 through Apr. 9, 2006 in the Museum's special exhibit hall.
"SO-CAL Speed Shop is one of the most famous names in hot rodding," said Greg Sharp, curator of the Parks Museum, which is presented by the Automobile Club of Southern California. "It's had a major impact on the sport. They've produced some of the most famous and memorable cars in hot rod history."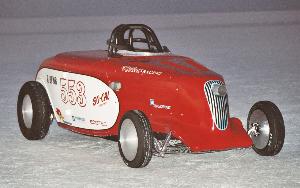 Haas Bonneville Roadster
Several of these cars will be on display, including the flathead Mercury-powered SO-CAL Bellytank Lakester, the Haas Bonneville Roadster, SO-CAL Hiboy Roadster, SO-CAL Bonneville '34 Coupe, SO-CAL five-window Coupe, SO-CAL 'A' Drag Roadster, SO-CAL Pickup truck and the GMC Canyon Push Truck.
Sharp said the exhibit, which will also feature rare photos and artifacts, is part of SO-CAL's 60th anniversary and ties in with Mark Christensen's new book, SO-CAL Speed Shop: The Fast Tale of the California Racers Who made Hot Rod History.
There will be special events during the show's run, including an opening day autograph session with Xydias and Chapouris (in conjunction with The Grand National Roadster Show). Other activities include Saturday afternoon matinees featuring racing footage Xydias shot in the 1950s and early '60s. The first will be on Sat., Feb. 25 and feature drag racing; Mar. 18 will be Sebring; and Apr. 1 will be Indy. Xydias and a special guest speaker will be on hand to talk about the films.
The SO-CAL exhibit is the latest in a series of special Museum attractions and follows the current "Track Roadsters: The Road to Indy," which concludes Jan. 15. Other recent exhibits have included A Salute to Parnelli Jones, 100 Years of Ford Racing and Edelbrock: A Performance Legacy.
Named for the founder of the National Hot Rod Association, the Wally Parks NHRA Motorsports Museum presented by the Automobile Club of Southern California houses the very roots of hot rodding. Scores of famous vehicles spanning American motorsports history are on display, including winning cars representing 50 years of drag racing, dry lakes and salt-flat racers, oval track challengers and exhibits describing their colorful backgrounds.
The Wally Parks NHRA Motorsports Museum is open Wednesday through Sunday, 10 a.m. to 5 p.m., PST. Current NHRA members are admitted free. Admission for non-members is $5 for adults, $3 for seniors 60 and older, $3 for juniors six through 15, and free for children under the age of five. The Museum is also available for private parties, meetings, corporate events, weddings and special group tours. The Wally Parks NHRA Motorsports Museum is located at Fairplex Gate 1, 1101 W. McKinley Ave. in Pomona. For further information on special exhibits, museum events or directions, call 909/622-2133 or visit http://museum.nhra.com .




NHRA: 10 Most Recent Entries [ top ]

May 26- CHICAGO - Fact Sheet
May 26- CHICAGO - Tony Schumacher Aiming for Sixth Career Win at JEGS Route 66 NHRA Nationals
May 25- BOWLING GREEN - Stock Eliminator Class Eliminations Qualifying
May 25- BOWLING GREEN - Super Stock Class Eliminations Qualifying
May 25- BOWLING GREEN - Friday Wrap Up
May 25- BOWLING GREEN - Competition Eliminator Qualifying, Friday Order
May 25- BOWLING GREEN - Stock Eliminator Qualifying, Friday Order
May 25- BOWLING GREEN - Super Stock Qualifying, Friday Order
May 25- BOWLING GREEN - Top Dragster presented by RacingRVs.com Qualifying, Friday Order
May 25- BOWLING GREEN - Top Sportsman presented by RacingRVs.com Qualifying, Friday Order