Tue, 13 Dec 2005, 11:03 AM



A Conversation with Greg Anderson (Part 1 of 2 parts)



By Norm Froscher


Photo copyright 2005 Auto Imagery, Inc. & NHRA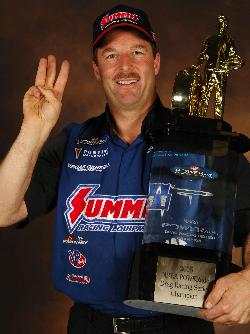 Greg Anderson
You'll follow this conversation with Greg Anderson, three-time defending Pro Stock champion on a variety of subjects as he took time out from testing at Gainesville Raceway to respond on a number of topics, ranging from his slow start last year to the Pro Stock series in general, the benefits of a two-car team, Erica Enders, and the Speed Channel Driver of the Year award.
Today we deal with the those first items.
This time a year ago Anderson didn't particularly worry about testing his then Pro Stock Trans Am until he got another trip out of the way. He'd just won his second straight NHRA POWERade title with 15 wins, was named Speed Channel Driver of the year and was enjoying a trip to Hawaii with the team, courtesy of Ken Black, team owner.
When he returned, the team doubled up. Test, test, back to the shop and then some more testing. So what was the reason for the uncharacteristic slow start for his Summit entry?
"Well, obviously there's no one thing I can put my finger on," Anderson admits, "The trip to Hawaii was a well-deserved reward for the team. It got everybody's spirit good and gave them a fresh breath, but you can't deny it, that week and a half or two weeks was time people we took out of our shop. It's probably a small check mark against us there, but I don't regret it. I mean you have to live a little bit.
"But probably more important than that we did test like crazy over the winter, we ran and ran and ran and put a lot of laps on the car. Then when we started the season the car seemed more finicky to tune and we hadn't had that problem the previous year.
"We struggled with car set-up the first three or four races last season and we finally came to the conclusion that maybe we just put too many cycles on that car. I guess you're putting a lot more stress on the car. Really it took us a while to come to grips with that."
Anderson says by the time the Atlanta race rolled around, the decision was made to switch cars.
"That's a risky move in the middle of a points chase, especially when you're behind like that, but the car was not cooperating like it had before. We put the new car underneath me and that's when things started coming together. We won that race and the next two races and got jump started. That's kind of the turning point. "As soon as switched cars and put some fresh pipe under us as we like to say, we got back in the game and by the time we went on the western swing we took delivery of the new GTOs and those cars are by far the best we've ever had."
What about the Pro Stock class as a whole? Did it step up enough to stop you?
"It was enough to stop me. A lot of guys made a lot of performance gains over the previous year and to be honest with you, maybe the Hawaii trip was a part of it, but we didn't make gains. There were three or four that made big gains over the winter and came out running faster than us. They caught us and went around us and we didn't make our gains until mid-season," Anderson recalls.
"It seemed to me some of those guys made their gains during the off-season and we gained later in the season."
Anderson says it's completely different mind set at his shop right now.
"As soon as we finished the victory banquet at Pomona we rushed back home and got to work right away. It's a completely different attitude around my shop than it was last year, I guess it's because we're at the point where we're scared to death to start the season like we did last year.
"We do not want to do that again. I'm not going to say we won't but we're going to do every doggone thing in our power to try not let that happen. It was a wake up call for us."
Anderson says to prevent putting too many cycles on any of his cars, it's being moved around. The two cars he and Jason line finished the season with are at the shop on jack stands.
"I've got three brand-new cars I'm testing right now and they'll get all the cycle time. If I find a car that works better than the one I finished the season with then one of them will get run. But I'm not going to cycle the cars I finished the season with any more."
Anybody you see who made big strides?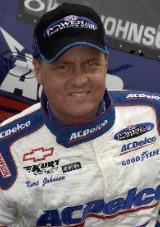 Kurt Johnson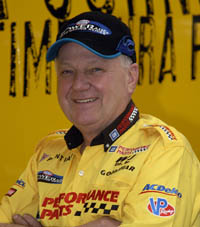 Warren Johnson
"Well, Warren (Johnson) and Kurt made huge strides last year. People had written Warren off for dead, and he showed he wasn't. He was just mad and anger motivates him. I know that because I worked for him all those years. He came back smoking.
"Probably the one that surprised me the most was Erica Enders. She started the season and we didn't know if she'd make it a month or two months or if she'd quit or what would happen. She crashed her car at Bradenton, but got right back on the horse and progressed as the season went along. My hat's off to her. That team came together and they all work well together."
In part two of this conversation we'll get Anderson's thoughts on two-car teams, Pro Stocks in general, teammate Jason Line and the Speed Channel Driver of the Year award




NHRA: 10 Most Recent Entries [ top ]

Jun 17- BRISTOL - Summary of Eliminations in Top Fuel
Jun 17- BRISTOL - Summary of Eliminations in Funny Car
Jun 17- BRISTOL - Summary of Eliminations in Pro Stock
Jun 17- BRISTOL - Summary of Eliminations in Pro Modified
Jun 17- BRISTOL - Summary of Eliminations in Super Comp
Jun 17- BRISTOL - Summary of Eliminations in Stock Eliminator
Jun 17- BRISTOL - Summary of Eliminations in Top Sportsman presented by RacingRVs.com
Jun 17- BRISTOL - Summary of Eliminations in Super Stock
Jun 17- BRISTOL - Top Fuel Final, Round 4 Eliminations
Jun 17- BRISTOL - Funny Car Final, Round 4 Eliminations