Sun, 11 Dec 2005, 12:03 PM



One on One with 2005 NHRA Funny Car Champ Gary Scelzi



Courtesy of Judy Stropus


Photo copyright 2005 Auto Imagery, Inc.





FRESNO, Calif. --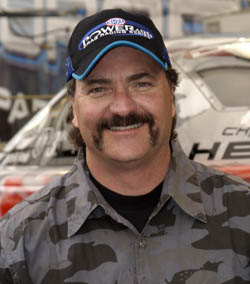 Gary Scelzi
Gary Scelzi, who joined the Funny Car class in 2002, entered the history books in 2005 by winning the NHRA POWERade Drag Racing Series Funny Car championship, marking the first time since 1992 that a non-John Force Racing driver has garnered the title.
Driving the Mopar/Oakley Dodge Stratus R/T, Scelzi, 45, of Fresno, Calif., already a three-time Top Fuel champion, also became only the second driver in NHRA's history to win crowns in both Top Fuel and Funny Car. Kenny Bernstein is the first.
The popular driver, known as "Wild Thing" and famous for his ESPN "Scelzi Sez" skits, also gave Dodge its first Funny Car championship since 1983. It is also the first time a team owner (Don Schumacher) has won Top Fuel and Funny Car titles in the same season, and is the first championship for Oakley's Mad Scientist Jim Jannard since Oakley entered NHRA drag racing seven years ago.
For the Don Schumacher Racing Funny Car camp, it was doubly rewarding, as Scelzi's teammate Ron Capps, in the Brut Dodge Stratus, completed the one-two sweep for DSR by taking the runner-up spot, finishing the closest and most exciting Funny Car season in history just eight points behind Scelzi. Force came in third, 32 points back of Scelzi.
The trio of Scelzi, Capps and Force took the battle to the final race of the 23-event season. Scelzi came into that race in the points lead and, when all three drivers went out in the second round, claimed the crown.
Good friends with John Force, Scelzi is also one of the few Funny Car drivers who has a round winning record against the 13-time Funny Car champion: 9-8, 3-1 in final rounds.
Scelzi ended the 2005 season with three wins, two runner-ups, five semifinal finishes and six No. 1 qualifiers.
He lives in Fresno with wife Julianne and sons Dominic, 8, and Giovanni, 4.
We caught up with him during the off-season to discuss a number of subjects, including why the public seems to be having a hard time accepting the fact that John Force didn't win the title, his take on the competitiveness of the Funny Car class, his personal goals, and his view towards the 2006 season, which will be his fourth with Don Schumacher Racing.
GARY SCELZI Q&A:
Q. YOU WENT TO VISIT (THE LATE) BRUCE SARVER'S SON ON TUESDAY. TELL US ABOUT THE VISIT.
A. Bruce and his (teen-aged) son Cole had talked about Cole getting started in some kind of racing, whether it be go-kart or Winston West or some kind of stock-car racing and it just never seemed to come about. So after Bruce's passing I talked to Bruce's mom and Cole and Cole's stepmom Christine and said I had a go-kart that was race ready, that I used to chase my son Dominic around on the go-kart tracks. Well, Dominic has switched to Junior Sprint racing and the go-kart doesn't do me any good anymore so I gave it to Cole Sarver so he can start racing and learn the mechanical abilities that it takes to be a racer, understanding how to set up a go-kart and those kinds of things. So I delivered it to Bakersfield on Tuesday to a friend of mine, Matt Dewing at MCR, who built Dominic's go-kart motors. They're going to help teach Cole how to set cars up, how to work on the engines, do all that kind of stuff, so that Cole has a start, even if it's a small start, in go-kart racing.
Q. HOW DID COLE REACT?
A. He was in shock. He's really excited about it. I didn't actually get to see him. He was in school. But I told him about it and delivered it on Tuesday. He's on the moon right now, he's ready to go. I'm sure he'll be running it this weekend, practicing with it, learning how to drive it.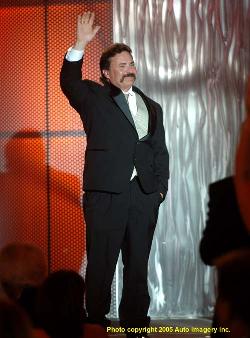 Scelzi at awards ceremony.
Q. NOW THAT YOU'VE HAD SOME TIME OFF, HAS THE FACT THAT YOU WON THE FUNNY CAR CHAMPIONSHIP AND DETHRONED JOHN FORCE REALLY SUNK IN?
A. Yeah, I believe it has. There was so much going on at the time and it was such a hard-fought battle and the way it ended up was not how I pictured it ending up. I really had it in my mind and dreaming of it coming down to the final round between Capps or Force. Whoever wins the final wins the race. And it was just kind of a shock the way it all went down. And a lot of people had mentioned to me that I didn't show a whole lot of emotion. One of the reasons was because of the shock and the other is I felt, as tough as this battle was, that if I jumped up and down, did cartwheels and went crazy, to me it was almost like a slap in the face to Capps and Force because it could've gone either way. It could've been Force's championship, it could've been Ron's championship. Out of respect for them, and winning the championship, it would have been disrespectful to do something like that. And I really didn't feel like doing that, to be honest with you.
Q. THERE SEEMS TO BE AN IMPRESSION OUT THERE THAT IT WAS JUST A FLUKE THAT JOHN FORCE DIDN'T WIN THE CHAMPIONSHIP. WHAT DO YOU SAY ABOUT THAT?
A. Well, I mean, the last time I checked, you win championships by having the most points when you leave Pomona. And the Mopar/Oakley Dodge is the one that had the most points and we're the champs. You can say a lot of things. I can pick five or six races we should have won or won that round and it didn't happen, so was it unlucky that we lost those rounds? People can say whatever they want to say, the bottom line is that the 2005 Funny Car champion is Gary Scelzi and (crew chief) Mike Neff out of Don Schumacher Racing. There's always going to be people who talk. Whether Force went out 10 times first round or Ron had problems during his deal, they didn't win the championship. So, there's always going to be that gossip and always that talk, but, you know what, whatever they want to think they can think, but we're going to be the ones wearing the jackets and the rings. So, so be it.
Q. DO YOU BELIEVE THE SPORT, AND THE FUNNY CAR CLASS IN PARTICULAR, HAS STEPPED UP TO ANOTHER LEVEL, BASED ON THE INCREDIBLE COMPETITION THIS YEAR?
A. Without question. I think the talent level in Funny Car has surpassed anything it's ever been. And I think not only with ourselves, Capps and Force. I mean, it used to be if you qualified in the top three or four you had an easy opponent first round. That's not the case now because there could be a hitter who had trouble in qualifying who in that first round comes up and saws you off (at the knees) or there could be the Phil Burkart or the Tim Wilkerson who comes up who maybe struggled in qualifying and comes back and beats the so-called hitters. The talent level is deep. We've got Del Worsham and the Pedregons who are running well. Just start looking around and first round or final round there's no one you really want to pick to race. There's not an easy guy out there. And a lot of things happened this year. You had to run your car hard first round, second round, semis and into the final or you were going to get beat. You had to be on your game. And I don't see that changing. I see that getting worse for next year.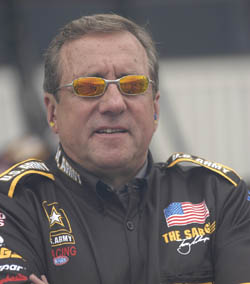 Don Schumacher
Q. HOW HAS DON SCHUMACHER CHANGED THE FACE OF NHRA RACING SINCE HE PUT TOGETHER A MULTI-CAR OPERATION IN 2001?
A. Don has gone after this thing as serious as a heart attack. He has spent millions and millions of sponsor dollars. He's taken care of the sponsors. He's spent millions of sponsor dollars to try to dethrone John Force. He's hired the best people that he feels can get along with one another to make a combination much like John (Force) has built and it's paid big dividends. With his son Tony he won the Top Fuel championship the last two years in a row, his Funny Cars finished first, second and Whit Bazemore finished ninth. Only one of his Funny Car teams struggled. The guy has taken all the rules and thrown then away. We've got blower dynos, we've got clutch dynos, we've got flow benches for the fuel systems, ignition dynos, so that you can test your own ignitions so all these things can be done in-house. We have our own fabricating shop. We have done things that you have to do to be a winner. And he's made a commitment to the sport and I don't see him lightening up anywhere down the line or in the future.
Q. DID YOU FEEL YOU HAD SOMETHING TO PROVE IN 2005 BASED ON EARLIER COMMENTS WHEN YOU FIRST ENTERED THE FUNNY CAR CLASS?
A. I don't really look at it that way. Every time I drive a car, whether it be an Alcohol Funny Car, whether it be a go-kart or a Midget, or the Funny Car, I am trying to be the best and I'm trying to win and I'm trying to win championships. That's my goal, that's what I'm trying to do. I didn't have a plan set out to do anything different. In my mind I always have something to prove. But when people say something about me, I try not to let it bother me too much. All it does is motivate me more.
Q. WHAT DO YOU SAY TO THE NAYSAYERS NOW?
A. I've always been pretty vocal. Most of the people who say things have never driven a nitro Funny Car or a Top Fuel dragster. They've never won in anything, so you have to kind of look at what you're dealing with. What makes me feel proud is when Austin Coil said you did a good job, or Bernie Fedderly or the Worshams or when your competitors, like Tony Pedregon, give you compliments. Or John Force for that matter - to me the greatest Funny Car driver that ever sat in a seat. When those guys respect you and know when they race you that they have to bring their A-game, to me that's the most satisfaction. What people say on the Internet or people think, I don't really value their opinion, because they've never done it. When your peers respect you, to me that's the highest compliment that you can have paid.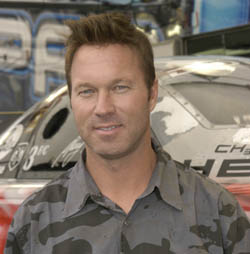 Mike Neff
Q. CREW CHIEF MIKE NEFF HAS BEEN A TREMENDOUS ASSET TO YOUR FUNNY CAR RACING SINCE YOU GUYS TEAMED UP IN 2003. CAN YOU BOTH MAKE THAT NEXT HUGE STEP TOGETHER IN 2006 AND REPEAT?
A. Time will tell. These cars are fickle, and we're going to be changing certain things in the combination to try to stay ahead of the competition. I think we ran extremely well at the end of the year and I think we had one of the fastest, most consistent cars out there if something didn't go wrong. Mike had impressed me before I started working with him and that's why I told Don if I could pick a team, I wanted the Mopar/Oakley team because Mike Neff and all those guys who work on that car just impress me - their work ethics, how they didn't bad-mouth each other when things weren't right, and how sharp that Mike is and how willing Mike is to learn. Mike won a championship, which I knew he could, but he's not cocky. Mike realizes he has to work harder now and he's always open-minded. He works with (Tony Schumacher's crew chief) Alan Johnson very closely. He learned a lot of things from Alan. He doesn't necessarily do everything Alan says, but he listens and they speak in a way I think that (Austin) Coil and Jimmy Prock and all those guys (at John Force Racing) do when they get together. I think that's how you make things happen. I think that's why a lot of the crew chiefs out there like Mike Neff because he's not cocky. He's very humble, almost humble to a fault, but he's very, very devoted, very dedicated and he's very aggressive. He's all the things that I really like and he's very open-minded. He and I have a very close relationship. We may not talk every day, but I know when I go to the race track and Mike beats on that hood that he believes in me, and that's very important. As I believe in him.
Q. YOU KNOW THAT FORCE HAS NOT BACKED DOWN. HOW WILL YOU AND NEFF APPROACH 2006?
A. The same as we did in '03, '04 and '05. It's the same approach we've always taken, it's just that we sealed the deal in '05. We're actually going to work harder because I've found that winning championships in Top Fuel the second year was harder than the first year, the third year was harder than the second year, so on and so forth. It never ends. If you lighten up or you take things for granted you find yourself ninth or 10th. You just can't do that. And those things can happen even working your tails off because, like I said, these nitro cars are so fickle and there are so many widgets and gadgets on these cars that if something goes wrong, especially an intermediate problem that you can't find, you can waste a half a season trying to find it.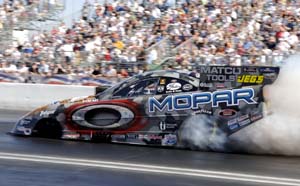 Scelzi does burnout.
Q. IS IT GOING TO BE EVEN HARDER IN 2006 TO REPEAT?
A. I think without a question. We saw a couple more guys stepping up. Del Worsham started to run a lot better from Indy on, as well as Cruz Pedregon. Tony Pedregon was in three of the last five finals. I see them getting more consistent, I see them running the big numbers. They're qualifying in the top No. 1, 2, 3, 4 in the fields on Sunday. They're there. And I don't see those guys letting up. It's a long season. The guy who wins the Winternationals doesn't necessarily win the championship, as we saw with Tommy Johnson Jr. And his is another car that ran really well. You pick anybody that finished in the top 10 and any one of those guys can win the race. Any one of those guys can win the championship. It takes a long time to decipher who it's going to be. There were five guys in the chase up until the last two races and then it kind of fell away. I don't see that changing in 2006. I see at least five being big players at the end of the year.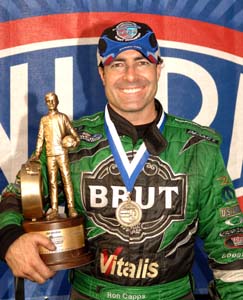 Ron Capps
Q. YOU AND YOUR TEAMMATE RON CAPPS HAD A HILARIOUS YET SERIOUS COMPETITION BETWEEN YOURSELVES TO WIN THE FUNNY CAR CHAMPIONSHIP. HOW DID THAT INTRAMURAL BATTLE HELP YOU ON THE TRACK, OR DID IT?
A. Well, Capps is an incredible driver. He will win a championship or more than one. When you race a guy like Capps or you race a guy like Bazemore, they bring you to the next level, because you know those guys are good. They're as good as it gets. The thing about is that, really, at Team Schumacher, none of us has egos. Again, the Internet people may think different, but, you know what, when it's coming down to one of us racing each other, there's bragging rights. We like to tease each other, we like to have a good time, but we all know that any of us can beat either one at any given time. So, you always bring yourself to the next level when you are racing a teammate. I think we all genuinely get along, we all have serious conversations as to how the car reacts, how the bodies react. Right now, Capps and Bazemore are running in Las Vegas. I'm going to be on the phone here in a little while asking them how different (the new body) is to drive, if it handles different, how the vision is, and all these things. And I know for a fact that those guys are going to tell me exactly how they feel and it's going to be great input to me. It's not like they don't know what's going on. Those guys know. You find out when you work with these guys for a year or two or three that they are the best. So when you compare your notes it's very similar to what everyone feels and how everyone reacts.
Q. TEAM ORDERS WERE TALKED ABOUT ALL SEASON. IT BECAME CLEAR THAT THERE WERE NO TEAM ORDERS COMING FROM SCHUMACHER. HOW DO YOU FEEL ABOUT THAT?
A. I'm very proud of Don because after the incident in '03 (in Seattle), I made it clear that I didn't want that to come into play, but if that was going to come into play that he had hired the wrong guy. Fortunately for us it didn't come into play with us or Force. I think it's better for the fans. I stood on stage and accepted my POWERade championship knowing that I had the absolute most points and nothing was given to me. Bazemore beat me, Capps beat me at key times of the year and I'm very proud of that. I think it would have darkened the championship if I had known that Capps or Bazemore would have given me a round or two in the middle of that. Capps and I were both in the hunt the whole time. Bazemore kind of fell back a lot, which means that Bazemore could have been the guy who could have gotten the call to roll over. Don didn't do that. Obviously, Bazemore beat Capps in Indy when Bazemore didn't have a chance of winning the championship. I take my hat off to Don and I appreciate him for playing this game straight up. And I think all of us appreciate it - Bazemore, the fans, Capps, myself. I think it's good for the sport when it comes like this. I believe a lot of the people in those stands were watching that Funny Car championship closer than any other class out there.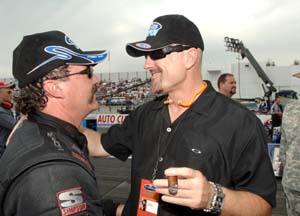 Scelzi and Jim Jannard
Q. CAN YOU NAME ONE DEFINING MOMENT WHEN YOU KNEW YOU COULD WIN THIS CHAMPIONSHP?
A. I really can't. I don't know that there was just a moment. I knew that we could do it. But, I have to be honest with you, at Dallas when I red-lit I thought it was over, I thought I had let it slip away. And I was so upset with myself because I've always been known as a high-pressure driver and not folding. And it was one of those things that I just couldn't control. My foot moved and my brain didn't and I'd hoped it didn't come down to that, that we would lose by one round or something silly because I thought we had a great car that day and obviously we did. We ran second low ET of that round and that one really left a mark, it hurt. But as far as knowing that we were going to win the championship, I knew we could, but I felt it was just fate. We put ourselves into a position to win it and it worked out to where we did. I'm just grateful that it happened that way.
Q. HOW IMPORTANT IS IT TO HAVE TEAMMATES AND CREW CHIEFS SHARING INFORMATION?
A. I think it's key in the success of anything, any type of drag racing. Again, I keep referring to John Force. He has built an empire over there and the success speaks for itself. But you have to. These things are so complicated any more, you need more than one guy's eyes and ears and nose looking at, listening to and smelling everything. It's so complex. Your assistant crew chief is very valuable and Aaron Brooks has really stepped up to the plate this year, not only as a fabricator but as someone for Zippy (Neff) to bounce things off of. There was Ed "the Ace" McCulloch, Ronnie Thompson, Dan Olson, Todd Okuhara. All those guys talked a lot, even when they were at lunch they were talking. They may be talking about valve springs or they might be talking about clutch discs, things that may not have any meanings, but someone might say, You know, we had this problem with this.... Communication is such a big thing. Even if you don't think it's valuable information, it could turn out to be. Without communication you don't get those things. You may not find a problem until it's too late and it happens in eliminations to where you could almost cut corners when you have all these guys on the same page, all talking, all looking for the same thing.
Q. WHAT HAVE YOU BEEN DOING IN THE OFF-SEASON?
A. Right after Pomona I hired a personal trainer and I'm actually working out six days a week. I'm working out four days a week with a trainer trying to get some pounds off, trying to get healthy, because I feel that I'm going to have to bring my A-game to the starting line every single time. Not that I didn't think that this year, but I got out of my rhythm, I got out of my pattern, I was eating the wrong foods, I was nervous, I wasn't sleeping well at night, and I think a lot of it had to do with the fact that I wasn't exercising and I wasn't keeping up with my weight. Mentally and physically, I think it's a downfall. And I think next year any edge that I can bring to the table to help us try to repeat as champions is going to be valuable. So that's what I'm doing for my part. I'm doing that, getting back involved with the business (Scelzi Enterprises), trying to be around the kids as much as I can because I have a feeling in 2006 there is going to be a lot more travel and will probably be more hectic than it was in years past.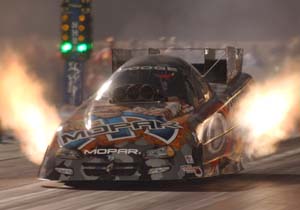 Q. ARE YOU GLAD YOU HAVE THE TIME OFF, OR ARE YOU CHOMPING AT THE BIT TO GET GOING AGAIN?
A. I'm a little edgy right now knowing that the guys are running the cars right now (testing in Las Vegas) and I'm not going to be there, but I need this month to month-and-a-half to get my life back in order, to take care of the things that I don't take care of 10 months out of the year that my wife Julie has to do. Thank God I've got an independent wife who just gets things handled. If we need a plumber or we need something done, she just gets it handled and it's done right. I don't have to hold her hand. She just goes through it, takes care of the boys, takes care of the bills, takes care of everything and I'm very fortunate. I couldn't do it without her. So I'm trying to give her a little bit of help and get to where my kids know who in the hell their dad is again. In fact, I rode the bike to school with Dominic this morning, dumped him off, and then rode back. I try to do special things with the kids.
Q. WILL YOU BE SUPPORTING DOMINIC IN HIS JUNIOR SPRINT RACING AGAIN IN 2006? WHAT IS YOUR AND HIS PLAN?
A. A friend of mine had the track in Visalia, Calif., rented on Sunday and Dominic hasn't driven the car since the end of July. We're building him a brand-new Junior Sprinter right now, which we feel is going to be state of the art, but it's not done yet. So, this friend of mine had his daughter out there practicing and we put Dominic in the car and in two laps he was running as quick as he ran last July and just as smooth. So he hasn't missed a beat. We brought him back in, we talked to him, changed some things on the car, sent him back out and he ran for 30 laps. And we were doing sign language to him: move up, go high on the track, go by the fence, come down low, trying different lines on the race track. And he was doing everything like he's never been out of the seat. He actually ran 30 laps. The main events are 20 laps, but the big World of Outlaws guys run 30-lap main events. We pulled him in and I said, How many laps did you go? He said, I went 30. And I said, How do you know? And he said, Because I was counting. So, while we were moving him around on the race track he was still keeping track of how many laps he ran. The car has a digital computer on the dash that tells rpm, engine temperature and laps and lap times. And we pushed that button on there and it said 30 laps. So, he was right on the money. I was very proud, very impressed with how well that he drove the car.
Q. HOW MANY RACES WILL DOMINIC RUN IN 2006?
A. The schedule hasn't come out yet, but I'm sure he'll probably run eight of the 12 races. I think he'll be able to run more of them. And then when I'm home, there's another race track in Lemoore, Calif., so we'll probably run those on my off weekends when I'm home. So he should be able to run at least a dozen times, hopefully. He'll be 9 years old on May 2.
The new name on the car is Scelzi and Lasoski. We lost a name there with the split between those two (Tony Stewart and Danny Lasoski).
Q. AS A DRAG RACER, A FATHER AND A HUSBAND, WHAT IS REALLY THE MOST IMPORTANT THING FOR YOU TO ACCOMPLISH ON A PERSONAL BASIS?
A. Just to try to win more championships, as far as my racing career goes. I just want to be a good father and a good husband because it's very hard when you travel and you do the things that a race-car driver has to do - the appearances, the time being away from home. It's important to be a part of the boys' lives when they're growing up. So, I'm trying not to distance myself from my family just to be good at drag racing. I'm trying to make them a part of it, because they are a part of it and let them know that it's just as important when I talk to them on Sunday mornings as it is talking to Mike Neff on Sunday mornings.
Q. YOU'VE DABBLED IN OVAL AND DIRT-TRACK RACING THE LAST COUPLE OF YEARS. IS THAT ON YOUR AGENDA AGAIN IN 2006?
A. I'll probably do the charity golf tournament for Danny Lasoski, which includes driving a dirt modified, but I'm going to probably just stick to drag racing. I won't do many things out of the drag-racing arena. I don't know. In the off-season I may do something different. I may do the Turkey Night deal, things like that. But I'm not going to get myself involved in the Chili Bowl unless they have a champions race or something like that, where you're racing against the Danny Lasoskis, the Tony Stewarts, the JJ Yaleys. These guys were born and raised in that stuff. I can't take the chance of getting hurt and I'm not going to become a dirt driver, so there's no sense in me really spending a lot of time to become good at it. I just don't want to embarrass myself, but I have fun doing the charity things and the dirt stuff that I do, or the asphalt stuff.
Q. WHEN ARE YOU THE HAPPIEST?
A. When we win. When we win and we dominate and everyone has done their jobs. There's not a more satisfying feeling than knowing that we had beaten the best. When I talk about the competition in Funny Car, when you win a race in Funny Car, you know that you've done something. That's probably the absolute most rewarding thing, to win a race.
Q. ANY MORE TALK OF RETIREMENT?
A. No. When I do retire, and I don't see it happening for the next year or two - I don't know, I'm not putting a time frame on it - I'm just leaving. There's not going to a a going-away party, there's not going to be anything. There's not going to be any talk of anything, it's just going to be when I decide it's done, it's done. I've been hammered back and forth to shut up and quit talking about it and Mike Neff says I won't retire until he tells me I'm retiring. I've pretty much put in my mind that I'm going to do this until I can't and when I can't at the end of the season I'll let everybody know and I'm just not going to come back. No more talk about retirement.
Q. IS THERE ANYTHING YOU WOULD LIKE TO ADD?
A. Yes. At the end when the pressure got almost unbearable, especially by Las Vegas and Pomona, the fans really, really drove me and I really started to enjoy it because towing by that crowd and having them screaming and yelling when you won a round or standing at the ropes just screaming for you, and everybody wearing the Gary Scelzi shirts and hats and stuff, that really meant something. And when we towed by the crowd at Pomona after we were crowned the champions and they started playing that song, "Wild Thing," and the crowd was going, it was hard to hold back the emotion. I mean, we did it, and these people were happy for you. And I want to thank each and everyone of them, whether they were Scelzi fans or they just liked the way it turned out, or just the way the whole championship race came down, even if they were Force fans, or Capps fans or Worsham fans. It meant something to have them applaud you for the efforts that you did in the year.




NHRA: 10 Most Recent Entries [ top ]

Jun 19- NORWALK - Fact Sheet
Jun 19- BRISTOL - Mickey Thompson Top Fuel Harley Series Championship Points
Jun 18- Farewell to the Mongoose Part III
Jun 18- BRISTOL - Lucas Oil Drag Racing Series Wrap Up
Jun 18- Mark Oswald Named 2018 Legend of Thunder Valley
Jun 18- BRISTOL - Sunday Pro Mod Wrap Up
Jun 18- BRISTOL - Special Awards
Jun 18- BRISTOL - Pro Mod Championship Points
Jun 18- BRISTOL - Sunday Video
Jun 18- BRISTOL - Championship Points