Fri, 9 Dec 2005, 11:47 AM



Amalie Oil Renews Sponsorship With InstiGator



Courtesy of Jim Walczak



Adds Major Associate Sponsorship to McMillen Top Fuel Team



ELKHART, Ind. --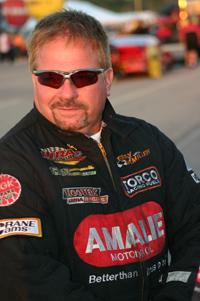 Terry McMillen
In an announcement today, Amalie Oil extended their partnership with Hoosier Thunder Motorsports for an additional two years. Amalie will continue as the Major Sponsor on the Amalie Oil InstiGator Funny Car and add Major Associate sponsorship to the Knoll Gas Motorsports Top Fuel team piloted by Terry McMillen.
"Our relationship with Amalie Oil began in 2000," stated Hoosier Thunder Motorsports team owner Terry McMillen. "We're excited to add to an already strong partnership. From Harry Barkett and Denny Madden to Andrew Bornstein and the hundreds of Amalie associates, we've always had the strength and support of one of the finest organizations behind us."
Amalie Oil, the Official Motor Oil of the IHRA, is also the title sponsor on two of IHRA's top events - The Amalie Oil Texas Nationals in San Antonio, TX and the Amalie Oil North American Nationals in Epping, NH. Amalie also posts contingency in both Pro and Sportsman classes in the IHRA.
The Amalie Oil InstiGator Top Alcohol Funny Car debuted in 2002 when McMillen and Amalie Oil's Business Development Manager, Andrew Bornstein, expanded on the popular "gator" theme that the company used for its motorsports marketing. The Amalie Oil marketing department then took over and Michelle Barkett designed what has arguably become the most recognized car in motorsports. "Everyone just loves that smiling gator car," added McMillen. "No matter where we go, whether it's Texas or Canada, people see the Amalie logo and ask me, 'Hey, isn't that the gator car?' It's always a great feeling."
A driver search for the Amalie Oil InstiGator continues and an announcement is expected soon.
Amalie will make the McMillen-piloted Top Fuel Team "Better Than It Has To Be" when they add their logo as a Major Associate Sponsor during the 2006-2007 campaigns. The sponsorship will increase Amalie's exposure and brand awareness as the Top Fuel team will compete in all IHRA and at least 8 NHRA races. "From what we can see the quality of this team is outstanding," commented Andrew Borstein, Business Development Manager for Amalie. "They'll be competitive from the opening day. We're excited about this opportunity to increase our brand awareness in new motorsports markets."
Evan Knoll's TORCO Race Fuels is also an Amalie distributor. Knoll added, "The marketing partners on these teams gel nicely. We're very proud of our association with Amalie and the quality products that they offer to our racers and fans."




IHRA: 10 Most Recent Entries [ top ]

May 20- IHRA Member Track Update
Mar 16- IHRA Sportsman Spectacular Events at Farmington and Holly Springs Postponed
Dec 03- Historic Mo-Kan Dragway Reaches Multi-Year Agreement with IHRA
Oct 24- Summit SuperSeries Champions Crowned at IHRA Summit SuperSeries World Finals
Oct 24- Summit Racing Equipment Renews Commitment to IHRA Summit SuperSeries in 2020
Oct 08- Beacon Dragway Chosen as IHRA Division 2 Track of the Year
Oct 08- London Dragway Emerges With Win at IHRA Division 2 Summit Team Finals
Oct 08- Xtreme Raceway Park Named IHRA Division 4 Track of the Year
Oct 07- Pine Valley Raceway Captures IHRA Division 4 Summit Team Finals Win
Oct 03- Beaver Springs Dragway Named IHRA Division 3 (North Stars) Track of the Year