Wed, 7 Dec 2005, 11:13 AM



Andrew Hines Does It Again



By Bob Frey


Photo copyright 2005 Auto Imagery, Inc.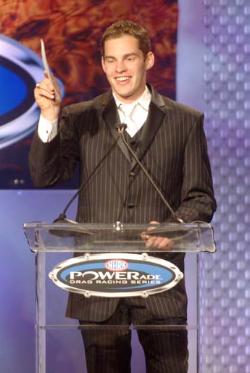 Andrew Hines
One of the most select groups in drag racing may be the NHRA
POWERade
Pro Stock Motorcycle champion.
Did you know
that over the past nineteen years there have only been seven people who can say that they were the Pro Stock Motorcycle champion? And
did you know
that out of that group five of them are multiple winners? Only
"Pizza"
John Mafaro
in 1989 and
Geno Scali
in 2003 have won the championship one time, while
Dave Schultz
(6),
Matt Hines
(3),
John Myers
(3),
Angelle Sampey
(3) and now
Andrew Hines
(2) are all multiple winners. Of that group
did you know
that four of them, including Andrew, have won the title in consecutive years? Dave did it in 1987 and '88, while both Angelle and Matt won their titles in three straight seasons. But I have to say that, looking back over this season, Andrew's championship had to be among the toughest to win simply because the field of competitors in the bike class has never been better. When you look at the competition from top to bottom I think you'll agree that the motorcycle class is not only alive and well but thriving and that's why Andrew's title is so richly deserved.
While motorcycles have raced at NHRA events since back in the early 1970's and have been part of drag racing since the 1950's, it is generally acknowledged that the start of the Pro Stock Motorcycle class is 1987 when NHRA crowned the first true national champion in the class. Before that you would find some Pro Stock bikes at certain races, Top Fuel Bikes at others and Funny Bikes, Pro Comp and exhibition runs by Harley-Davidsons at other events. Since the 1987 season did you know that there have been only thirty-one riders (or drivers, whichever they prefer) who have won national events? And when you consider that there have been two hundred and twenty-five races over that span that's not a lot of winners is it? Of course when you have Dave Schultz (44), Angelle (37), John Myers (33) and Matt Hines (30) winning over half of the races it doesn't leave a lot of room for the other drivers, does it?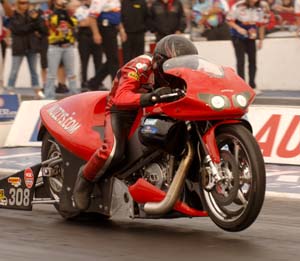 Ryan Schnitz
Andrew Hines won the championship this year by winning a grand total of twenty-five rounds and two races. And while that may not seem like a lot it enabled him to score more points than anyone else in the class even though four other racers won as many events and one racer,
Ryan Schnitz
, won more. In addition to Andrew and Ryan, GT Tonglet, the runner-up in the points, Angelle,
Chip Ellis
and
Steve Johnson
all won twice this year which just goes to illustrate how competitive and well balanced the class was.
Did
you know
that the Pro Stock Motorcycle class averaged twenty-six entrants at each national event this year with a high of thirty-three at
Gainesville
and a low of nineteen at the
Sonoma
event?
As good as those numbers are
did you know
that there were thirty-eight bikes at the Indy race in 2003 and thirty-five at
Gainesville
that same year? In fact, it seems to me that it was right around the 2003 season when the motorcycle class really started to come into its own. The fields were big, the racing was good and almost anyone who qualified for the field could win a race. In fact that was the year that
Blaine Hale
won the
Denver
race after qualifying number sixteen in the field. Since then at almost every race the quality of the teams is great, the competition is excellent and the days of any one team or driver dominating the field are over. Or so it seems to me.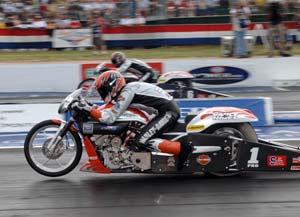 Hines vs GT Tonglet
While Andrew and his
Vance and Hines Screamin' Eagle Harley-Davidson
didn't win the most races this year he certainly had a very good bike and the fact that he seemed to go rounds at every event is what ultimately gave him the title. That and the fact that he was very good over the second half of the season while nobody else seemed willing or able to put a couple of good races back-to-back.
Did you know
that Andrew was in fifth place after the Englishtown race and he had won a grand total of six rounds up to that point? That means that over the first six races of the season he averaged only one round win per race. Even with his early season struggles it didn't look like anyone else was going to pull away from the field and that enabled Andrew to stay right in the thick of things. Over the final nine races of the season Andrew really got hot, qualifying number one at six of those races and qualifying no lower than second at any of them while winning nineteen rounds over that period of time. Only a couple of round one
losses
at Indy and
Las Vegas
kept him from having a really great second half of the year. All in all, Andrew did have the best bike and the fact that he made it to at least the semi-finals at half of the races (7) was the reason why he was able to win his second consecutive championship. Five final round
appearance
didn't hurt, either..By the numbers,
did you know
that Andrew was the top qualifier at nine races this year and he set top speed at eight races? Among all active drivers Andrew leads the way with twenty top speed marks while Angelle is next in that category with eleven. Andrew's brother, Matt, is the all-time leader in the class with the forty-five top speeds that he recorded over the course of his career and while winning his three titles.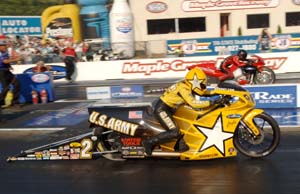 Angelle Sampey
GT Tonglet had another good year, his best with the Vance & Hines team, and he was only two rounds behind his teammate in the win column this year. Two wins and a runner-up helped him finish second and have the best year of his relatively short career. Angelle Sampey, who continues to have one good year after another, was the highest ranking Suzuki of the year with her strong third place showing. Angelle had the same amount of round wins as GT, twenty-three, but the fact that she lost in the first two rounds at nine of the events kept her from making a serious run at her fourth title. When you look at the performance numbers and realize that Angelle didn't have the best bike out there you have to give her and her team credit for the year they did have.
Did you
know
that Angelle, who is the leader among active motorcycle racers in the number one and low E/T categories, was the number one qualifier just once this year and that's the fewest of any year in her career?
Did you know
that she only recorded low elapsed time and top speed at one event this year, too? Plus, four times this year Angelle qualified in the bottom half of the field and in her entire career leading into this season she had only done that twice. With that in mind I think that a third place finish was very good for the
Army
team, Angelle,
Steve Tartaglia
and the rest of the crew. It should also be noted that Angelle won the Maple Grove race this year and that's the sixth time in her ten year career that she has done that and that's amazing ..Ryan Schnitz won more races than anyone else this year in the class and his three wins helped him to a fourth place finish. Ryan, who drove for motorcycle guru
Rob Muzzy
, had a good bike but his problem was getting past the second round.
Did you know
that Ryan went to the second round eleven times this year and only won four of those match ups? Imagine what even a couple more
round
two wins could have done for him.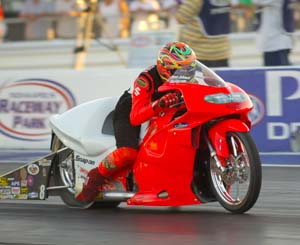 Steve Johnson
The class, in general, has a great mix of young and veteran riders in it and that's why it is so much fun to watch. It's hard to believe that with ten years experience in the class Angelle is one of the real veterans in the field.
Steve Johnson
, of course, leads the way in the longevity department with his 214 races, while Angelle has competed at 135, Geno Scali 128,
Joe DeSantis
120 and
Antron Brown
115. On the other hand you have Chip Ellis,
Chris Rivas,
Ryan,
Matt Smith
and a whole host of talented, young riders with good bikes who should be able to give the vets a real run for their money in 2006. Even with some of the rules changes that will go into effect next year I expect the bike class to be as good, competitive and exciting as ever. And if someone can find a way to get rid of those pesky red lights, the class could be even better. How about a three-tenths tree for the motorcycles?
Just a thought.
Did you know
that there were a total of fifty-two red lights in the motorcycle class last year while the other three pro classes had a grand total of sixty-four altogether?
But even with an inordinate amount of red lights, something that has plagued the class since its inception, 2005 was still a great year for the two-wheeled competitors and we look for more of the same next year...It's nice to hear that
Karen Stoffer
is making progress with her rehabilitation. Karen is optimistic about making the first race of the season in
Gainesville
and I hope she can, but I would also caution her not to try to rush things. The races will always be there and it's important that she is one hundred percent before trying to get back into action. Best wishes, Karen......




NHRA: 10 Most Recent Entries [ top ]

Aug 23- INDY - Fact Sheet
Aug 23- INDY - Stevie "Fast" Jackson Aims for Repeat Win
Aug 23- INDY - John Force Ready for 65th Annual Chevrolet Performance U.S. Nationals
Aug 21- INDY - Event Preview
Aug 21- BRAINERD - Lucas Oil Drag Racing Series Wrap Up
Aug 20- BRAINERD - Special Award
Aug 20- BRAINERD - Sunday Video
Aug 20- BRAINERD - Pro Stock Snowmobile Final, Round 3 Eliminations
Aug 20- BRAINERD - Mickey Thompson Top Fuel Harley Series Standings
Aug 18- BRAINERD - Sunday Wrap Up