Mon, 5 Dec 2005, 10:13 AM



Force Presented John Bolster Award for Lifetime Achievement



Courtesy of Dave Densmore



LONDON --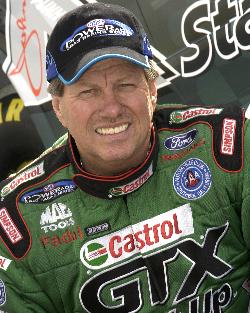 John Force
John Force, who has won 13 NHRA Funny Car Championships as driver of the Castrol GTXR Ford Mustang, received a nod from the European racing establishment Sunday as the winner of the John Bolster award at the AutoSport Awards 2005.
The John Bolster Award is presented by the magazine's editorial staff to recognize lifetime achievement in motor racing. AutoSport, a sister publication to RACER Magazine, is widely considered "the bible" of motor racing in Europe, especially of the Formula 1 series.
The only driver to win as many as 100 events on the NHRA pro drag racing tour, Force accepted the award on behalf of his sport, his team and his sponsors: Castrol, Ford Motor Co., the Automobile Club of Southern California, Mac Tools and Fadal.
Force, daughter Ashley and Castrol racing teammate Eric Medlen also were feted Sunday morning, along with European drag racing promoters, at a brunch in the Greenwich Room of the Grosvenor House hosted by NHRA president Tom Compton.
An acknowledged ambassador for drag racing and a former Driver of the Year in American motor racing (1996), Force first made an impression on the AutoSport staff in 2002 when Formula 1 writer Nigel Roebuck attended an NHRA event at Route 66 Raceway in Joliet, Ill., as a guest of Ford.
Roebuck was so enamored with the 119-time tour winner and his chosen motor sport that he wrote six subsequent articles for AutoSport focusing on his experience at Route 66.
"To be recognized on the same stage as Dale Earnhardt, Mario Andretti, Leo Mehl and all the great Formula drivers is something I never dreamed of," Force said. "I don't think it's as big a credit to me as it is to the sport. It just shows how the drag racing audience is expanding, not just in America but around the world."
Force extended his stay through Monday to conduct a meet-and-greet with BP executives and employees at facilities in Pangbourne and Swindon. BP is the parent company of Castrol, which is the prinicipal sponsor of Force's Castrol GTX Ford, Medlen's Castrol SYNTEC Ford and the Castrol/Hot Wheels Top Alcohol Dragster that Ashley Force drives for American car owners Jerry Darien and Ken Meadows.
The Force entourage was scheduled to tour BP's research-and-development facility at Panbourne, lunch with the marketing department and Passenger Car Oil Division employees and Swindon and visit the Williams Racing Formula 1 shop before returning to the U.S. on Tuesday.
In addition to Force, Ashley, Compton and Medlen, the American contingent to the AutoSport Awards also included Force's wife, Laurie, his two youngest daughters, Brittany and Courtney, Bruce Firkins, Sponsorship Manager, BP Lubricants; Jerry Archambeault, Vice-President/Communications for the NHRA; and John Szymanski, Director of Sponsor Development for Ford Racing Technology.




NHRA: 10 Most Recent Entries [ top ]

May 25- BOWLING GREEN - Stock Eliminator Class Eliminations Qualifying
May 25- BOWLING GREEN - Super Stock Class Eliminations Qualifying
May 25- BOWLING GREEN - Friday Wrap Up
May 25- BOWLING GREEN - Competition Eliminator Qualifying, Friday Order
May 25- BOWLING GREEN - Stock Eliminator Qualifying, Friday Order
May 25- BOWLING GREEN - Super Stock Qualifying, Friday Order
May 25- BOWLING GREEN - Top Dragster presented by RacingRVs.com Qualifying, Friday Order
May 25- BOWLING GREEN - Top Sportsman presented by RacingRVs.com Qualifying, Friday Order
May 25- BOWLING GREEN - Sportsman Motorcycle Qualifying, Friday Order
May 25- Kurt Elliott Named Assistant Crew Chief for Langdon