Sun, 4 Dec 2005, 01:07 PM



The Third Time Was The Charm



By Bob Frey


Photo copyright 2005 Auto Imagery, Inc.





| | |
| --- | --- |
| | |
Like most drag racers, not all of them but most of them, Jackie Jones has been racing for a long while. "I guess I've been doing this for twenty-eight or thirty years now," Jackie said. "It's a lot of fun and I still really enjoy it." That may be true but I'll bet that Jackie has never enjoyed it quite as much as he did this year. 2005 was the year for Jackie Jones to finally win the big one, the Summit Racing Equipment Racing Series Championship in Super Pro eliminator. "I came close to making the trip to California a couple of times before but I fouled out in the divisional finals both times." This year at the Division 4 finals in Ennis, Texas, Jackie stayed green although just barely, and he won the right to represent the division in front of the big crowd in Pomona. "After those other two red lights in the finals I didn't want to do it again this year," he said. "But it was close." Close, like a .002 green light and that may be a little too close even for this veteran of three decades.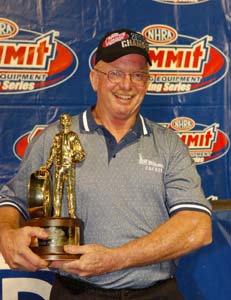 Jackie Jones
Jackie Jones races a couple of cars and he could only bring one of them to California so he chose his dragster, a '97 model that he has owned for the past couple of years. And even though he won it all in the dragster most trackside observers are more familiar with Jackie's other car, a 23-T roadster. "I guess I've had that car for about twenty-five years," he said. "Everyone around here knows it." Indeed they do. In fact, they know it so much that they have come up with a nickname for it. "Yeah, they call it 'Herman' after the character on the Munsters television show." I guess that means that Jackie will probably never win any best appearing car awards with Herman, huh? "You could say that," he said. "But I've got a real comfort level with that car and it's a lot of fun to drive, plus I keep telling everyone that I can't retire it because I still have one year left on the original warranty," he said with a laugh. And then he added that he thoroughly enjoys racing "Herman" because the car has treated him so well over the years. But nobody was laughing after the final rounds of Super Pro eliminator in Pomona because Jackie and his dragster had outlasted some pretty good racers to win the championship.
Before Jackie could head west he had to win a couple of battles on the divisional level. First he had to win Pro eliminator and then he had to win the run-off with the Super Pro winner. "Because of the way the program is structured and the way the E/T's are broken up, in our division the Pro and Super Pro winners at the division race have to race each other to see who gets to go to Pomona." In his first final round Jackie beat Chris Stephens to take the Pro E/T title and then he went up against Eric Sandlin, the Super Pro winner in the run-offs. After winning that it was a short fourteen hundred mile drive to Pomona and the long-awaited Summit Racing Equipment Series championship. Jackie and his friend Jeff Parker did the driving and it took them the better part of two days to make the trip and he admitted to being a little tired when he got to the track. "After we got there are got set up it got close to dark we just went to bed," he said. It looks like that rest did him a lot of good because for the next couple of days and the next six runs Jackie was just about perfect on the line and he wasn't too bad on the track, either. In time trials he had reaction times of .012, .015 and .024 and, in true drag racer fashion, he wasn't happy with himself. "That '24' light had me a little worried," he said. "I like to be around .010 all the time." If he was worried he certainly didn't show it on race day where he put up reaction times of .007, .005 and .009 in the final round. "I didn't change anything after the time trials, I just knew that I had to concentrate and do my job." And that's exactly what he did on race day, beating Robert Glembocki and his classic Chevrolet Camaro in the first round, the Division 2 champion Paul Dorn in the second round and the Division 1 representative Chris Reynolds in the final. "I guess you need to have a little gray hair before you can win one of these things," the fifty year old Jones said after his win. Or maybe you just need a good car and a driver with a good night's rest. Jackie was representing Cherokee Motorsports Park and he got more than a little help from the owners of the track. "I broke an engine early in the year and was having some trouble getting my new one sorted out and Johnny and Susie (Isaacs, the owners of the track) let me use one of the engines from their son's car." It looks like the arrangement worked out well for everyone as the car that Jackie calls "Night Moves" ran flawlessly all weekend long in Pomona.
Jones vs Chris Reynolds
Jackie said that he and his family and friends had a great time at the Summit Racing finals and that the people from Summit couldn't have been nicer. From the dinner on Thursday night to the entire race weekend he said that it was "everything you could hope for." Jackie said that one of the highlights of the weekend was the dinner that Summit put on for the competitors which was held at the Wally Parks Motorsports Museum. "It was great and they really treated us well. You walk in and you see that huge trophy in the middle of the museum and it gets you excited. And then at dinner we got to talk to Greg Anderson and Jason Line and they couldn't have been nicer, and Craig Treble sat at our table and he was a lot of fun, too. Like I said, the people at Summit really do a nice job with this whole program."
Jackie wanted to thank his wife, Lynn, his son David, and Jeff and Michelle Parker for all of their help and support. And now it's back to work at the automotive shop that he has owned for the past twenty-five years and get ready for next year. "I've been doing this for a long time, and from the days when I used to run my old Chevrolet Nova at some of the outlaw tracks here in Texas, to 'Herman' and my new dragster I have always enjoyed it, and I'm still having fun." And now, after two near misses, the resident of Kemp, Texas is now a national champion and having more fun than ever. I guess the third time really is the charm!!




NHRA: 10 Most Recent Entries [ top ]

Aug 17- BRAINERD - Super Stock Round 4 Eliminations
Aug 17- BRAINERD - Super Gas Round 4 Eliminations
Aug 17- BRAINERD - Top Alcohol Funny Car Round 1 Eliminations
Aug 17- BRAINERD - Top Alcohol Dragster Round 1 Eliminations
Aug 17- BRAINERD - Super Comp Round 4 Eliminations
Aug 17- BRAINERD - Stock Eliminator Round 4 Eliminations
Aug 17- BRAINERD - Top Fuel Qualifying, Session #3 Order
Aug 17- BRAINERD - Funny Car Qualifying Notes, Session #3
Aug 17- BRAINERD - Top Fuel Qualifying Notes, Session #3
Aug 17- BRAINERD - Pro Stock Qualifying, Session #3 Order