Fri, 2 Dec 2005, 09:35 AM



Schumacher Collects Champion of Champions Award



Courtesy of Chris Dirato


Photo copyright 2005 Auto Imagery, Inc.





ORLANDO, Fla. --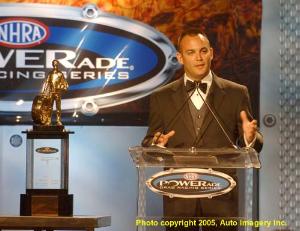 Tony Schumacher
U.S. Army Top Fuel driver Tony "The Sarge" Schumacher pocketed the prestigious Economaki Champion of Champions award here today at the Performance Racing Industry trade show in the Orange County Convention Center.
Presented by Rockett Brand Racing Fuel and National Speed Sport News (NSSN), the Economaki Champion of Champions (named after NSSN's long-time editor, Chris Economaki) must have earned a title while racing in North America during the 2005 season and excelled on and off the track.
In '05, Schumacher captured his second straight NHRA POWERade Top Fuel world championship and the third of his career.
"This is quite an honor," said Schumacher after receiving his trophy. "I wish my U.S. Army team could have been here with me today because without all of their hard work throughout the year this would not have happened. This is as much their award as it is mine."
Schumacher, who hails from Chicago, became the first NHRA driver to take home an Economaki Champion of Champions award. Previous winners include J.J. Yeley (USAC - 2003) and Steve Kinser (World of Outlaws Sprint Series - 2004).
"I'm happy I was able to break the ice for the NHRA," added Schumacher, who set a number of national records this past year. "Of course, I'm hopeful that there will be others to come along from the NHRA."
Other finalists for the award included Max Angelelli (Grand Am Road Racing Series), Sebastian Bourdais (Champ Car World Series), Damion Gardner (USAC-CRA Sprint Car Series), Kinser (World of Outlaws Sprint Series), Billy Moyer (World of Outlaws Late Model Series), Fred Rahmer (Open Wheel), Dave Steele (USAC Silver Crown, TBARA), Tony Stewart (NASCAR Nextel Cup Series) and Dan Wheldon (IRL Indy Car Series).
"That list is pretty impressive if you ask me," offered Schumacher. "To be singled out as THE guy is just unbelievable and I can't thank Chris Economaki and his staff enough."
Since 1934, NSSN has been considered "America's Weekly Motorsports Authority." Economaki has edited the publication for more than 50 years.




NHRA: 10 Most Recent Entries [ top ]

May 25- BOWLING GREEN - Stock Eliminator Class Eliminations Qualifying
May 25- BOWLING GREEN - Super Stock Class Eliminations Qualifying
May 25- BOWLING GREEN - Friday Wrap Up
May 25- BOWLING GREEN - Competition Eliminator Qualifying, Friday Order
May 25- BOWLING GREEN - Stock Eliminator Qualifying, Friday Order
May 25- BOWLING GREEN - Super Stock Qualifying, Friday Order
May 25- BOWLING GREEN - Top Dragster presented by RacingRVs.com Qualifying, Friday Order
May 25- BOWLING GREEN - Top Sportsman presented by RacingRVs.com Qualifying, Friday Order
May 25- BOWLING GREEN - Sportsman Motorcycle Qualifying, Friday Order
May 25- Kurt Elliott Named Assistant Crew Chief for Langdon