Thu, 1 Dec 2005, 11:17 AM



Andrew Cowin Returns to Top Fuel Competition in 2006



Courtesy of Bobby Bennett


Photo copyright 2005 NHRA





Aussie Superstar to Run Entire IHRA schedule and Limited NHRA Competition



WILMINGTON, NC. --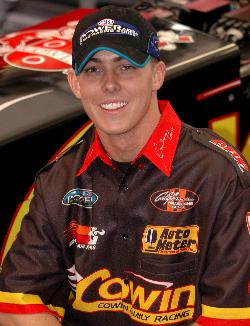 Andrew Cowin
Second-generation driver Andrew Cowin will make his return to the United States drag racing scene behind the wheel of a new Top Fuel team fielded by respected insurance industry figure Scott Griffin of Wilmington, NC. The deal was brokered by Mark Carrier, longtime Griffin friend and Cowin's former employer.
Cowin plans to run the eleven-race IHRA Hooters Drag Racing Series and will run a limited NHRA POWERade tour as well. This provides a triumphant return to the sport for the son of Australian drag racing legend Graeme Cowin. Most recently the father/son duo campaigned a dragster in the United States.
Cowin is excited with the potential of this program.
"I am so excited about this that I can't sleep at all," Cowin said. "I was supposed to marry my girlfriend Jenny in the Fiji Islands and it was going to be a big deal. Now I guess we'll be bringing the entourage to North Carolina instead. This is an answer to my prayers."
Griffin, the founder of the industry-leading Atlantic Claims, Inc. http://www.atlanticclaims.com, is no stranger to the racing community having raced in the Top Dragster and Super Comp divisions. He is also a past Roy Hill's Drag Racing School instructor. When he decided to field a Top Fueler, he looked no further than Carrier for advice.
"Mark Carrier is first class," Griffin said. "He helped me to assemble the right team. Having the right personnel is the most important part of any program and I am confident that we have assembled a young and energetic team. This is a team of young players wise beyond their years."
Carrier first met Griffin about five years ago and admits he's been impressed with his professionalism. He will serve as the team's advisor and plans to align the Carrier Brothers team with the upstart operation for the years to come.
'I am very happy for these guys," Carrier said. "This is a team filled with youth and enthusiasm. When you interject a healthy dose of young players into any sport, it bodes well for the future. I see a lot of good things coming forth from this program."
Keith Stewart, most recently with David Baca, will complete the next generation movement. In fact, Stewart is the oldest among the key figures of the team. At 32, he's a year older than Griffin and six over Cowin.
Stewart has worked with Cowin during his stints as driver for the Darrell Gwynn New York Yankees car as well as the Cowin family dragster.
"They will grow together," Carrier adds. "That is what happens when you have a team that is very goal-oriented and they spend time together working toward it. I have the utmost of confidence they will do the right things. He is good for the sport."
Joining in the team for their marketing and media relations will be Ryan Beadle. Beadle is the son of multi-time World Champion Raymond Beadle. Following the lead of Griffin, Cowin and Stewart, Beadle is only 25.
Like his teammates, Beadle admits, "I've been around this stuff all of my life."
Cowin will be racing with familiar company when it comes to working in association with Carrier. A life-threatening, non-racing accident is all that separated Cowin from the Carrier Boys team two-years ago. He has since made a full recovery and looks forward to the reunion.
"This will be a lot of fun and I am looking to being a part of this team," Cowin said. "It's one thing to be a team of also-rans, but this one has the potential to win it all. That excites me."
Cowin held the IHRA Top Fuel record for nearly a year until the mark was bettered by Clay Millican during the final event of the 2005 IHRA Hooters Drag Racing season. Ironically, Stewart was a member of Cowin's team when the record was established.
The team plans a rigorous pre-season test schedule that will begin in January. For more information, visit the team's website at http://www.scottgriffinmotorsports.com.




IHRA: 10 Most Recent Entries [ top ]

May 20- IHRA Member Track Update
Mar 16- IHRA Sportsman Spectacular Events at Farmington and Holly Springs Postponed
Dec 03- Historic Mo-Kan Dragway Reaches Multi-Year Agreement with IHRA
Oct 24- Summit SuperSeries Champions Crowned at IHRA Summit SuperSeries World Finals
Oct 24- Summit Racing Equipment Renews Commitment to IHRA Summit SuperSeries in 2020
Oct 08- Beacon Dragway Chosen as IHRA Division 2 Track of the Year
Oct 08- London Dragway Emerges With Win at IHRA Division 2 Summit Team Finals
Oct 08- Xtreme Raceway Park Named IHRA Division 4 Track of the Year
Oct 07- Pine Valley Raceway Captures IHRA Division 4 Summit Team Finals Win
Oct 03- Beaver Springs Dragway Named IHRA Division 3 (North Stars) Track of the Year