Wed, 30 Nov 2005, 10:11 AM



Can Anybody Beat Greg Anderson?



By Bob Frey


Photo copyright 2005 Auto Imagery, Inc.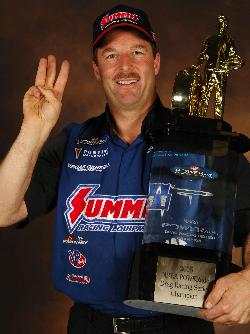 Greg Anderson
Before I get to the Pro Stock class a quick tip of the hat goes out to
Tony Schumacher
and
Gary Scelzi
who have both been nominated for the "Economaki Champion of Champions" award for 2005. Featured in a recent article in the
National Speed Sport
News
, the two drag racers join a pretty impressive list of 2005's championship drivers including NASCAR champion
Tony Stewart
who are up for the award. The final winner will be announced this week at the P.R.I. show in
Orlando
and let's hope it's a drag racer. Now.
It's been a long while since anyone in the professional classes was considered more dominant than John Force. But over the past three seasons, nobody has been as dominant as Greg Anderson, not even the perennial Funny car champion himself. Driving his Summit Racing Pontiac Greg has re-written the record books over the past three years and there doesn't seem to be anything on the horizon that would indicate that he will be slowing down, literally or figuratively. As a matter of fact, when the testing begins next month in Florida, Greg could have a complete new arsenal of cars, including a new Jerry Haas car and maybe even one from Rick Jones. Like the old expression goes, the rich get richer. Toss in the numbers that Greg's teammate, Jason Line has put up over the past two seasons and you have a pretty good one-two punch, as good as anything John Force put together with his team and as good as one of Greg's main rivals, Warren Johnson, has assembled. Ken Black, who owns the team that Greg and Jason drive for, should be extremely proud of what his Pro Stock cars have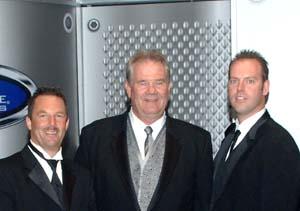 Anderson, Black and Line
done and, who knows, with a Top Fuel car in his stable next year maybe Ken will duplicate the feat of
Don Schumacher
, that is, win the championship in two different classes. Hey, stranger things have happened and I wouldn't put anything out of reach for a successful man like Ken Black.
When I talk about domination, let's look at some of the numbers. Over the past three years Greg has won a staggering 196 rounds. By comparison, the best three years that John Force ever had saw him ring up a total of 184 round wins. When you factor in the number of races in each year, Greg won an average of 2.8 rounds per race while John won an average of 2.9 rounds per race. Over those three peak years, Greg won 35 national events while John, in his three best years, won a total of 35 national events. Greg recorded 37 number one qualifying spots while John posted 33. I could go on but suffice it to say that, for the first time in a long while, John Force may not be the most dominant driver out there in the professional ranks especially if you look at the last three years. Make no mistake about it, John Force has been the class of the field (all the fields) for a long while and is still the standard by which all others are measured, but right now, after three championship seasons, Greg Anderson and his team are the best professional team in the sport. Of course if Tony Schumacher has another year in '06 like the one he just completed this story could take on a whole new look at this time next year.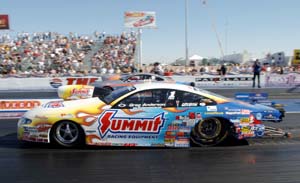 One thing that you have to like about Greg is his determination to win. During the 2005 season Greg was rolling along and hanging out near the top of the points standings when he decided to bring out a brand new car. When I asked him why he would do that in the middle of the season and while he was in the thick of a points battle, he simply said that "we can't win with the cars we have now. If we want to contend for the championship we have to make a move and we have to do it soon." All he did after bringing out the new GTO was go on a typical Greg Anderson steak that saw him win an amazing twenty-seven rounds over the last nine races of the season. And, if you can't do the math let me do it for you, that works out to an average of three round wins per race and that's uncharted territory. Over the first fourteen races of the year Greg had won twenty six rounds and he did better than that in just nine races at the end of the season. Over that stretch his main rival, Warren Johnson, also debuted a new car but the "Professor" never really did get a handle on it. Over those same nine races that I mentioned
did you know
that
Warren
only won six rounds? Six!!
Kurt Johnson
, in his
A.C. Delco Chevrolet
, had a very good nine races at the end of the year winning a solid twenty-one rounds while taking second place for the fourth time in his career. Still, as good as "KJ" was he wasn't good enough to catch Greg, but then, who was?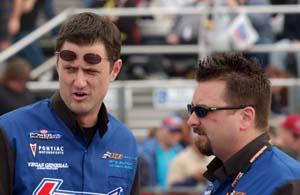 Downing and Perley
A quick check of some other stats will show that Greg was beaten off the line more times than he was first off the line but those numbers, by themselves, can be a bit misleading. Let me say that Greg had fifty reaction times better than .054 this year and he had thirty-two of them better than .039 and that's pretty good in anyone's book, isn't it? Plus, when you figure that he got beat off the line even when he had reaction times of .012, .026, .031 and .033 you start to see that everyone in the other lane was really getting pumped up when they faced him and that made it even harder to get off the line first. Still, as good as the competition was, and while many of them got off the starting line first, not many of them got to the finish line first and that's what counts...Greg had a very good car but certainly not an unbeatable car this year, at least if you look at the performance numbers.
Did you know
that Greg set top speed at five races this year while both Warren and Kurt did it six times? So who was making more power? Greg did set low elapsed time at eight races while
Warren
did it at five and Kurt did it at four events. So when you look at those numbers it appears that Greg's team simply did a better job of getting their car down the track than anyone else did and that's a real tribute to
Rob Downing
,
Jeff Perley
and the rest of the Summit Racing team. They made good power, very good power, and they knew how to use it and that's the stuff that championship teams are made of. Congratulations to the three-time NHRA
POWERade Pro Stock World Champion
, Greg Anderson and his entire team.
The question now seems to be how will the other teams stop Greg in 2006.or will they? The other big question comes from the Don Schumacher camp and that is, who will drive the second car for the "Don." While I don't pretend to have any inside information on this subject I will tell you this, don't expect it to be someone who will have to go through some "on the job training." And don't be surprised to see it be someone who already has won one and maybe more national championships, and don't be surprised if it's someone who finished this year in the top ten in points.in some class. How about this for an idea? Why not put Bob Glidden back behind the wheel? Think about it, you'd be replacing a two-time world champion, Jeg Coughlin, with a ten-time champ. You're coming off a year when you won the title in both of the fuel classes so you have a lot going for you and your team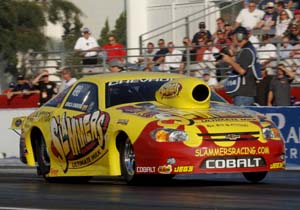 Erica Enders
from a promotional and a marketing standpoint so why not add the guy with the most Pro Stock titles to your roster of drivers? A Bob Glidden,
Richie Stevens
combo would give Don the best of both worlds, a great veteran driver and one of the top young drivers in the sport. Plus, can you imagine the t-shirt sales?...In 2006 who do you think will provide the top competition for Greg and Jason? I have to think that
Erica Enders
and her team, which ran really well the last half of the season, will hit the ground running and they should be contenders for the entire year. Of course Warren and Kurt will be there, but which one of them will be the strongest in '06. Kurt has done everything but win a world title and if he can avoid some of those peaks and valleys that he's had over the past two years he could make a serious run at the championship.
Among those valleys for Kurt was a four race stretch to start the season that saw him drop three opening round encounters. While there were still a lot of races to go in the year, when you're languishing in tenth place after four races the rest of the season is an uphill battle. The new Cobalt that he and the other Chevy guys got around Bristol certainly made a big difference and Kurt,
Ron Krisher
and the other Chevrolet guys will have them from the beginning of the season on 2006 and that makes them contenders right from the start...With
Bill Jenkins
available for engine building next year it will be interesting to see which, if any teams decide to sign with the "Grumpy" one. I'll tell you this, I know for a fact that several teams are talking to Bill, and based on what he has done over the past few years I think those teams would be wise to give Bill a long, hard look. His engines make a lot of power and when you combine that with the right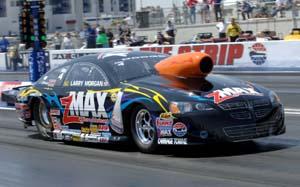 Larry Morgan
team, a team that can find ways to use that power, Bill will give someone a winning engine program next year. Let's just hope that who ever is going to get together with Bill does it soon so that everyone will have a chance to test, get things sorted out and begin the season with a strong, contending Pro Stock car..The Mopar teams showed signs of brilliance this season, with
Larry Morgan, V. Gaines
and
Ken Koretsky
all looking like they had cars that could win races in 2005 while
Mike Thomas
also did well when presented with the opportunity to drive for "Captain Chaos." Larry, who provided engines for Kenny and V., has certainly proved that he can make power and if those teams can get a little more consistent next year the guys from Chrysler will have a lot more to cheer about than just the fuel cars. Now if only we could get a competitive Ford Pro Stocker. Or if I could only hit the lottery, which will probably happen before that Ford thing.All the testing will start very shortly and we should get an indication of which teams will have the power to run with, along side of, near, or at least in the same zip code as Greg and Jason next year. I can't wait..




NHRA: 10 Most Recent Entries [ top ]

Mar 21- LAS VEGAS 1 - Fact Sheet
Mar 21- LAS VEGAS 1 - Event Preview
Mar 20- Strong Stable of Contending Pro Stock Racers Vie for Final Starting Position for K&N Horsepower Challenge
Mar 20- GAINESVILLE - Special Awards
Mar 20- GAINESVILLE - Lucas Oil Drag Racing Series Wrap Up
Mar 19- GAINESVILLE - Sunday Video
Mar 18- GAINESVILLE - Pro Mod Sunday Wrap Up
Mar 18- GAINESVILLE - Sunday Wrap Up
Mar 18- GAINESVILLE - Pro Mod Championship Points
Mar 18- GAINESVILLE - Bonus Points