Mon, 28 Nov 2005, 05:57 PM



Alan Bradshaw to Drive BME Dragster



Courtesy of Rick Voegelin


Photo copyright 2005 Auto Imagery, Inc.





CARSON CITY, Nev. --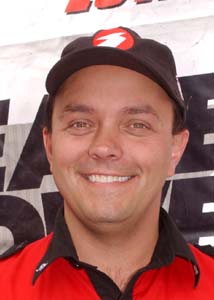 Alan Bradshaw
Bill Miller announced today that Alan Bradshaw will drive the BME/Okuma Top Fuel Dragster in the 2006 NHRA POWERade Drag Racing Series. Bradshaw, the 2003 NHRA Lucas Oil Series Top Alcohol Dragster champion, will join the BME team for preseason testing in Phoenix.
"When I first met Alan, I was impressed by his focus and determination to become a Top Fuel driver," said Miller. "After winning the Top Alcohol Dragster championship, Alan took it upon himself to earn his Top Fuel license. He has the burning desire to race at the top level of the sport, and he understands the commitment that it takes to campaign a Top Fuel dragster. I'm confident that Alan will be an excellent representative for BME and Okuma America."
"I'm ecstatic about the opportunity to drive the BME Top Fuel Dragster," said Bradshaw, 37, of Odessa, Texas. "Bill's given me a chance that nobody else has, and I'll never forget that.
"This is truly the fulfillment of a lifelong dream," he noted. "Racing is something that's a part of me, something I have to do. Now that I've got a seat in a great Top Fuel dragster, I hope to be fortunate enough to stay there for a long time."
Bradshaw literally grew up at drag strips. His father, Buddy, was an accomplished drag racer, and Alan followed in his tire tracks. He went to his first race as a 2-year-old, and at 3, he was emulating his Top Fuel hero, Tommy Ivo, by doing fire burnouts on his tricycle. At 14, Bradshaw bracket raced his father's tow truck and at 16 he moved into Super Gas. He progressed through a Super Comp dragster to Top Alcohol Dragster in 1993. He won the 2002 Division 5 TAD championship and captured the 2003 NHRA Lucas Oil TAD title driving Randy Meyer Racing's nitro-burning dragster. Bradshaw has operated the Bradshaw Chiropractic Center in Odessa, Texas, since 1992.
"Bobby Lagana Jr. did an excellent job driving for us in 2005," Miller noted. "Unfortunately we struggled with our clutch setup for most of the season, and that was certainly not Bobby's fault. As the owner and driver of his own Top Fuel car, Bobby and I decided it was best to let him pursue his IHRA career.
"I looked up Alan's Chinese astrological sign, and he's a monkey, which is what I am," Miller laughed. "He's also a Gemini, the same as me. So we have a lot in common already."
Bradshaw agreed: "Bill and I are two peas on a pod. He told me, 'We're either going to have one heck of a time together or butt heads.' I said, 'It's your equipment and your team, and it's my responsibility to respect that.' I think we'll get along just fine.
"Seriously, Bill and Virgie Miller are super people, and I look forward to racing with them," Bradshaw said. "Bill is a very meticulous, analytical thinker. He has a good team behind him, a great sponsor in Okuma, and they're definitely committed to the cause."




NHRA: 10 Most Recent Entries [ top ]

May 19- TOPEKA - Top Dragster presented by RacingRVs.com Round 1 Eliminations
May 19- TOPEKA - Top Sportsman presented by RacingRVs.com Round 1 Eliminations
May 19- TOPEKA - Top Alcohol Dragster Round 1 Eliminations
May 19- TOPEKA - Top Alcohol Funny Car Round 1 Eliminations
May 19- TOPEKA - Saturday Pro Mod Wrap Up
May 19- TOPEKA - Saturday Wrap Up
May 19- TOPEKA - Top Fuel Harley Eliminations Ladder
May 19- TOPEKA - Top Fuel Harley Final Qualifying, Session #4 Order
May 19- TOPEKA - Top Fuel Harley Qualifying Notes, Final Session
May 19- TOPEKA - Pro Modified Eliminations Ladder