Mon, 28 Nov 2005, 12:01 PM



Two Drivers, Two Different Paths To The Championship



By Bob Frey


Photo copyright 2005 Auto Imagery, Inc. & Robert Grice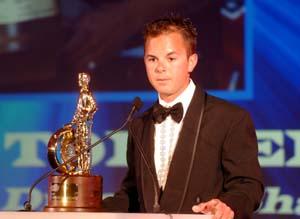 Steve Torrence
In almost every respect Bob Newberry and Steve Torrence couldn't be farther apart if they tried. One is one of the great veteran drivers in the sportsman ranks and the other is a fresh, young, twenty-two year old kid. One drives a blown alcohol funny car while the other is behind the wheel of a nitro-burning A/Fuel dragster. One won his first national event in 1979 the other one was born in 1983. One builds some of the best blown alky motors in the sport and the other one drives a car that is tuned by a former world champion. One lives in New York State and the other one resides in the great state of Texas. One just finished his first season in the alcohol ranks the other just finished his twenty-first year. And when I spoke with both of them today, one was working on an eighty year old house that he was refurbishing and the other one was getting ready to take his dad out to lunch. But, with all of the things that separate them, there is one thing that unities them and that is the fact that both Bob Newberry and Steve Torrence are the 2005 Lucas Oil World Champions. For Bob it's his third NHRA championship, for Steve his first.
Both of these drivers took a different path to the 2005 championship. Steve got the call to drive the Tom Conway-owned dragster after the tragic death of Shelly Howard earlier this year. Steve, himself, was coming off a life-threatening battle with lymphoma, a disease that almost took his life a year ago. "Right now I feel great and I'm getting ready to go in for some tests in a month or so," Steve said. "I've done so well lately that I think they may move my next test to a year instead of the six months that it has been for a while now." The way I see it, that's even better news than winning a world championship. As his dad was getting ready to go to lunch with Steve, and as he was putting on the U.S. Nationals' championship jacket, Steve told me that life is "pretty awesome right now." And while that word "awesome" may be thrown around just a little too much these days, if getting a good bill of health and winning a world championship doesn't qualify as awesome I don't know what does.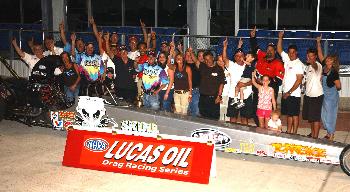 Torrence celebrates a win.
The year that Steve had will have to go down in the record books as one of the best ever in the history of the class. The team, with Shelly's husband Paul in attendance at most races, went to thirteen events and they made it to the final round at eleven of them and they won nine races. Among that total were a win at the O'Reilly Summernationals in Topeka, the first national event they attended, and the huge and emotional win at Indy where Shelly Howard had been runner-up the past two years. They also were the number one qualifiers at Brainerd where they set low elapsed time in the final round, won the divisional race in Topeka where they were the number one qualifier and set low elapsed time in the final round, clinched the championship in Dallas and then won the Division 4 race there the next week. Over the course of the season they met and beat some of the top drivers in the sport including Gene Snow, David Wells, Arthur Gallant, Hillary Will and Chris Demke among others and that was just in the final rounds. With Steve driving and Tom Conway tuning, the team recorded a best elapsed time of 5.202 and a top speed of 276.46 which were among the best in the class this year. Still, as good as 2005 was the team is preparing for bigger and better things in '06. "We will have a new car next year with a new wing design on it and that should make us even more competitive," Steve said. Plus there is the possibility that they may team up with another young driver next year and have a two-car team. "That's still in the planning stages but it may happen." Looking further into the future, I asked Steve if he had any desire to step up and race in Top Fuel someday. "That's been my goal since I first drove this car," he said. "But I'm just not ready yet. I'd like to say that I am, but I know that I need more time in this car and this class before I even think of moving up." Interesting, a twenty-two year old kid who takes a realistic look at things, now that truly is awesome, isn't it?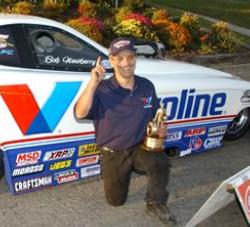 Bob Newberry
The other alcohol class champion this year, Bob Newberry, was busy working on a house "by the lake that I bought several years ago and am fixing up for my wife." He was doing that during one of the few days that he wasn't busy working in his shop, building or fixing engines for himself or his many customers. For Bob the championship was his third NHRA crown (he also has one IHRA world title) and, as he pointed out, they come every thirteen years." I won the Competition Eliminator title in 1979, won the TA/FC championship in 1992 and now this one," he said. "I told the folks at Valvoline and my other sponsors that if they'd give me a thirteen year contract I'll win them another championship." Something tells me that we may not have to wait that long. Bob had a very good year this season and, as he put it, "We won the races that we had to win and kept the mistakes to a minimum." And when those mistake did happen, like a loose valve cover in the finals at Maple Grove, Bob took full responsibility. "It's my team and I'm responsible for everything that goes on. I have really good people working with me but, in the end, it's up to me to see that everything is done right." Other than that final round Bob had a very good year on the track. He went to the final round at five national events and won three of them while he also went four and one in finals on the divisional level. "I think our '92 championship might have been a little better from a performance standpoint but this year was very good," he said. "People asked me why I didn't come out west at the end of the year, but they don't realize that Steve Gasparrelli could still tie me if he won Vegas (the Division 7 points race) and Pomona. The tie-breaker in our class is head-to-head meetings and since I had beaten Steve in Chicago I figured it doesn't make a lot of sense to go where he could possibly beat me at a points race or the final and win on the tie-breaker."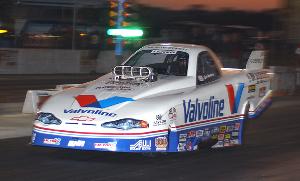 In 1979 when Robert Newberry, as he was called than, was twenty-nine years old he did go west to compete in the World Finals. "At that time in the sportsman classes if you were a division champion you automatically got a spot in the field at the finals and if you won the race you were the World Champion. I wasn't the division champ but I knew we had a pretty good car so I went out there, qualified third and won the race." Along the way he beat some of the sport's top drivers including Randy Pumphrey, Mike Ferderer, Bobby Cross and Larry Tores. In 1992, thirteen years later, when he won his first alcohol class championship, he also had a very good year. "'92 may have been a better year than this one from a performance point of view. We won a lot of races that year and had a really fast car." You could say that about a lot of years between 1979 and now about Bob Newberry, couldn't you? As for the future Bob says that he intends to compete for as long as he can and that he still really enjoys the driving part of the racing. "I don't enjoy all the travel, especially how much you have to do if you want to contend for the championship, and if I could find someone who would work on my car like I do I would bring him in to help. But I thoroughly enjoy the driving part of it. That's still fun." The winning is enjoyable too, I'm sure.
Steve Torrence and Bob Newbery will spend their off-seasons in completely different ways in two completely different geographic parts of the country, but one thing they share in common, they are the best of their respective classes this year and they will both be very tough to beat in 2006. Or in Bob's case, in 2018. Awesome!!




NHRA: 10 Most Recent Entries [ top ]

Apr 24- CHARLOTTE 1 - Steve Torrence Enjoying Four-Wide Success Heading to NGK Spark Plugs NHRA Four-Wide Nationals
Apr 24- CHARLOTTE 1 - Fact Sheet
Apr 24- Kalitta Motorsports Welcomes NASCAR Stars to the SealMaster Track Walk in Charlotte
Apr 24- zMAX Dragway Celebrates 10th Anniversary
Apr 24- CHARLOTTE 1 - NGK Spark Plugs NHRA Four-Wide Nationals Brings 40,000 Horsepower Thrill Show to zMAX Dragway
Apr 23- HOUSTON - Lucas Oil Drag Racing Series Wrap Up The NHRA Lucas Oil Drag Racing Series Wrap Up
Apr 23- CHARLOTTE 1 - J.R. Todd Aiming for Two Four-Wide Racing Wins in 2018
Apr 23- Mid America Dragway Joins NHRA Member Track Network
Apr 23- HOUSTON - Special Awards
Apr 23- HOUSTON - Sunday Video