Sun, 27 Nov 2005, 10:17 AM



NHRA Crew Chief Dupuy Seriously Injured in Accident



Courtesy of Gabrielle Stevenson


Photo copyright 2005 Auto Imagery, Inc.





LINCOLNTON, N.C. --
Wayne Dupuy of Lincolnton, one of the top crew chiefs on the National Hot Rod Association (NHRA) tour, was severely injured in a single-car accident near his home early Friday morning. Dupuy lost control of his Ford Mustang on Highway 150 and was ejected from the vehicle, breaking his spine, pelvis, and left eye socket. He also suffered multiple abrasions.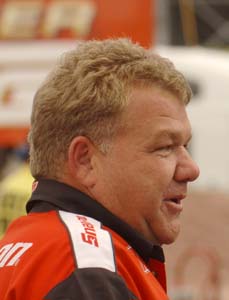 Wayne Dupuy
He was initially transported to Lincolnton County Medical Center before being airlifted to Charlotte Medical Center where he remains in the Trauma Ward of the Intensive Care Unit. Doctors initially labeled Dupuy as critical before upgrading him to serious but stable Friday afternoon. He was on a respirator for 34 hours but is now breathing on his own. Initial MRIs and CAT scans are all positive.
Dupuy tunes the Snap-on Tools Top Fuel dragster of Lincolnton-based drag racer and four-time world champion Doug Herbert. He recently tuned Herbert to a 4.441-second quarter-mile elapsed time, making Herbert the third quickest man in the history of the sport. Dupuy, 41, moved to the Charlotte area six months ago from Jacksboro, Texas, along with his wife Tressa and their three children Jessica, Hillary, and Zach.
"On behalf of the entire Dupuy family I want to thank everyone out there who has been praying for Wayne," said Tressa Dupuy, Wayne's wife, who has been joined in the hospital by Wayne's father Lynwood Dupuy, brother Jim Dupuy, and several other family members. "It means a lot to all of us here and I know it's helping Wayne. He's pretty medicated but we've told him about the outpouring of love and support people have shown for him and us and he acknowledged us.
"He's not out of the woods yet but he's heading in the right direction. We went from thinking the worse to realizing how incredibly lucky he was to survive. Now we need to get him better.
"The staff here at CMC is second-to-none. They have been so kind to us and have kept us very informed. Please keep Wayne in your thoughts over these next few days and weeks."
Herbert, who was considered an early contender for the 2006 NHRA title with Dupuy at the helm of his race team, says racing is of little importance at this critical time.
"We're all very concerned about Wayne," Herbert said. "He's the only priority at this point. The race team will be fine and knowing Wayne he'll be back in the shop sooner than anyone will expect him to be but right now he needs to work on his recovery."




NHRA: 10 Most Recent Entries [ top ]

Mar 22- LAS VEGAS 1 - Defending Funny Car Winner Tommy Johnson Jr. Excited for Four-Wide Racing
Mar 22- NHRA Northwest Nationals Tickets on Sale Now
Mar 21- LAS VEGAS 1 - Fact Sheet
Mar 21- LAS VEGAS 1 - Event Preview
Mar 20- Strong Stable of Contending Pro Stock Racers Vie for Final Starting Position for K&N Horsepower Challenge
Mar 20- GAINESVILLE - Special Awards
Mar 20- GAINESVILLE - Lucas Oil Drag Racing Series Wrap Up
Mar 19- GAINESVILLE - Sunday Video
Mar 18- GAINESVILLE - Pro Mod Sunday Wrap Up
Mar 18- GAINESVILLE - Sunday Wrap Up