Fri, 25 Nov 2005, 03:31 PM



Wayne Dupuy Seriously Injured In Auto Accident






Photo copyright 2005 Auto Imagery, Inc.





Condition Critical But Stable



CHARLOTTE, N.C. --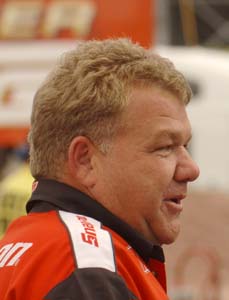 Wayne Dupuy
Wayne Dupuy, crew chief on Doug Herbert's Top Fuel dragster, is in critical but stable condition following a single car accident early this morning. Dupuy, who was driving alone, lost control of his vehicle, ran off the road and was thrown from the car.
According to the staff at Charlotte Medical Center Wayne suffered multiple broken bones, including a broken spine, broken pelvis and injuries to his face. Preliminary CAT scans showed no brain damage.
Wayne's wife, Tressa, who is enroute to the hospital at this time, said that early reports from the hospital have been encouraging. At last report Wayne was conscious and Chris Cunningham, who lives in the area, went to the hospital and said that when Wayne saw him he recognized him.
According to a family member the medical team is preparing for surgery later this afternoon.




NHRA: 10 Most Recent Entries [ top ]

Apr 21- HOUSTON - Sunday Schedule
Apr 21- HOUSTON - Saturday Video
Apr 21- HOUSTON - Saturday Wrap Up
Apr 21- HOUSTON - Super Stock Class Eliminations Finals
Apr 21- HOUSTON - Funny Car Qualifying, Session #4 Bonus Points
Apr 21- HOUSTON - Total Qualifying Bonus Points
Apr 21- HOUSTON - Funny Car Eliminations Ladder
Apr 21- HOUSTON - Funny Car Final Qualifying, Session #4 Order
Apr 21- HOUSTON - Top Fuel Qualifying, Session #4 Bonus Points
Apr 21- HOUSTON - Pro Stock Qualifying, Session #4 Bonus Points