Thu, 24 Nov 2005, 10:59 AM



The Funny Car Class and Some Other Notes



By Bob Frey


Photo copyright 2005 Auto Imagery, Inc.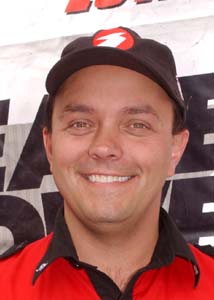 Alan Bradshaw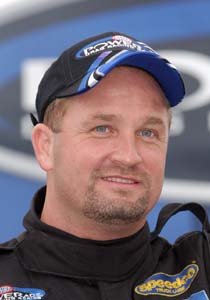 Bob Vandergriff
Alan Bradshaw
will be racing in Top Fuel next year
and so will
Bob Vandergriff
and
Tate Branch
while
Jonathan Johnson
will be driving the Top Alcohol Funny Car for
George
and
Jane Etterman
in 2006. George is doing much better in the health department and Jane told me that she can't wait for the new season to start so she can get back to the races..The announcement about Alan could come as early as this week and he is looking to compete at sixteen NHRA events next year. Bob Vandergriff, meanwhile, has a crew in place (a very good crew if I may say so) and is poised to announce his new deal in the near future. I would say that the announcement will be coming shortly but, in the interest of fair reporting, I believe I said that last April. In fact I know I did, so let's just wait and see, but believe me, it's a done deal..The Tate Branch car will be in partnership with
Chris Russell
and, from what I hear,
they
are looking at running all twenty-three NHRA national events. As good as the fuel classes were this year they appear to be getting even stronger in 2006 and that's a good thing, a really good thing.
Gary Scelzi is the 2005 NHRA POWERade Funny Car Champion. Of course you knew that but it just has a nice ring to it if you're Gary, Mike Neff his crew chief, Don Schumacher the car owner and Jim Jannard of Oakley who sponsors the car along with Mopar. Of course all of the folks at Mopar have to be pleased, too, and not only because Gary won the title but because Ron Capps in the "Brut" Dodge also finished second in the points. That means that two Dodges were at the top of the pack in the Funny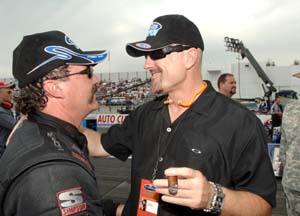 Scelzi and Jim Jannard
Car points and when was the last time that happened? Oh, right, never!! So after all of that success what will the Dodge and Mopar people do during the off-season? Well, they'll test drive their brand new Dodge Charger Funny Cars as they get ready for the 2006
season
. If you happen to be in the
Las Vegas
area early next month you may want to stop by the Strip at Las Vegas Motor Speedway because, from what I hear, the new Dodge Chargers will be testing at the track. One of the Dodge engineers told me that "we want to keep on top of the game and we have the hot new car to do it." If you've seen one of the new Chargers you'll know what he means, they are really, well, hot!! And I can only imagine what kind of testing will take place and how much work has to go into one of these new cars. After a quick trip to Vegas the cars will probably go to the wind tunnel for some refinements before hitting the track at the first race of the season in
Pomona
. The Stratus, according to the engineer, "fulfilled
it's
goals and has completed its life cycle as a race car." Now the fans will get to see Gary and Ron in their all new race cars and that should give the "Team Mopar" guys a little edge going into the
new year
. At least that's the way I see it.
Now..
It's always interesting at the end of the year to look back and see how everyone got where they got, if you know what I mean. For example, Gary won the championship but Ron Capps had more round wins and reached more final rounds. Gary won the championship but John Force won more races. But both Ron and John lost a lot more first-round matches than Gary did and all of that adds up to a championship. Ron won five races, two more than Gary and John and still didn't win the championship but that's not all that unusual. Did you know that Ron won five races in 1998 to John's three and that John still won the championship? That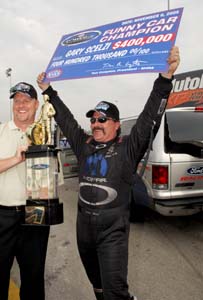 Scelzi celebrates championship.
year Ron won a total of thirty-eight rounds while this year he won thirty-seven. Back in 1984
Mark Oswald
won the championship but
Billy Meyer
won more races. And it happened in 1981, 1979 and 1974 when none of the champions won the most races. Like I've said all along, it's all about winning rounds. In 1974, the year that
Shirl Greer
won the title,
did you know
that he only won one national event and that's the fewest that any Funny Car driver has ever won while winning the championship? It should be noted here that in '74 professional racers could also earn points at divisional races and Shirl did manage to win three of those..John's five wins and two runner-up spots this year gave him a grand total of 660 points for those final round appearances, while Ron got 620 points for his three wins and four runner-up spots.
Gary
's three wins and two runner-up spots gave him 460 final round points but he made up for that by losing four fewer opening round matches than John. Those first round encounters are huge.
While it is well known that John dropped ten races in the first round this year I wonder what round each of the drivers would like to have back. Gary probably doesn't want any back because he won the deal, but I have to think that he'd like to try that first round in Dallas one more time. Did you know that there were only eight red lights in the Funny Car class the entire season? And none of them were probably as scrutinized as Gary's foul against Phil Burkart in Dallas. Not only did he foul but then Gary ran 4.833 which was the second quickest time of round and the third best elapsed time of the race in the Funny car class. Funny how none of that really seems to matter after you're crowned the champion, isn't it? For his part I'll bet Ron would like to have back the very first round of the year. Remember at the Winternationals when Ron's car puked oil all over the starting line before he even fired up? Ron lost the first round of the first race and never even got to the starting line and I guarantee you that he'd love to have that round back. John Force also lost in the first round at the Winternationals and that kind of set the stage for his season, too. And in case you forgot, Gary lost in round one there, too..Going into the final race of the season John kept talking about how he wanted to set the record and get the twenty bonus points that go with it (that's for the elapsed time record. You get zero points for setting a speed mark. Don't get me started). Did you know that John had his work cut out for him since nobody had set a record in the Funny Car class this year, not even John? That makes 2005 the first year since 2000 and the introduction of the 90% nitro rule that there was not a record set in the Funny Car class. Did you know that it's also only the third time since the Funny Car class became part of the full time NHRA schedule that there wasn't a record set in the class in a calendar year? In 1978 nobody ran quicker than Don Prudhomme's record of 5.97 or faster than Dale Pulde's record of 245.90 and that makes 1978, 2000 and 2005 the only times that we went through an entire year without having either an elapsed time or a speed record set in the Funny Car class.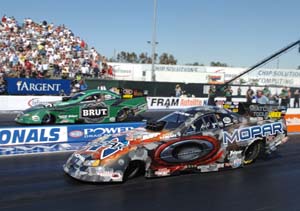 Scelzi vs Capps
As I was going over some of my stats (I have a lot of time to do that during the off-season) I came up with this little tidbit.
Did you know
that Ron Capps bunched fifty-seven runs within reaction times of .048 and .109? Now the way I see it, that's pretty good. Give me a good, consistent, steady driver and I'm going to win a lot of races. By comparison,
Gary
had his runs go from .039 to .154 while John spread his from a best
of

.
025 to a high of .151 and that doesn't include the single run that John got in the finals in
Texas
. Ron's "Brut" car just was solid in every way this year and with that swoopy new Charger body he can only get better in 2006. Gary, of course, had a big speed car this year and, as hard as it may be to believe,
did you know
that he was the only one of the title contenders to go over 330 miles per hour on race day this year? When
was the last time John Force wasn't
tops in every statistical category in the FC class?
Did you know
that John had a grand total of one number one qualifying spot, two low elapsed times and only one top speed the entire year? The last time John went the entire year and only set top speed one time was back in 1990, while the last time he only had one top qualifying spot in a year was 1989. Amazing, isn't it..Anyway, the 2005 season is in the record books, Gary Scelzi adds his name to a list of one other driver who has won in both fuel classes and next year he'll try to do something that nobody has ever done, and that is keep John Force from winning a championship for two straight seasons. He'll also try to keep everyone else from winning it, too. It should be fun, and with all the new Top Fuel teams that I mentioned earlier I can't wait to see how many new Funny Car teams there will be next year. If any!!




NHRA: 10 Most Recent Entries [ top ]

Apr 21- HOUSTON - Sunday Schedule
Apr 21- HOUSTON - Saturday Video
Apr 21- HOUSTON - Saturday Wrap Up
Apr 21- HOUSTON - Super Stock Class Eliminations Finals
Apr 21- HOUSTON - Funny Car Qualifying, Session #4 Bonus Points
Apr 21- HOUSTON - Total Qualifying Bonus Points
Apr 21- HOUSTON - Funny Car Eliminations Ladder
Apr 21- HOUSTON - Funny Car Final Qualifying, Session #4 Order
Apr 21- HOUSTON - Top Fuel Qualifying, Session #4 Bonus Points
Apr 21- HOUSTON - Pro Stock Qualifying, Session #4 Bonus Points