Wed, 23 Nov 2005, 10:05 AM



It All Started With A Fiat



By Bob Frey


Photo copyright 2005 Auto Imagery, Inc.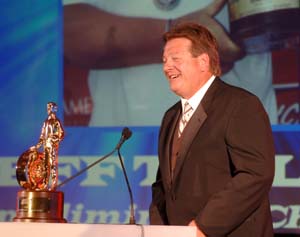 Jeff Taylor
In the entire history of drag racing not many, if any, superstars in the sport have ever uttered these words."It all stated out with a Fiat that I raced." First of all, "Fiat" and "raced" are hardly ever used in the same sentence. Second, if someone did race a Fiat they usually aren't too quick to spread the news. But, as hard as it may be to believe, one of the truly great, naturally gifted drivers in the sport did, indeed, begin his racing career driving a Fiat. And it had a Fiat engine in it, too and a four speed. That racer is Jeff Taylor.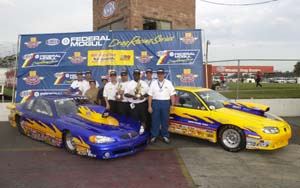 Taylor doubled up in Memphis.
The term "superstar" is thrown around a lot more in the drag racing world than the term "Fiat," but if superstar applies to anyone it applies to Jeff Taylor. The numbers alone will give you an indication of how good Jeff really is. When he won the Competition Eliminator Lucas Oil World Championship this year it marked the fourth time that he has been a world champion. It also makes him the first and only drag racer to win world titles in all three of the handicap classes, Comp, Super Stock and Stock eliminator. His wins this year ran his national event total to thirty-seven, with another sixteen final round appearances to give him fifty-three national event final rounds. He has won thirty-six divisional races, including his first at Blaney Drag Strip in 1980, the same race that was won by a couple of other superstars, Dick LaHaie and Kenny Bernstein. He has seven divisional championships and has finished in the top ten in points an amazing fifteen times including doing it in two classes in 2000. Ironically, he has finished second in the points four times and each time he missed the championship by less than a round. He is also one of a very select few drivers who have won in two classes at the same national event, and he did it twice, once in Denver in 1995 and again in Memphis in 2001. Now I ask you, if he's not a superstar, who is?
Jeff Taylor did begin racing with a Fiat at his home track in North Carolina. "It had a Fiat engine and went about twenty-three seconds," Jeff said. "As you can imagine I got a lot of head starts." Fast forward to this year when he raced in the Super Modified class in Comp Eliminator and, although the car may have changed, the procedure didn't. "I think I left the starting line first on all but two runs this year," he said. Racing in front in Comp and doing it with a five-speed manual transmission isn't easy and that's another reason why Jeff's latest win could be one of his best. "It gets tougher as you get older," the forty-five year old said. "I make mistakes now that I didn't think were possible to make when I was younger." Well, apparently he didn't make too many errors, and if he did the competition didn't take advantage of them. "This championship means a lot because of the car and the way we did it," Jeff said. "I was helping Bo (Butner) with his car and didn't even take my car to a couple of the races. But about mid-season I got my car running and after the weekend I had in Columbus I knew I had a real shot at winning the whole thing." That weekend in Columbus included winning the rain delayed Bowling Green race and the Division 3 race that was originally scheduled for Columbus. Combined with a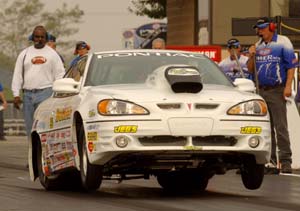 few races before and after it Jeff put together a pretty good winning streak. "I think we won about twenty-two rounds in a row and that really gave us a shot at the championship." When Jeff says "we," he's referring to his teammate, Bo Butner, Jeff's brother Bob, who works on the engines, Willie Evans, who has been with Jeff for twenty-nine years, Darrel Herron and Jeff's wife who travels with him to most of the races. "I've been building Bo's engines for a couple of years now and the partnership is working out real well. After I left the 'Bullet' (Pro Stock) team, Bo and I talked and we decided to team up." Bo is part of the Butner family that runs a car dealership in Indiana. "They have just about any kind of car you could want from a Focus to an Escalade," Jeff said. "Their slogan is 'Jim Butner Autos.Since 1955 when Elvis was still alive.' They have a lot of fun with that Elvis theme and they even bring him to the track every now and then." Of course they bring Elvis in a hearse and that always gets a lot of attention. Maybe not as much attention as a twenty-three second Fiat, but then, what does?
Jeff has been building engines for as long as he has been racing seriously. "I was with my brother, Charlie, for about thirty years and I've been building racing engines for most of that time. Charlie is into more of the remanufactured engines now so I decided to go on my own at the beginning of last year." Today Jeff is not only building engines for the Butner team, but for some of the top racers in the sportsman ranks, too. "I've got some things that I'm working on including some Super Comp engines and motors for Scott Stillings, the IHRA World Champion, as well as some things for Anthony Bertozzi, Mike Fuqua, Jim Harrington and a few more" And in an effort to make the work load a little easier, Jeff is in the process of moving his engine operation north, to beautiful downtown Floyds Knobs, Indiana. "It'll be in a shop with Bo's car and it will be within driving distance of a lot of my customers, so it just makes sense to move up there," he said.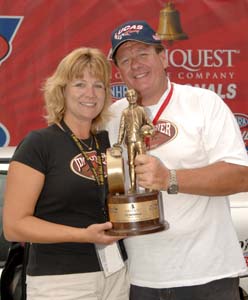 Patty and Jeff
While Jeff and his brother Charlie, who also won a World Championship in 1981, are pretty good racers, they may not be the best racers in their family. "My mom used to take us to the races and we'd watch her run. Back then they ran a lot of Powder Puff races for the women and I remember that in one year mom entered seventy-one races and she won sixty nine of them." Maybe mom's the real superstar in this family. "I grew up at the races and always knew that's what I wanted to do," he said. "Charlie and I ran together for a few years and we both did well, and over the course of my career I've gone through the (Steve) Bagwell years, I raced with Jimmy Morton, Mark Klein, Harold Stout, Winnebago, Arnie and now Bo." He also spent a few stints in the Pro Stock ranks as a driver back in the mid 1980's, and served time as a crew chief with the Jeg Coughlin Pro Stock team and, more recently, with David Connolly. "I told (car owner) Mike Dzurilla after I saw David in some testing sessions that he was going to be really good at Pro Stock racing. He's a natural talent." That's high praise, isn't it, coming from one of the best ever to go down a quarter mile?
Today, as he enjoys his fourth national championship, Jeff Taylor can be proud of the fact that he's one of the few people in the sport who can truly do it all. He can build engines and transmissions, put an engine on the dyno and make more power, tune a car and a chassis at the track, help other drivers become better, drive a car with the best of them and still focus on the job at hand which is to win races. "I love everything I'm doing right now," he said. "The racing in Comp is great. It's exciting and fun and I love doing it. Pus, working with the Butners has proven to be good for both of us." Jeff will continue to work with Bo and his dad for the next several years and that's good news for Elvis fans all over the world, and not good news for anyone who has to race against them in Competition Eliminator. "There are a lot of good people in the class and it's only going to get better. But right now I'm having fun. My wife and kids get to see me race and the business is going well, so what more could I ask for?" Maybe he could ask for a really good Fiat that could race in Comp Eliminator? Or maybe that's too tough an order even for one of the true superstars in the sport.
Jeff would like to say a special thank you to his wife Patty, to his children, Kristy, Michael and Chad, to Jim and Dotty Butner for all of their support.




NHRA: 10 Most Recent Entries [ top ]

Apr 19- HOUSTON - Friday Schedule
Apr 19- Tige Boats Named Presenting Sponsor of E3 Spark Plugs NHRA Pro Mod Drag Racing Series Portion of NHRA SpringNationals
Apr 19- HOUSTON - Previous Success, Early Win has Funny Car's Courtney Force Excited
Apr 18- Haney Headed for NHRA Pro Mod with Summit Racing on His Side
Apr 18- HOUSTON - Richie Crampton Enjoying Early-Season Success Heading to 31st Annual NHRA SpringNationals
Apr 18- 2018 Mustang Cobra Jet Celebrates 50th Anniversary of Racing Legend with Quickest
Apr 18- New Ford Mustang Funny Car Scheduled to Debut In 2019 NHRA Mello Yello Season Opener
Apr 16- HOUSTON - Fact Sheet
Apr 16- HOUSTON - After Early-Season Mishap Funny Car's Jonnie Lindberg Looks to Get On Track