Mon, 21 Nov 2005, 11:41 AM



One on One with Funny Car Veteran Gary Densham



Courtesy of Gabrielle Stevenson


Photo copyright 2005 Auto Imagery, Inc.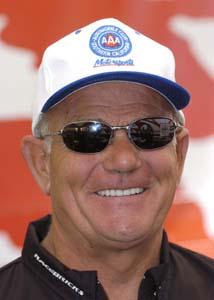 Gary Densham
Gary Densham is a veteran. He's a veteran Funny Car driver who made his first professional start in 1979 and has since gone on to earn eight NHRA national event victories in 18 final round appearances. He won the prestigious U.S. Nationals at Indianapolis Raceway Park last season during the event's 50th anniversary. Even better, he doubled up, winning the bonus race for the Funny Cars during the same weekend. Before he made drag racing a full-time job, Densham spent nearly 30 years in the Gahr High School classroom teaching students auto shop and life skills. He has spent the last 10 years touring the Southern California region trying to continue his life-long quest to educate and empower young people to make good, positive decisions for themselves. When Jan. 1, 2004 rolled around, Densham wasn't sure how the season was going to play out. He wasn't sure if he would be racing full-time, part-time, or even racing at all. But he knew he was going to be racing around Southern California with a trailer packed with his show Funny Car, touring the high schools. That was the one certainty and now that's changed. In this Q&A session, Densham talks about what it was like to move from the iconic John Force Racing program to the independent and lesser-funded ranks, what the new Racebricks Chevy Monte Carlo team did well this season and why the Auto Club of Southern California sent him a Dear John letter when he wasn't even home.
Q: What was the most difficult thing to deal with this season?
DENSHAM: Not having buckets of money and all the people to operate a smoothly run program. Not having 12 guys working on the car was a reality check. Not having the extra room in the pits with a hospitality area where you can entertain friends and family was a big change. I was spoiled before because I used to have all that.
Q: What do you miss most about racing with the John Force Racing organization?
DENSHAM: I didn't have to worry about all the money issues and I miss having that freedom where that one particular issue wasn't weighing on me every day. I also miss Jimmy Prock. He's an amazing crew chief. Greg Amaral (Densham's current crew chief) is doing a great job and he learned a lot this year but I am very happy and feel very fortunate that I was able to work with Jimmy for as long as I did.
Q: What was better than you expected this season?
DENSHAM: We actually got to race at all the events this season. At the beginning of the year, there was enough money to run one race, then four or five, then we kept stringing it along. Just being able to get to all of them was exciting in some ways. We had to overcome a lot of hurdles, a learning curve and inexperience from everyone at times. But the team was just great. The improvement of the team and performance of the car was most impressive. We all learned a lot and no one ever stopped working as hard as possible. When we qualified in the top half of the field and turned in really good performance numbers at the last race of the season, that was huge as far as showing we could race with these guys in the future and it showed how far we came this season. I'm proud of every single person on this team.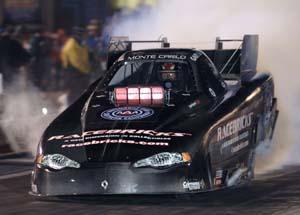 Densham in his Racebricks Funny Car.
Q: What did the Racebricks Chevy Monte Carlo team do well?
DENSHAM: They put up with me and trusted me that we could do this and make this car run every time. They worked really hard to get everything done and do what we were supposed to do. The team got better every weekend even if that wasn't necessarily reflected in the performance of the car on the track and I can't ask for more than that.
Q: What is a Racebrick and what do you like about the relationship?
DENSHAM: A Racebricks is probably one of the coolest motorsports collectibles that has ever been made. A Racebrick is a brick-sized block of pure glass with a three-dimensional, laser-etched image inside. A lighted base enhances the effect and it's just really cool. They make a lot of NASCAR bricks and when they decided to sponsor my car this year, they immediately started designing a Funny Car brick and they released one of the wining car I ran in the 50th anniversary U.S. Nationals and one of John Force. They turned out better than I could have imagined. I like the idea of being part to of something that is new and different and groundbreaking and I hope people like it.
Q: You've been sponsored by the Automobile Club of Southern California since 1995 and visit more than 60 southern California high schools each year as a representative. They ended their relationship this year. Why?
DENSHAM: The corporate reason is that they just wanted to go in a different direction. I thought we had a great relationship with all the schools in Southern California. The school program did an awful lot of good helping kids get through school that might not have done so. The program has helped put an emphasis on vocational programs and helped school administrators and counselors see how important vocational studies are.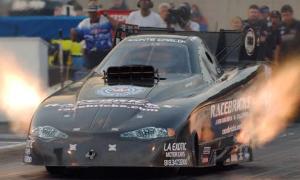 Kids who might not be college bound still need to see the value in education. They need to stay in school and learn skills. I think having the Auto Club sponsor the program where I visited several groups of classes four to five periods at each school 60 times a year did a lot of great things. I brought my Funny Car, showed them the car, told them about all the options of careers in motorsports and explained things that kids may not know about. I talk about how important math is to crew chiefs, how important communication skills are to team public relations personnel and team managers and all of the jobs that make racing across the nation and around the world possible. I tried to do my best to keep kids interested in anything long enough to graduate high school and find a career direction.
The Auto Club decided they didn't want to participate in the program anymore and I think that is a loss for me as far as funding for my race team, but it's not nearly as big of a loss as it is for the kids. I wish they had considered maintaining the program even if it didn't involve me. They told me about their decision in a Dear John letter that was sent to my house during the summer when I was out racing and I think that was pretty disappointing as well, considering we've had a great relationship for 10 years.
Q: What did you like most about teaching kids in the classroom for nearly 30 years and teaching them still with the Auto Club-sponsored program?
DENSHAM: There is a benefit to all people when you give young people choices in their lives. I liked trying to at least show kids they had options and I worked as hard as possible to make sure that any encouragement they received stayed with them for the rest of their lives. I think I was the most spoiled teacher in the world. There are a lot of great teachers out there but I think few have had the kind of perks that I have had because I have run into former students all across the nation every year since I started racing.
Does a civics teacher run into a former student who has since become the president? Does an English teacher run into a former student that has written the New York Times bestseller? Maybe, but what are the odds? I run into my former students all the time. They bring their new wife or husband, their sons and daughters and other family members to the track and they tell me they went to Gahr High School, graduated in 1987 and now they have a house, a new truck and a great job working for John Jones Chevrolet. They tell me they wouldn't have made it through school or wouldn't have gone the direction they did if it hadn't been for my class. That's an overwhelming feeling, hearing so many great stories like that.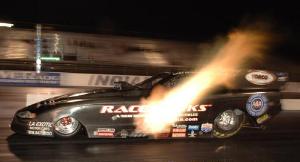 A huge majority of teachers bust their butts every day and they teach for the same reasons that I did. They want to help educate kids and help them learn how to make good decisions and be good citizens. I just don't think the majority of teachers have the kind of positive feedback that I get all the time. I get to see how the kids have grown up and see what great things they have done and it makes me proud that I spent all those years in a classroom.
Q: You gave up teaching full-time early to help the Auto Club of Southern California launch the schools program. Do you regret leaving the classroom now that the program has ended?
DENSHAM: I'm so stupid some times that even knowing what I do now, I probably would have done it all over the same exact way. I quit with 28.8 years in the classroom and it would have been better to be able to retire with 30 years instead of going with the Auto Club then. But it kept me at high schools for an additional 10 years and I can't complain about that because it had meant more time trying to teach young people.
Q: What are your plans for the next two months?
DENSHAM: There are so many things that need to be done I don't even know where to start. We have to repaint, re-chrome, everything has to get worked on and finished before the start of the year. We are going to be at Pomona for the Winternationals and we want to be race ready. We put the team together at the last minute for the 2005 season and that put us behind quite a bit. We don't want to start that way again, so the work starts now.




NHRA: 10 Most Recent Entries [ top ]

Mar 18- GAINESVILLE - Pro Mod Sunday Wrap Up
Mar 18- GAINESVILLE - Sunday Wrap Up
Mar 18- GAINESVILLE - Pro Mod Championship Points
Mar 18- GAINESVILLE - Bonus Points
Mar 18- GAINESVILLE - Championship Points
Mar 18- GAINESVILLE - Mickey Thompson Top Fuel Harley Series Championship Points
Mar 18- GAINESVILLE - Bonus Points
Mar 18- GAINESVILLE - Summary of Eliminations in Top Fuel
Mar 18- GAINESVILLE - Summary of Eliminations in Funny Car
Mar 18- GAINESVILLE - Summary of Eliminations in Pro Stock