Mon, 21 Nov 2005, 09:11 AM



GM Racers Return from Ramstein AB Following Memorable Visit with American Troops



Courtesy of GM Racing


Photo copyright 2005 GM Racing





Driver's Group Brought Smiles and Good Cheer to Troops Stationed in Germany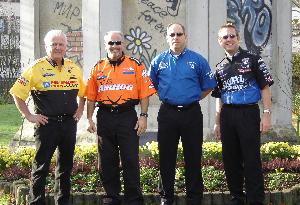 Drivers in Front of Section of Berlin Wall
A group of drivers from GM Racing and NHRA are back from a recent, 72-hour tour of the Kaiserslautern Military Complex (KMC) in Germany, and their time spent with the American troops stationed there was a visit they'll remember for the rest of their lives. Six-time NHRA Pro Stock champion Warren Johnson, two-time NHRA Pro Stock champion Jim Yates, NHRA Funny Car driver Tommy Johnson Jr., and NHRA Top Fuel veteran Cory McClenathan represented drag racing during the support mission "Operation Support Our Wounded" which was spearheaded by the Army Special Forces Association, Randall Shughart Chapter 64, based in Carlisle, Pa. The drivers distributed nearly 1,000 goody bags, signed an untold number of autographs and brought smiles and good cheer to everyone they met.
"I have never seen a more skilled, motivated and focused group of young men and women," said Fred Simmonds, GM Racing group manager of drag racing. "They are simply America's best, and don't let anyone tell you otherwise. It was our honor and pleasure to personally tell them how much we value what they do to protect our freedoms. We were privileged to have been asked to accompany the Army Special Forces Association on this mission, and we'd also like to thank the superb team at the USO and the 435th Services Squadron at Ramstein Air Base. They were perfect hosts and made the trip enjoyable for everyone. Debbie Southee and Donna Burrill are two unsung heroes who really get the job done in supporting our troops overseas. What a team!"
"This was one of the most positive experiences I've ever had," said Warren Johnson. "Seeing the troops gave me a greater appreciation for the job they're doing. First of all, I think all of us were impressed with the commitment that all of the personnel had for their jobs. Whether it was vehicle repair or the care our troops receive at the medical facilities we visited, everyone is committed to absolutely doing the job to the best of their ability and that was what impressed us all - there were no slackers. It was always positive. I didn't hear a negative comment from anybody I came in contact with. The commanders took great pride in their troops and everyone is committed to doing what they know is right. The commanders down to the people doing the work, everyone was going in the same direction and that was the ultimate testament to what teamwork can accomplish."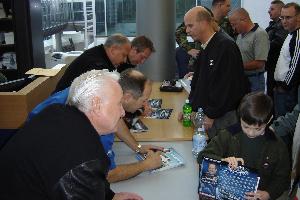 After an eight-hour flight from Detroit Metro Airport that began on Nov. 12, the drivers landed Sunday morning at 7:07 a.m. local time at Frankfurt-Main International Airport time just as the sun was making its first appearance of the day. Although a little bleary-eyed from the all-night excursion across the Atlantic, the GM team hit the ground running and were shuttled the 60 miles southwest to Ramstein AB by SFC (Ret) Wayne Reed and MAJ (Ret) Dieter Protsch of the Army Special Forces Association. Their first stop was a "welcome" brunch at the Ramstein Officers Club hosted by Debbie Southee, Dep Community Support Flight at Ramstein.
Following brunch and a brief time to freshen up, the group headed over to Landstuhl Regional Medical Center where they spent the rest of the afternoon with the wounded troops and hospital staff, and toured various wards of the facility.
One of the team's most memorable experiences occurred within the first hour of their Sunday visit to LRMC. While visiting with one of the wounded soldiers at Landstuhl, the drivers signed their handout cards and presented him with a goody bag, but they were stunned at what happened next. The soldier reached for a dark blue presentation case at his bedside, opened it to show his Purple Heart and asked the drivers to sign the inside of the case.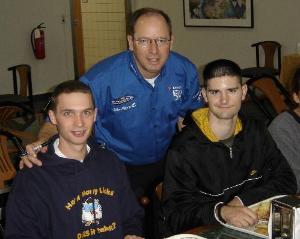 Jim Yates With Soldiers At LRMC
"That was quite an honor," said Jim Yates. "That caught all of us by surprise. I don't think that young man really knows what that meant to the four of us to be able to do that. Visiting Landstuhl really makes you realize how young some of these troops are and the things they go through to protect the freedoms we have at home. As glad as they are to see us, I think the four of us were even happier to see them because it makes us feel good to give something back. They're over in the Middle East risking their lives, and to be able to go to LRMC and shake their hands and say thank you was really special.
"When we arrived Sunday morning we were all pretty worn out from the jet lag, but after the visit to Landstuhl our batteries were recharged - the adrenalin was incredible. But you get that from the people that are around you. We met some of the doctors, nurses and administrative personnel in the wards, and they are on a mission of mercy. They volunteer and they don't want to go home. They want to stay and help the troops because they feel an obligation and a bond. I think the four of us feel a bond with these troops as well. When you come over here you don't want to leave until you've shaken every hand and talked to every soldier and made them feel good - maybe forget a little bit of what they went through."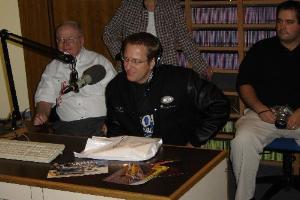 Johnson Jr. on AFN with Demario and Cindy
"The soldier who had us sign his Purple Heart box - that really got to me," said McClenathan. "When you're at home thinking about what's going on you're thinking, 'God bless them.' When you actually come to the hospital and visit with the patients you get a better understanding of what they've gone through. These soldiers are tough, they're upbeat and they are ready to go. You meet up with them face to face and you get a better perspective on just how tough they are. Almost every one of them is more concerned about their friends and comrades who are still 'downrange' and are wanting to go back. It was a fantastic experience to be able to do this. I feel very fortunate to be able to do what I do for a living and know that my wife and daughter are safe at home. And that makes it tough to see the ones over here, not just the wounded soldiers, but the doctors and staff who are separated from their loved ones. That hits home with me."
The drivers' schedule for Monday kicked-off at 8 a.m. at Armed Forces Radio network where they were interviewed on the DeMario and Cindy show, the largest American morning show outside the United States. That was followed with taped interviews for the Armed Forces Television network. Following the AFN interviews, the GM Racing/NHRA team visited the 435 VRS, a transportation squadron responsible for the maintenance of all U.S. government vehicles in the Kaiserslautern Military Complex, and then had lunch with the troops at Rheinland Dining Facility.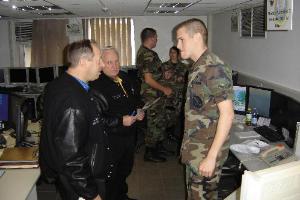 Monday afternoon the group made their way over to the USAFE Weather Squadron in Sembach, Germany, for one of their more interesting tours of the trip. The USAFE Weather Squadron is comprised mostly of 18- and 19-year-old airmen who forecast the weather from the East Coast of the United States, across the Atlantic, through Europe and on to the East coast of Russia, covering 91 countries including U.S. interests in Asia and Africa. One minute this highly motivated group is forecasting the weather for a space shuttle shot from the Kennedy Space Center, and the next they're sending data on winds aloft to a Special Operations task force jumping into Afghanistan.
"I don't think anybody was prepared for the level of accuracy with which they are able to forecast the weather," said Warren Johnson. "And given the fact that you're talking about individuals 18, 19 and 20 years old monitoring this activity speaks volumes about the intense training they receive."
"The Weather Squadron at Sembach was very impressive," said Tommy Johnson. "You come away with a better understanding on how crucial weather is to every aspect of the military. I came away with a whole new appreciation of how and why weather is forecast."
After an appearance at an auto show held on the base and an autograph session sponsored by Project CHEER at J.R. Rockers, the drivers' group visited the Contingency Aeromedical Staging Facility (CASF) at Ramstein. This special group of medical personnel greet every wounded person coming in from downrange and also prepare wounded troops for further transport to the United States. The CASF at Ramstein has processed over 29,000 wounded troops since the war in Iraq began just over two years ago, and one of the mission objectives is to get a wounded person to a medical treatment facility in the U.S., near the person's home, within 96 hours of initial injury in Iraq. The CASF has treated wounded personnel from 38 different countries who are serving in Iraq and Afghanistan.
On Tuesday the drivers headed over to the Ramstein AB Passenger Terminal to meet and greet troops on their way home from Iraq and Afghanistan, and also a group of soldiers headed downrange to Iraq. The drivers signed autographs and handed out goody bags to over 500 of the troops and U.S. military dependents waiting to depart Ramstein.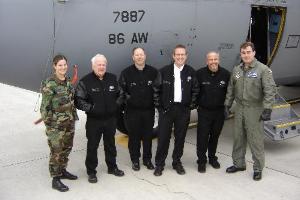 Drivers group in front of C130
"I was so impressed with the politeness, respect, appreciation and dedication these soldiers have for this country," said Tommy Johnson. "From the commanders on down, everyone was such a good person and very dedicated to their mission. I was impressed with everyone's attitude and commitment. To do what they are doing and to ask for so little in return is amazing. I definitely look at our Armed Forces in a new light. I was blown away by the number of men and women in uniform that are drag racing fans. The reception we received from everyone was incredible. Just their overall appreciation that we came to visit was very overwhelming."
Lt. Erin Dorrance and MSgt. Ken Hardwick of the 37th Airlift Squadron then took the drivers on a tour of a C130 before the group headed over to a two-hour autograph session with soldiers and their dependants at Vogelweh Exchange Car Sales. The team was then treated to an authentic German dinner at the Spinnradel, Kaiserslautern's oldest restaurant and housed in a building originally constructed in 1509.
Wednesday morning at 10 a.m. it was wheels-up from Frankfurt-Main on Northwest flight 51 and the nine-and-a-half hour flight back to the United States - the end of a three-day visit with the troops this group of drivers will never forget. Warren Johnson summed up the mission these words, "First and foremost, collectively we all hope we did some good showing the troops that we're 100 percent behind them, and we're thankful for the job they're doing preserving the most precious thing we have, which is our freedom."




NHRA: 10 Most Recent Entries [ top ]

Apr 20- HOUSTON - Super Stock Round 2 Class Eliminations
Apr 20- HOUSTON - Super Stock Round 1 Class Eliminations
Apr 20- HOUSTON - Super Stock Class Eliminations Qualifying
Apr 20- HOUSTON - Super Stock Qualifying, Session #2 Order
Apr 20- HOUSTON - Stock Eliminator Qualifying, Session #2 Order
Apr 20- HOUSTON - Friday Schedule Revised
Apr 20- HOUSTON - Super Stock Qualifying, Session #1 Order
Apr 20- HOUSTON - Stock Eliminator Qualifying, Session #1 Order
Apr 20- HOUSTON - Rickie Smith Looks to Continue Strong Start at E3 Spark Plugs NHRA Pro Mod Drag Racing Series Race
Apr 20- HOUSTON - Erica Enders Hopes Turnaround Comes at Hometown Track for NHRA SpringNationals