Fri, 18 Nov 2005, 01:47 PM



Morgan Lucas Racing and Jim Dunn Racing United Forming Lucas Oil Racing



Courtesy of Jay Wells


Photo copyright 2005 NHRA





CORONA, Calif. --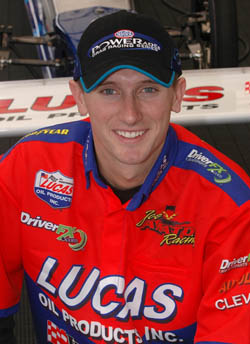 Morgan Lucas
Indianapolis-based Morgan Lucas Racing today announced that they will be adding a second Lucas Oil fleet member to their fold, joining forces with the Jim Dunn Racing operation of Long Beach, California with premier Funny Car driver, Tony Bartone behind the wheel of their Funny Car.
The brainchild of joining these two illustrious racing organizations under the same umbrella is Forrest Lucas, president and CEO of Lucas Oil Products, who conceived the idea as a means to benefit the company's promotional network.
"I've always like the Dunns as well as Bartone," said Forrest Lucas, the car owner of Morgan Lucas Racing. "I've always been a fan of Jim's and always have had respect for him. He was the man in his day and I think he just needs a little bit of help here to come back strong. We've had some sponsorship with them the previous three years and now we're going to take it up to a full sponsorship. That will give us a car in the funny car division and I think with a little help from our crew chiefs we can make their car run a little better. Jim knows many things and he can help us out as well. After all, trading a little information will not hurt a thing. It will instead give us a little more presence in the NHRA to have a full-blown funny car team added to our stable.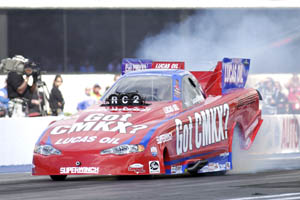 Tony Bartone
"Really, I like to see that kind of person stay involved in our sport. We have many new people coming in, which is all well and good. However, in any kind of motorsport or sport period, I like to see the guys that made it, stay in it as long as they can."
Forrest's young driver and son, Morgan, began his task of being team manager of his nascent team immediately following the Auto Club NHRA Finals in Pomona. Though the responsibilities of the position are steadily developing with each day, he sees the supplement of JDR as a building block to reach his ultimate goals of winning races and championships.
"My parents have been affiliated with Jim Dunn Racing for the past year," said the 21-year old driver, who has posted five runner-up finishes in his 31-race career. "My dad gets along really well with Jim and John Dunn. They came up with a plan for us to get more involved with their race car and my dad jumped on it. We're now teammates and we're going to do whatever we can to help them and vice versa. We're looking forward to working with them in the future.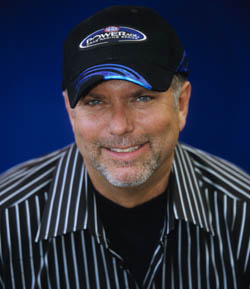 Tony Bartone
"As far as transferring information, there's a lot to be learned about whether the motor in certain air is making the right amount of power. As far as clutch combinations goes, they are slightly different and you can't compare the range the same. What will really help will be in qualifying if we can get their car similar to our car. We're going to do everything we can to help them in any way they need, and I'm sure JDR will assist us in other areas. That's what being a team is, doing whatever it takes to make it happen. Basically we want to sell as much oil as possible and having this second team will allow us to double our hospitality area for our valued customers."
Jim Dunn's storied career covers all aspects of the competitive spectrum, and allows him to bring vast amounts of knowledge and experience to this joint venture. Getting his start in the sport as a driver, he won two NHRA National events (1972 SuperNationals at Ontario, Calif. and the 1981 World Finals at Irvine, Calif.) and was duly noted as one of the Top 50 NHRA drivers of all time during the sanctioning body's golden anniversary in 2001 ranking 27th.
Retiring from the cockpit in 1990, he began the major undertaking of being a tuner, winning four events in 1990 and 1991 with his son, Mike behind the wheel. In 1997, "Big Jim" won in Englishtown, N.J. and the prestigious Big Bud Shootout for Funny Cars with Kenji Okazaki at the helm. Frank Pedregon then took command of the Dunn Racing ride in 1998 and won back-to-back events at Columbus and St. Louis before the duo of Dunn and Pedregon parlayed their skills into the grandest of all drag racing prizes in 1999, winning the U.S. Nationals at Indianapolis Raceway Park.
"I am extremely excited about our long term agreement with Lucas Oil Products as our primary sponsor and I look forward to the benefits of a multi car team", said Dunn.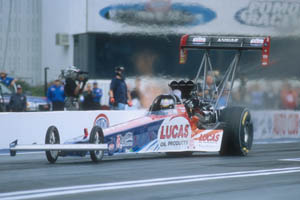 Morgan Lcas
Likewise, his talented driver, Tony Bartone is eagerly anticipating the teaming. "Once again it is exciting to be named as the driver of the Jim Dunn Racing Funny Car. I am also proud to continue our ever increasing relationship with Lucas Oil Products as they move from a major associate sponsor in 2005 to our primary sponsor for the 2006 season and beyond".
John Stewart and Ronnie Thompson, both gifted in all aspects of their program, each welcome JDR as part of the Lucas Racing family.
"Obviously it's good for Lucas Oil having the impact of two cars out there with one in each class, which will give us a good presence there," said co-crew of the Morgan Lucas entry, Ronnie Thompson. "Jim Dunn has many years of doing this and he has a lot of experience to offer. To be able to use him as a sounding board or ask him questions will bring some help to me. He's like an encyclopedia over there for when I need his advice."
A veteran tuner in his own right, John Stewart treasures the idea of receiving more input on the day-to-day activities at the track. With Jim Dunn Racing sharing their pertinent knowledge with them, he believes it can only increase everyone's production.
"One of things we will be able to see whenever either car runs first is how the track is and how everything is going to work in that direction," said Stewart. "Talking amongst ourselves, the motors are pretty much the same. In Funny Car, you have to run a little easier, but we can still learn some things from that. It's just a matter of communication and the more eyes we have to read the track, the better both teams will benefit."
Lucas Oil Racing will debut their tandem of cars at the 2006 CarQuest Auto Parts Winternationals on February 9-12, 2006 during the Auto Club Raceway at Pomona, Calif.




NHRA: 10 Most Recent Entries [ top ]

Mar 18- GAINESVILLE - Pro Mod Sunday Wrap Up
Mar 18- GAINESVILLE - Sunday Wrap Up
Mar 18- GAINESVILLE - Pro Mod Championship Points
Mar 18- GAINESVILLE - Bonus Points
Mar 18- GAINESVILLE - Championship Points
Mar 18- GAINESVILLE - Mickey Thompson Top Fuel Harley Series Championship Points
Mar 18- GAINESVILLE - Bonus Points
Mar 18- GAINESVILLE - Summary of Eliminations in Top Fuel
Mar 18- GAINESVILLE - Summary of Eliminations in Funny Car
Mar 18- GAINESVILLE - Summary of Eliminations in Pro Stock