Thu, 17 Nov 2005, 12:19 PM



G Squared Motorsports: Year End Review



Courtesy of Mickey Schultz


Photo copyright 2005 Auto Imagery, Inc.





AMERICUS, Ga. --
It has been approximately one and a half weeks since the NHRA POWERade Drag Racing Series ended with the Automobile Club of Southern California Finals.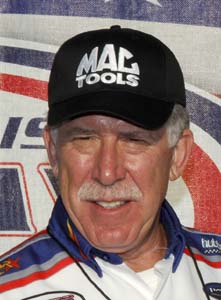 George Smith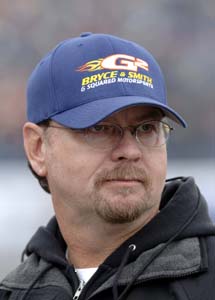 George Bryce
Since that time G Squared Motorsports has been directing their efforts to gaining a performance advantage and readying the team's two Buells for the opening of Pro Stock Motorcycle competition in March of 2006.
But prior to that first event of 2006, let's now take a look back at the 2005 season of G Squared Motorsports, owned and operated by partners George Bryce and George Smith:
There were high and lows throughout 2005, but by the nature of their impact on G Squared two incidents took the forefront during last season.
The first was the horrific accident suffered by Ken Johnson. In June, Ken was seriously injured in a non-racing accident at U.S. 19 Dragway in Albany, Ga.
Ken, who was not a participant in the event, was in the Dragway's campground aboard a four-wheel type "mule" when the vehicle began tipping over during a turn. He instinctively put his leg down to keep the four-wheeler upright but the weight and momentum of the turn caused the ATV to flip over causing severe trauma to his left knee and leg.
Ken was immediately stabilized at the scene and rushed to an Albany hospital where he underwent four hours of vascular surgery to repair a severed femoral artery and to stabilize the knee and leg. Unfortunately, after additional surgery, subsequent evaluation by doctors necessitated Ken having his left leg amputated above the knee.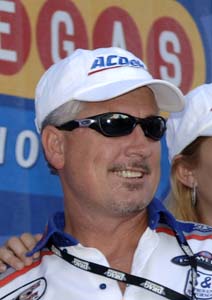 Ken Johnson
Following surgery, Ken was fitted with a prosthesis and underwent a lengthy rehabilitation process and is now back with the team, returning at Indy.
>From June through Labor Day, Ken, who has been by George Bryce's side for over 20 years and was an integral part of Star Racing winning six championships with John Myers and Angelle Sampey, was greatly missed by the G Squared team. Through those 20 years, until the time of his accident, Ken had built every motorcycle Star Racing and G Squared Motorsports have ever raced and has been to every single race in which Star Racing and G Squared Motorsports have competed.
During this time, on August 2, another low point occurred when the entire G Squared truck and trailer was stolen from the parking lot of an Omaha, Neb., hotel, once again knocking G2 to its knees. The 18-wheel racing rig was found abandoned later that day with its entire contents - the life-blood of the G Squared Motorsports program - missing.
But what the thieves didn't know was that Chip Ellis, who pilots the G Squared S&S Buell and was driving the team transporter at the time, was pulling out all the stops to find his bike and the other contents of the trailer.
Ellis, working closely and in cooperation with the Sarpy County Sheriff's office, the Iowa Highway Patrol, and local law enforcement from the Omaha-area, recovered much of the contents - including the team's Buell chassis used to compete in the NHRA Pro Stock Motorcycle class on the NHRA POWERade Drag racing Series, three S&S Pro Stock engines, a new complete Kosman Buell rolling chassis and assorted spare parts. Missing were all the tools and other small miscellenous parts.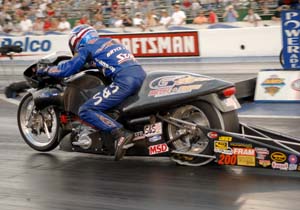 Chip Ellis
As a result of the recovery, still missing parts and tools, the team was back and competed at the next event in Brainerd, Minn. Even with this adversity the team made all 15 national events at which the Pro Stock Motorcycle class compete and finished No. 5 in the final NHRA POWERade Pro Stock Motorcycle point standing.
"It's easier to accept fifth after you stand back and look at the uphill battle we had this year. The two set backs - Ken's accident and the transporter fiasco - during the year were major interruptions that slow down our progress throughout last season," said Bryce.
"When you put those two major adversities into perspective and you win a couple of events and qualify No. 1 and set some track records and things like that, it ends up being a really good racing season, except for what Ken went through..
"Also, when you're racing against the best financed teams in Pro Stock Motorcycle like the Vance & Hinds, Harley Davidson factory-backed operations, and you finish in the top five you've accomplished something.
"If effort equals results and dollars can buy more effort then they (Vance & Hinds teams) should be first and second and they were. Then the Army team, on Suzukis, seems to be the second most well-funded and they should have finished high in the final point standings and they did, finishing third and six.
"Therefore, our goal for next year is to find some more operating capital so that we can throw more dollars at the real research and development required to go faster."
That said, both Bryce and Smith shared their thoughts on the season, their riders and the S&S Cycle-supplied engines.
Bryce thought parity was alive and well in Pro Stock Motorcycle in 2005. "Anyone that made the top ten in points this year should be proud," said Bryce. "The performance of all the machines in the Pro Stock Motorcycle Class has really accelerated this year and the parity has got closer. The class continues to grow in fan and media popularity.
"Compared to the days when our team was winning six championships with John Myers and Angelle Sampey, today it's a free-for-all as to who can win the championship and next season will be no exception.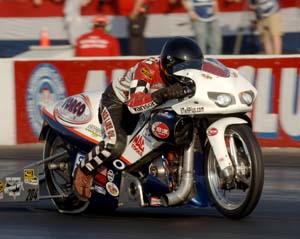 Matt Smith
"This year saw two Harleys, two Buells and five Suzukis in the top ten in points. The Buells and Suzukis have narrowed the gap between them and the Harleys and it should be so close that the POWERade Championship may not be decided until the final race again next season and the winner may not be the same make that has won the last two championships."
When you look at the stats, Bryce is right. You didn't have a repeat winner until the eighth race of the 15 race season and this year's point champion didn't win a race until the ninth race, the first of only two wins for the year. Overall for the season, eight different riders won races. By make of bike, that breaks down to six for the Suzukis, five for the Buells and four for the Harleys.
Reflecting on the season and the engines supplied by S&S, George Smith had the following thoughts: "It's been a very successful season," added Smith. ".thanks to the guys at S&S for giving us a power plant that we've been able to introduce to the NHRA and bring six new teams to the sport. It's provided a lot of additional interest in the sport and a lot more balance. So, thanks to S&S for all that they do."
Bryce was awed that you could get such a great engine in a box. "It's the first full season in my career that I've received my racing engines in a box from the factory," said Bryce, who, prior to forming G Squared with George Smith, made the name Star Racing synonymous with Pro Stock Motorcycle racing.
"In the past, Star Racing always developed our own engines but this season has been a very different and unique opportunity to work with race department and all the people at S&S Cycle to get a reliable and competitive engine that could be used not only by our team but the other Buell bikes in competition this past season.
"You look at not only the success of G Squared but at the success in 2005 of teams like those of Matt Guidera, Chris Rivas, Ryan Schnitz and, more recently, Tom Bradford who run S&S power and you get even more excited about next year.
"You give quality power plants like the group at S&S produce to talented people and you get success. The group I mentioned produced five wins, one third of the season total. It was very rewarding for G Squared to be a part of that as the exclusive distributor for S&S Pro Stock Motorcycle engines."
Two of the reasons for the success of the G Squared Buells are Chip (Ellis) and Matt (Smith).
Chip joined G2 for the last four races of 2004. During that span he claimed the No. 1 qualifying position twice and won one race. He added two additional wins in 2005. Also, did you know that Chip has only qualified out of the top half of the field once in 19 races, a tribute to Chip's riding, the S&S engine and the tuning of the guys at G2.
Smith was added to the G Squared team for the last four races of 2005. How can one forget his debut race at Indy! On race day he was declared the winner and then the win was overturned when NHRA reviewed the ESPN2 TV tapes of the run and other track factors. Nevertheless, Smith was runner-up at what many consider the most prestigious race on the NHRA POWERade schedule.
He top off the year by winning the pole at the Auto Club of Southern California Finals, setting a Pomona Raceway track record in the process. His 7.000second elapsed time was the third quickest elapsed time in the NHRA Pro Stock Motorcycle history books. Only one other Pro Stock Motorcycle rider has gone quicker,
Bryce and Smith have had high caliber, champion riders during their respective careers and both speak highly of their latest riders.
"Chip's season was good by most everybody's standard," stated Bryce "Winning one race, let alone two, is difficult in this class and Chip did just that this season - won two.
"Chip unloaded on everybody in the four races he ran at the end of 2004 and everybody was predicting big things from him for 2005. Things like championships and rookie of the year failed to materialize for several reasons. Nevertheless, he battled back with class, turned the corner and became the most consistent and reliable rider at year's end.
"We're going to do everything we can to hold onto the mind set that he has right now and develop it over the winter so that he can come out ready to go at the first race of 2006. Chip is capable of winning the point championship and next season just might be his turn aboard the G Squared S&S Buell."
Smith echoed Bryce's thoughts, "I'm especially pleased with the way Chip has rode the final couple of events of this season. He had some up and downs but his 60-foot times, his consistency, his lights and shifts points were outstanding."
Turning his thought to Matt Smith, George Smith added, "It's been very rewarding to have Matt Smith ride one of our S&S-powered Buells the last four events of this year and we look forward to seeing if we can further that arrangement for the upcoming season."
Bryce gave some additional insight into Matt's status for next year. "Matt was doing a good job on a Suzuki and joined G Squared as a second bike at Indy and he became a force to be reckoned with right from the get go. His talent and our talent mixed together ended up being better than the two separately.
"We are really close to putting together a package with him that will have him in the championship chase aboard a G Squared, S&S-powered Buell for the entire 2006 season."
Chip finished No. 5 and Matt No. 12 in the final NHRA POWERade point standings and both should be in the hunt for the 2006 championship.
Until next season, THANKS for being part of the G Squared Motorsports and S&S Cycle experience.
TELEVISION REMINDER: You may want to set your VCRs or DVD recorders for this one. The elimination show from the Auto Club of Southern California Finals repeats on ESPN2 early Monday morning, Nov. 21, from 2:30 until 4:30 a.m. Television times are Eastern Time (ET) and subject to change at anytime. Check local listings.
NEXT RACE: The first race of 15 national events on the 2006 NHRA POWERade Drag Racing Series schedule for Pro Stock Motorcycles will be the Mac Tools Gatornationals at Gainesville (Fla.) Raceway, March 16-19, 2006.




NHRA: 10 Most Recent Entries [ top ]

Apr 22- HOUSTON - Top Fuel Round 1 Eliminations
Apr 21- HOUSTON - Sunday Schedule
Apr 21- HOUSTON - Saturday Video
Apr 21- HOUSTON - Saturday Wrap Up
Apr 21- HOUSTON - Super Stock Class Eliminations Finals
Apr 21- HOUSTON - Funny Car Qualifying, Session #4 Bonus Points
Apr 21- HOUSTON - Total Qualifying Bonus Points
Apr 21- HOUSTON - Funny Car Eliminations Ladder
Apr 21- HOUSTON - Funny Car Final Qualifying, Session #4 Order
Apr 21- HOUSTON - Top Fuel Qualifying, Session #4 Bonus Points