Thu, 17 Nov 2005, 11:23 AM



Johnny West Named Crew Chief for Kalitta Motorsports New Funny Car Team



Courtesy of Todd Myers


Photo copyright 2005 Auto Imagery, Inc.





Jim Oberhofer to Tune Hillary Will's New Top Fueler



YPSILANTI, Mich. --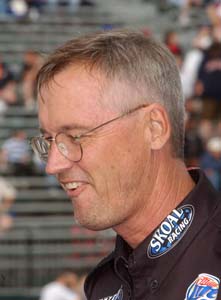 Johnny West
Earlier this month two-time NHRA Top Fuel World Champion Scott Kalitta announced that he would vacate his longtime seat in a Top Fuel dragster to take up racing residence in the cockpit of a nitro Funny Car for his father and drag racing legend Connie Kalitta's Kalitta Motorsports in the 2006 NHRA POWERade Drag Racing Series. Today, Kalitta and his new 7,000 horsepower "flopper" team are proud to announce that Johnny West has been named as crew chief for their new 325-mph race car. Scott's dragster crew chief and 17-year Kalitta Motorsports wrench man Jim Oberhofer will now take the reigns as crew chief on the new Kalitta Motorsports-managed and Ken Black-owned Top Fuel dragster that will be driven by nitro rookie Hillary Will.
West, who when asked about his age replied, "40-11. You do the math.", has been involved in NHRA drag racing for most of his life. The Phoenix, Arizona, native is a former Funny Car team owner and driver. He has worked with a long list of drag racing greats that includes Roland Leong, Doug Herbert, Kenny Bernstein, and most recently with Don Prudhomme's Funny Car team and driver Tommy Johnson Jr.
"I'm getting really excited already about next season," West said. "I've been spending time at the Kalitta shop in Ypsilanti (Michigan) and I can tell immediately that I am going to like working here.
"I've always thought that Scott had a lot of natural talent and inherent skills driving a Funny Car. I think he is one of the better drivers out there."
Scott drove a Funny Car in NHRA competition from 1985 until 1990. He earned his first NHRA national event title in a Funny Car in Houston in 1989. In 1990, Kalitta became only the third racer in NHRA history to qualify both a Funny Car and a Top Fuel dragster at the same event in Dallas.
"The group of tuners that Connie has already assembled here is great, and the best thing about it is that they all communicate very openly with one another," West continued. "Everyone here gets along great and helps out as much as possible if someone needs it. It's an incredible working atmosphere.
"The biggest challenge for me and the Funny Car team next season will be living up to the high standards that are already here. We're going to take it one lap at a time and try to improve each trip down the race track. Realistically, I think we can make the top five or six in points."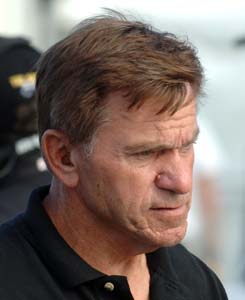 Larry Meyer
The new Team Kalitta Funny Car will employ a Monte Carlo-styled carbon fiber body on a Murf McKinney chassis. West will be assisted by Larry Meyer, another veteran NHRA nitro tuner, as co-crew chief.
Scott is also excited about West's addition to the team. "I've been friends with Johnny for twenty years. We've tried a few times over the years to work together, but it just never worked out. I'm really glad it finally did.
"Johnny's awesome. He's built Funny Cars, he's raced them and he's tuned them. It's an extra benefit for a driver and crew chief's rapport that they both have driven and worked on them."
"Larry is a brilliant engineer who can make anything," Scott continued. "He and Johnny have been friends for a long time too, and I have already started calling them the 'Dynamic Duo'. Larry's savvy and he's been around a long time. It's just another advantage to him because of his wealth of knowledge and experience."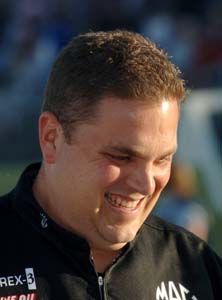 Jim Oberhofer
Jim Oberhofer, who has served as crew chief for Team Kalitta drivers Doug Kalitta and, most recently, Scott Kalitta, will now call the tuning shots on the Top Fuel rail driven by Hillary Will in her campaign for the 2006 Auto Club of Southern California's Road to the Future Award. Will, who drove her Girl Power Racing Top Alcohol dragster to an NHRA national event win in Las Vegas this year, was announced as the driver of the new Kalitta Motorsports-managed and Ken Black-owned Top Fuel dragster in August.
"I'm thrilled about getting this opportunity to tune for Hillary and grateful to Ken & Judy Black and Kenny Jr. for letting me be a part of their new Top Fuel team," Oberhofer said. "Hillary has shown everyone here at Kalitta Motorsports how committed she is to being the very best and I can't wait for the new season to start.
"It will be a challenge with a new team and Hillary being a rookie, but if desire could get you POWERade points, then we would already be in the points lead. We have a lot of great people behind us here at Kalitta Motorsports, and along with Greg Anderson, Jason Line and everyone at KB Racing, plus having Shirley Muldowney in the Kalitta camp, we can't go wrong. My only worry is trying to keep up with Ken's Pro Stock teams because they are the very best."
"I'm very glad that Jim "O" is going to be my crew chief in 2006," Will said. "I've worked with him in testing this year. He has been very patient with me, and he recognizes that there is going to be a learning curve for me. He and Mr. Black have assembled a top-notch team, and I think we are all going to work very well together."
Oberhofer will also relinquish his duties as team manager for the entire Kalitta Motorsports team to Ben Marshall, who also serves as Kalitta Motorsports' test driver.




NHRA: 10 Most Recent Entries [ top ]

Apr 20- HOUSTON - Friday Wrap
Apr 20- HOUSTON - Saturday Schedule
Apr 20- HOUSTON - Top Fuel Qualifying, Session #2 Order
Apr 20- HOUSTON - Top Fuel Qualifying Notes, Session #2
Apr 20- HOUSTON - Pro Stock Qualifying, Session #2 Order
Apr 20- HOUSTON - Funny Car Qualifying, Session #2 Order
Apr 20- HOUSTON - Pro Modified Qualifying, Session #2 Order
Apr 20- HOUSTON - Funny Car Qualifying Notes, Session #2
Apr 20- HOUSTON - Pro Stock Qualifying Notes, Session #2
Apr 20- HOUSTON - Pro Modified Qualifying Notes, Session #2