Thu, 17 Nov 2005, 10:45 AM



Herbert Wraps Up 2005 NHRA Season with Style



Courtesy of Gabrielle Stevenson


Photo copyright 2005 NHRA





The Veteran Top Fuel Driver Attends United States Marine Corps Birthday Ball



LINCOLNTON, N.C. --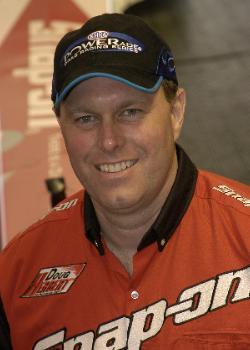 Header Goes Here
Just when Doug Herbert and the Snap-on Tools Top Fuel dragster team thought they could finally exhale, enjoy the moment and head for home, there was more parties to be done and work to do.
With Wayne Dupuy making the calls and Herbert driving the dragster, the Snap-on Tools team finished a career-best sixth in the final NHRA POWERade Drag Racing point standings. The season concluded at the Auto Club Finals at Pomona Raceway on Nov. 6. The next day, Herbert was in Palm Springs for the NHRA Awards Ceremony. On Tuesday, he was taking the ride of his life with the Air Force Thunderbirds in Las Vegas. After a day back home in North Carolina, Herbert was off to the 230th United States Marine Corp Birthday Ball in Virginia.
"The last couple of weeks of the season were just packed with things to do," Herbert said. "I usually don't get a lot of sleep anyway, which is good because there wasn't a lot of time for sleep. As soon as the season was over, we had to fly to Vegas, back home and then off to the Marines Ball. It was a great week capped off by a great party.
"The Marines really know how to celebrate their history and I'm really happy I was able to attend again this year. I got to meat General Robert Blackman and Colonel Jenny Holbert and they both thanked me for being such a good friend and that was very flattering because I have had all the Marines spend time with us because they have earned a thank you and a day of fun. It's been my pleasure having them."
Herbert spent the season hosting several Marines at NHRA POWERade events. Herbert invited between 10-12 Marines at 13 of the 23 events. The Marines - who were recently home from overseas battle - were treated to tickets to the NHRA event, a VIP tour of the Snap-on Tools drag racing program, special Herbert souvenirs as well as a meet and greet with Herbert and other drivers.
"It was a blast having the Marines around the pit area all season," Herbert said. "We had a Marines flag hanging above the hospitality area all season and all of our special Marine guests signed the flag. It's hanging in my office now, reminding me of how lucky we were to be able to host so many brave men and women."
Herbert also had a good year on the race track. He earned four runner-up appearances - the most final rounds in a season for the veteran Top Fueler since 1999 when he won four events in six final rounds.
Herbert also snagged a career-best six semifinals. But perhaps the most impressive stat of the season was the actual numbers on the track. Herbert made his career-first run in the 4.40-range with a 4.499-second blast at 330.63 mph in Phoenix. He also turned in a 4.480 at the fall Chicago event and a 4.441 for the No. 1 qualifying position at Dallas.
"As soon as we hired Wayne Dupuy to tune this car (before the St. Louis race) the entire season got better," Herbert said. "We became more consistent almost instantly and it made it fun all over again. Wayne is a great tuner and working with (tuning consultant) Jim Brissette, they really got the car running well every weekend. We had just three first round losses since hiring Wayne and if we want to compete for an NHRA championship, we have to go rounds every weekend. Wayne has shown he can get that done."
Now that the season is over, Herbert has taken his ride with the Thunderbirds, celebrated a big birthday with the Marines and buried himself in catching up with his work duties back in North Carolina, he can now look forward to the 2006 season.
"The great thing is that we have a busy winter coming up and we are going to come out next season ready to battle for the NHRA championship," Herbert said. "We've made so many improvements over the last couple of months and that has been reflected in our performance numbers. Wayne is already back in the shop, getting the car and the team ready for next season.
"What we were able to do in the second half of the season was awesome, but next year can be even better so we're going to work as much as possible now just so we're ready to compete from the first day."
Now Herbert and Dupuy can plan for an even better finish in 2006. Herbert's previous season-best finish was seventh (1999, '01-'02) but now has plans to make his sixth-place a thing of the past too.
"When Wayne and I first decided to work together, one of the biggest goals was to finish in the top five," Herbert said. "We were in ninth place when he came on board and the fact that we moved up to fifth was awesome. We slipped to sixth in the last race of the season, but next year we will have all 23 events to work together and we will accomplish all of our goals then.
"It was a good season and next year is going to be even better. Snap-on Tools signed a three-year extension and now we can put our heads into working on the car and getting even better."
The NHRA POWERade season kicks off at Pomona Raceway, Feb. 9-12, 2006.
2005 season highlights:
Pomona 1: Earned three round wins, lost to Scott Kalitta in the first of four final round appearances
Phoenix: Recorded career-first 4.40-run, going 4.499 at 330.63, lost to Morgan Lucas in the second round
Houston: Qualified third for the second time in just three events
Topeka: Earned two round wins; the semifinal appearance moved Herbert up two spots in the Top Fuel standings
St. Louis: Wayne Dupuy joined the team as lead tuner; Herbert earned two round wins and a semifinal appearance
Sonoma: Final round appearance
Brainerd: Semifinal appearance
Indianapolis: Qualified second in season's biggest event; turned in two 4.40-range passes; semifinal appearance
Reading: Qualified third, semifinal appearance
Chicago 2: Qualified third, runner-up finish
Dallas: No. 1 qualifier with career-best 4.441 run, final round appearance, moved from seventh to fifth in the Top Fuel standings
Las Vegas 2: Semifinal appearance, fifth in the standings




NHRA: 10 Most Recent Entries [ top ]

Apr 19- HOUSTON - Friday Schedule
Apr 19- Tige Boats Named Presenting Sponsor of E3 Spark Plugs NHRA Pro Mod Drag Racing Series Portion of NHRA SpringNationals
Apr 19- HOUSTON - Previous Success, Early Win has Funny Car's Courtney Force Excited
Apr 18- Haney Headed for NHRA Pro Mod with Summit Racing on His Side
Apr 18- HOUSTON - Richie Crampton Enjoying Early-Season Success Heading to 31st Annual NHRA SpringNationals
Apr 18- 2018 Mustang Cobra Jet Celebrates 50th Anniversary of Racing Legend with Quickest
Apr 18- New Ford Mustang Funny Car Scheduled to Debut In 2019 NHRA Mello Yello Season Opener
Apr 16- HOUSTON - Fact Sheet
Apr 16- HOUSTON - After Early-Season Mishap Funny Car's Jonnie Lindberg Looks to Get On Track