Wed, 16 Nov 2005, 11:25 AM



The Top Fuel Class



By Bob Frey


Photo copyright 2005 Auto Imagery, Inc.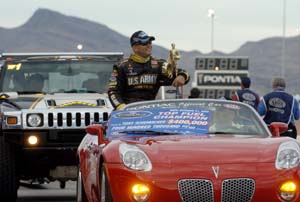 Schumacher takes his championship ride.
Tony Schumacher
is the 2005 NHRA
POWERade
Top Fuel champion. Combined with his win last year and the one in 1999 Tony is now a three-time champion and a case could be made that he is driving the best dragster in the history of the sport. I know that I have made that statement a couple of times this year and, in the interest of fair reporting, I also made a case for
Larry Dixon
and the
"Miller Lite"
car when he won back-to-back titles in 2002 and 2003. Point of fact, both guys had very impressive runs and you could argue on both sides about which team had the better year or years en route to the championship. Tony had a great year this season, re-writing just about all of the records in the Top Fuel class. He went to seven consecutive final rounds which had never been done before and he won five races in a row which had never been done before. He was the number one qualifier eleven times and that had never been done before in Top Fuel and he won the championship by the biggest margin in TF history. The thing that was most impressive about the car was the fact that it set huge performance standards at almost every race. By that I mean that, in addition to the obvious number one spots, Tony's
"Army"
team also set low elapsed time at an amazing thirteen races this year and top speed at an even dozen. By comparison the next best in each of those categories was
Brandon Bernstein
with four low E/T slips and Larry Dixon with seven top speed recordings. Now that's a dominating race car.
Did you know
that the seven top speeds recorded by Larry was the most for him in any year of his Top Fuel career?....But just for the sake of argument (after all, it is the off-season and a great time for bench racing and, well, arguing), let's look at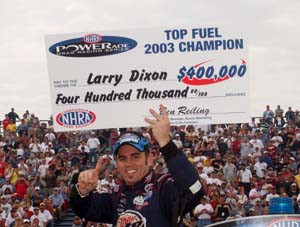 Dixon takes his ride in '03.
the numbers for both Tony and Larry over their two year reigns. Which driver do you think won more rounds during their championship runs?
Did you know
that Tony won 116 rounds between 2004 and 2005 and Larry won the exact same amount in 2002 and 2003? Tony had years of winning 60 and 56 rounds while Larry posted consecutive numbers of 59 and 57 round wins. Amazing, isn't it? As strong as Tony's car was this year,
did you know
that he only recorded two #1 spots in 2004? That gave him a total of thirteen over two years while Larry had eleven top qualifying spots during his reign. Tony did a bit better in the speed department recording eighteen top speeds over the past two years while Larry's two year total was nine. But then those
Dick LaHaie
tuned cars never were noted for their big speeds, were they? They did, however, win a lot of rounds. And, as strange as it may seem
did you know
that both drivers lost a grand total of four first round matches over a two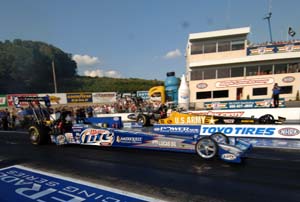 Dixon vs Schumacher
year span? Tony dropped two opening round encounters in each of his two championship years while Larry had three in one season and only lost once in the first round in 2003. And one last thing, which driver do you think has the better won-loss record against the other driver over the past four years? The answer is Larry Dixon who is an amazing 16-10 against Tony during that span. He was 13-5 during his championship years and is 3-5 over the past two seasons. OK, so who's the best?
Let the discussion, or arguing, begin!!..Here's a little more grist for the mill (whatever that means)
..
If you go strictly by the numbers it would be fairly easy to see why Tony has the championship.
Did you know
that of all the runs in eliminations this year Tony had six of the ten quickest runs during eliminations? And when it comes to reaction times, who do you think had the best of the year in the dragster class?
Bruce Litton
. Hey, all the answers can't be Tony, can they? But Tony was next along with
Morgan Lucas
. And in the all important speed department, after all that's what sets this sport apart,
did you
know
that Tony recorded the top six speeds of the year during eliminations? Plus he had that monster run of 337 miles per hour thrown in there at Brainerd. However you look at it and no matter how you do the math one thing is certain, the "Army" team that
Don Schumacher
put together is as good as car as I've ever seen in the class and it's going to take a pretty good effort to take that #1 away from the "Sarge" in 2006. Good luck to anyone who wants to try.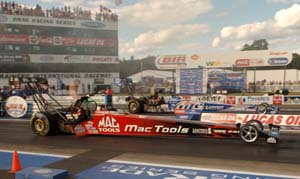 Doug's win in Brainerd.
As good as the dragster class was this year one thing was readily apparent, if you wanted to win you had to qualify in the top half of the field.
Did you know
that only two drivers won this year after qualifying in the bottom half of the show?
Doug Kalitta
was number nine in the Brainerd field and he went on to win the race (and take the
point's lead
) and
Scott Kalitta
qualified tenth at the first
Chicago
race and he ended the weekend in the winner's circle. Other than that, the top half was the place to be.
Did you
know
that almost half of the races in Top Fuel were won by either the number one or two qualifiers this year? Six were won by the top qualifier and another five were won by the second qualifier and only six were won all year by drivers who qualified sixth or worse...This year there were seven different winners in the TF class, with Tony's nine leading the way and Doug Kalitta's five in second
place
. Seven seems to be about the norm in Top Fuel since that's the same number of winners we had in three of the previous five years, in fact, that's the average number of dragster winners for the past ten years...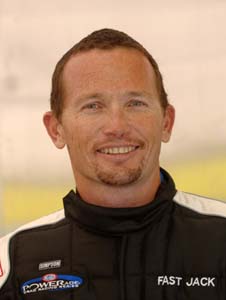 Jack Beckman
In some other Top Fuel news...Despite what you have heard
"Fast" Jack Beckman
does not have a deal in place for 2006.yet. Jack, who drove the
Menard's
car for
Dexter Tuttle
and crew chief
Jimmy Walsh
, announced at
Pomona
that he would be looking for a new ride next year. "I want to thank Dexter for the opportunity that he gave me this year," Jack said. "And I wish the team the best next season. But for now I'm exploring all of my options for next year." Those options have included discussions with several prominent teams and include both Funny Cars and Top Fuel. "I'm very fortunate to have a friend like
Rodger Comstock
(of
Mail Terminal Services
) on my side. He's a great friend and a very successful businessman and he's been a big help so far. Together I'm confident that we'll be able to put a deal in place by the first of the year." Having said that, Jack did say that he is keeping all of his options open and is willing to talk to any team and he will entertain all offers.
Rod Fuller's
mom, Cathy, is still recovering from her liver transplant of two weeks ago and now she is also fighting the remnants of a stroke that she had while in the hospital. "She developed a blood clot that caused a stroke," Rod said. "She's doing OK but she'll have to undergo some therapy when she gets home, which we hope will be some time next week." Rod also told me about the accident that involved the
David Powers'
truck and transporter while it was on the way home from
Pomona
. "Our truck got hit and it caused a lot of damage to the truck and trailer. It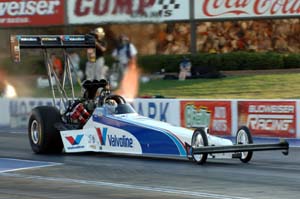 Rod Fuller
wasn't our fault but it is still a setback." Fortunately the driver, the veteran
Bobby Rex

,
was unhurt in the incident and that's the important thing because you can always fix cars and trucks.We all seem to come across things in our lives that we never thought we would experience and that's what has happened to Rod and his family. "I never knew anything about organ transplants or organ donors," he said, "but I do now and I expect to take up that cause from here on." After all of the awareness that was created about breast cancer by the
Aaron Olivarez
and Morgan Lucas teams this year, imagine what Rod could do for the organ donor cause next year, especially with a dedicated team and team owner like David Powers..The Powers' team is in the process of moving everything to a new shop in Indy and they are, from what I hear, in the process of building a new car (or cars) for the 2006 season. Let's see, they could have two cars and Jack Beckman's looking for a ride. I wonder if they have each other's phone number!! Just thinking out loud..Tony Schumacher has been nominated for the fourth quarter Speed Channel
"Driver of the Year"
award.
John Force (1996) and
Greg Anderson
(2004) are the only drag racers to have won the title since its inception. The "Driver of the Year" will be announced at the annual International Motorsports Hall of Fame ceremony next April. For the first time in a couple of years there are no drag racers being inducted into the "hall" this year, but maybe Tony will be there as our representative this time around. Hey, we can hope, can't we
?....
Doug Davenport
, who has been among the hot topics of late, told me today that he is "making progress and we're talking to a lot of big companies about our plans for next year." He also told me that he has taken almost fifty resumes from folks who want to drive the car. "I will tell you this," he said, "if money is not an object
John Spar
will be my driver. He's a great guy, has been around the sport all of his life and comes from a great family. Even though he hasn't driven a Top Fuel car he has driven almost every other kind of race car out there." Doug then told me that John is spending this week racing in the famous Baja race, on a motorcycle. Doug said that he has set January first as the time that he would like to have everything in place. "It's a business decision, and if I don't have the entire team and funding package in place by January I won't run the car. And, like I said, in the perfect world I would like to have John drive it. Now if someone came and said they had a driver with some credentials and they had a lot of money, well, I'd have to take a look at that." Sounds like a wise businessman to me. Let's hope he's successful because that would be one more car that could try to stop Tony next year. Now that I think about
it, that
may be a tougher task than getting the money to run one of these cars. May be...




NHRA: 10 Most Recent Entries [ top ]

Apr 24- CHARLOTTE 1 - Steve Torrence Enjoying Four-Wide Success Heading to NGK Spark Plugs NHRA Four-Wide Nationals
Apr 24- CHARLOTTE 1 - Fact Sheet
Apr 24- Kalitta Motorsports Welcomes NASCAR Stars to the SealMaster Track Walk in Charlotte
Apr 24- zMAX Dragway Celebrates 10th Anniversary
Apr 24- CHARLOTTE 1 - NGK Spark Plugs NHRA Four-Wide Nationals Brings 40,000 Horsepower Thrill Show to zMAX Dragway
Apr 23- HOUSTON - Lucas Oil Drag Racing Series Wrap Up The NHRA Lucas Oil Drag Racing Series Wrap Up
Apr 23- CHARLOTTE 1 - J.R. Todd Aiming for Two Four-Wide Racing Wins in 2018
Apr 23- Mid America Dragway Joins NHRA Member Track Network
Apr 23- HOUSTON - Special Awards
Apr 23- HOUSTON - Sunday Video