Tue, 15 Nov 2005, 12:15 PM



Schumacher Nominated for Fourth Quarter Speed Channel Driver of the Year Award



Courtesy of Chris Dirato



CHARLOTTE, N.C. --
After clinching his second straight NHRA POWERade Top Fuel world championship, Tony "The Sarge" Schumacher has been nominated for SPEED Channel's fourth quarter Driver of the Year award.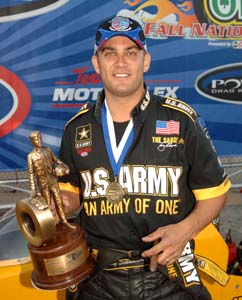 Tony Schumacher
The pilot of the U.S. Army Top Fuel dragster, who won the last five races of the NHRA's recently completed 2005 season, is among a group of candidates including Tony Stewart (NASCAR Nextel Cup), Sebastian Bourdais (Champ Car), Dan Wheldon (IRL), Carl Edwards (NASCAR Nextel Cup), Jimmie Johnson (NASCAR Nextel Cup), Steve Kinser (World of Outlaws) and Mark Martin (NASCAR Nextel Cup).
The fourth quarter award will be determined by an independent vote of an 18-member panel of blue ribbon auto racing journalists and broadcasters as well as one vote based on a cumulative tally by fans voting at http://www.speedtv.com. Fan voting will take place online through Friday, December 23. The winner will be announced on Speed Channel, Monday, December 26.
"It's an honor to be considered for this award," said Schumacher, who was in the mix for first quarter and fourth quarter Driver of the Year in 2004. "For the second consecutive season, the U.S. Army team showed its championship colors. Any post-season award that I'm a candidate for is clearly the result of their hard work and determination."
In addition to an award for each quarter, SPEED Channel will name a 2005 Driver of the Year. Since 1967, the only NHRA drivers to win the overall award have been John Force (1996) and Greg Anderson (2004).




NHRA: 10 Most Recent Entries [ top ]

Apr 21- HOUSTON - Sunday Schedule
Apr 21- HOUSTON - Saturday Video
Apr 21- HOUSTON - Saturday Wrap Up
Apr 21- HOUSTON - Super Stock Class Eliminations Finals
Apr 21- HOUSTON - Funny Car Qualifying, Session #4 Bonus Points
Apr 21- HOUSTON - Total Qualifying Bonus Points
Apr 21- HOUSTON - Funny Car Eliminations Ladder
Apr 21- HOUSTON - Funny Car Final Qualifying, Session #4 Order
Apr 21- HOUSTON - Top Fuel Qualifying, Session #4 Bonus Points
Apr 21- HOUSTON - Pro Stock Qualifying, Session #4 Bonus Points