Mon, 14 Nov 2005, 10:11 PM



Super Heroes



By Norm Froscher


Photo copyright 2005 Matt Polito, dragbike.com & Auto Imagery, Inc.





GAINESVILLE, Fla. --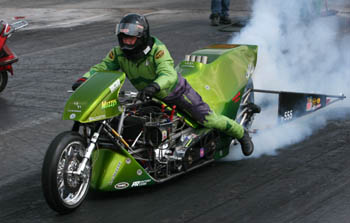 Jimmy Brantley
Talk about your Super Heros!
How about the Incredible Hulk?
To explain, the Hulk, in the person of Jimmy Brantley, replaced Larry "Spiderman" McBride as the Top Fuel champion in the AMA Prostar motorcycle drag racing series.
Well, sort of. You might want to put an asterisk by the 49-year-old Brantley's name because:
* Actually, the 46-year-old McBride, a six-time champion in the series, didn't race the last part of the series after suffering a stroke -- that's right, a stroke -- just before the series was to run at Norwalk. Best thing you might do after a stroke is stay off of those 240 mph, 1,200 horsepower motorcylces.
* And second, Brantley's bike was put together by Steve McBride, Roland Stuart and racer McBride even before the beginning of the 2005 campaign.
* Third, Brantley, with the help of that crew, which had been helping him out of Spiderman's trailer from the last half of the season, became only the second Top Fuel rider to dip under the six-second mark in elapsed time. Brantley accomplished that feat in the second session of the Diamond Motorsports World Finals at Gainesville Raceway on Nov. 12.
He scorched the quarter-mile with an E.T. of 5.993 seconds at 228 mph.
"Yeah, after that run a guy at the end of the quarter-mile came over and talked to me as I was taking off my helmet.
"You want me to tell you what you ran," he asked and I said yeah.
"He leaned over and whispered it to me," Brantley laughs. It was then less than five seconds before the whole world knew.
* Lastly, even before McBride's stroke, from he now seems completey recovered and ready to return to racing, it was decided that Brantley, from Ft. Myers, Fla., would become a second member of the team in 2006.
Hopefully, you're familiar with Newport News' McBride, but what about this new guy? How did he get into motorcycle racing?
"My brother had come to Gainesville in 1998 and saw the Top Fuel bikes run and told me about it. I had always been interested in radical events and doing radical things, so I came up in '99 and bought a bike in the E.T. class. I got beat by Debbie Knevel (no relation to the stunt rider) who was here with Prostar.
"I told my brother I didn't want to get beat by a girl again, and the only way to do that was move to Top Fuel. I bought a bike out England, ran it for three races, blew it up and didn't have the experience of the ability to fix it."
Enter McBride.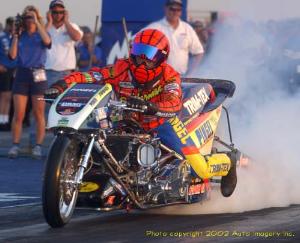 Spiderman McBride in '02
"We partnered up with Larry McBride. I built the chassis and he finished it up and put the motor in it. Our friendship has gotten real good and it's gone from there. That has come about over the last two years or so and we decided to become a two-bike team."
Brantley, 5-7, 170 pounds, and a former U.S. Marine, fits the pesudonum of Hulk quite well. In addition to his green and black leathers, he wears a green "Hulk " helmet.
By how in the world can this comparable newcomer manage to take off and run around around the country to participate in Prostar drag racing?
"I work for Younguist Brothers, Inc., which is the largest injection well drilling company in the United States. We drill injection wells for municipalities and we also drill muncipal drinking water wells and I also have two rigs that work in the oil and gas industry down in southwest Florida."
Brantley has been with Youngquist Brothers Drilling for three decades. "I'm the senior vice president and chief operations officer, and they are my sponsor," Brantley says.
"When I made the decision to go race they bought me a transporter and said if we're gonna do it, let's do it as professionals. That's how we run our well drilling business."
So much for how he gets time off.
"Larry is the heart of this team. You can't make big mistakes out there and without Larry I wouldn't do it, but we do plan to be a two-bike team next year."
Brantley says thanks to all the fans who have supported him.
"And, of course, Larry's team, Roland Stuart, Chuck Stuart and Larry's brother Steve, and my team which has Patrick O'Donnell and some others who help me.
"Then there's my girl friend, Bobbi, who follows me around and this is real hard on her."
What about McBride?
Should we put an asterisk by Brantley's name, saying with the help of six-time champion Larry McBride?
"I would think that would be a great idea," McBride says. "For me. I don't think Jimmy would mind," he chuckled.
"I met Jimmy about three years ago and developed our friendship, then when he asked us to build the bike, I said sure. It's been a great relationship and we look forward to being a two-bike team next year,
"We'd planned that for '06 anyway, so this gave us a head start.
"Jimmy's been an excellent rider. You know, we brought him up slow and I taught him everything I know to teach him. He's the second person in the fives and now he's actully taken my championship away from me -- but that's okay, because it's still like me winning it.
"The only thing is I wasn't riding. That's the only difference."




NHRA: 10 Most Recent Entries [ top ]

Apr 21- HOUSTON - Sunday Schedule
Apr 21- HOUSTON - Saturday Video
Apr 21- HOUSTON - Saturday Wrap Up
Apr 21- HOUSTON - Super Stock Class Eliminations Finals
Apr 21- HOUSTON - Funny Car Qualifying, Session #4 Bonus Points
Apr 21- HOUSTON - Total Qualifying Bonus Points
Apr 21- HOUSTON - Funny Car Eliminations Ladder
Apr 21- HOUSTON - Funny Car Final Qualifying, Session #4 Order
Apr 21- HOUSTON - Top Fuel Qualifying, Session #4 Bonus Points
Apr 21- HOUSTON - Pro Stock Qualifying, Session #4 Bonus Points