Sat, 12 Nov 2005, 09:53 PM



Some Pomona Stuff



By Bob Frey


Photo copyright 2005 Auto Imagery, Inc.





The final race of the year was exciting in so many ways and I'm not even talking about the professional classes. From the top of the line alky dragsters to the 9.90 Super Gas class, the sportsman cars at Pomona put on a great show. In no particular order here are some of my thoughts of the last race of the season...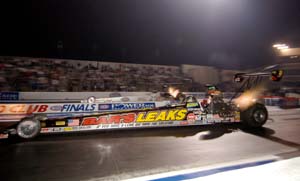 Reichert vs Torrence
Bill Reichert won the Top Alcohol Dragster class with another strong performance. The driver of the Bar's Leaks car was the number two qualifier behind Steve Torrence and he set low elapsed time and top speed en route to the win. Bill, who for years has had one of the best cars out there, had always had trouble closing the deal, that is, winning the race. Before he started this three race win streak Bill had a record of 3-16 in final rounds, and even though he often felt frustrated at that mark, how many drivers could say that they had even made it to nineteen national event final rounds? Since he became a grandfather a few months ago, Bill is undefeated. Now I don't think there is any connection between the two but it is worth noting that Bill carries a picture of his granddaughter, Grace, on the side of his car. If he keeps on winning that picture may stay there until Grace is driving her own car. Congratulations to Bill and his wife, Gloria, on a great season, he is and always has been a great competitor and a nice guy.
Steve Torrence completed his dream season with a runner-up finish in Pomona. That means that the kid who took over driving after the death of Shelly Howard, went to thirteen races this year and he made it to eleven final rounds. Only those two round one losses at the Chicago track, at one divisional and one national event, kept him from having an even better year. As it is, Steve finished with 819 points and that's the best that anyone is the class has done since the days of the great Rick Santos. Rick had two better years but other than that, Steve's point total ranks him with the best in the history of the class. And as Paul Howard told me at the Lucas Oil award's ceremony, "I keep doing this because Steve is a good kid." High praise, indeed!! By the way, that Tom Conway sure knows how to tune a car doesn't he?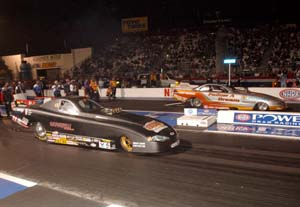 Gasparrelli vs Ray
Steve Gasparrelli finished the season with a strong run and a win at his home track. The second-generation racer beat David Ray who was driving Jay Blake's "Follow A Dream" car in the final round. Steve finished third in the national points, just behind Bob Newberry and Frank Manzo. It's the second time in his career that he has finished in the top three spots and that's a real credit to one of the great families of sportsman racing. .For his part, David was there because Jay was able to get some financial backing from the folks at Permatex and Fast Orange to make the trip across country. Jay gave a couple of talks for Permatex during his trip out west and then he gave them a lot of exposure on the ESPN show. Nice job, Jay, and thanks to Permatex for their help.
Chuck Smithfield put his car up for sale, announced that he was retiring after Pomona and then went out and won the race. Chuck hadn't been to a final round since 1973 when he lost in the finals at Columbus. Actually he lost before the finals since he couldn't get his car started for that final round and that gave Jan Riedel a single run for the championship. Chuck's win ended a long career and probably ended a lot of frustration that comes without winning a race for so long. Ironically, "Frustration" was the name of Riedel's car when he beat Chuck in 1973. At the Columbus race some of the greats in the sport were there including Ed Sigmon, Virgil Cates, Bob Riffle and Dick Moroso. Chuck beat a couple of them including Mr. Moroso, Jim Thompson in the Rod Shop car and Lee Shepherd among others. Chuck told me that he is going to go out and spend some time traveling with his wife now that his drag racing career is over. Enjoy it, Chuck...By the way, as you probably figured out, Chuck has been doing this for a long time and he first made headlines in 1970 when he won the Division 7 race at Orange County in Modified Eliminator. At that race Chuck, driving the 1957 Chevrolet of Smithfield and Prothero, beat Ed Sigmon in the finals. Ed was about a round away from meeting Chuck in the final round again this weekend.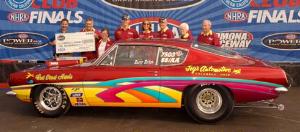 Harry Holton and crew.
The meeting between Chuck and Jirka Kaplan marked the first time in over thirty years that two supercharged cars had met in a Competition Eliminator final round. Steve Woods raced in three such matches, beating Phil Lukens at the 1972 Winternationals and Brad Anderson a year later at the same race. He also lost to "Ohio" George Montgomery at Gainesville in 1973. One of NHRA's really good guys, Wayne McMurtry, was involved in another all supercharged final round. Wayne, driving his World Champion supercharged dragster, beat Ron Scott in his AA/A at Columbus in 1972. Other than those races a long time ago I can't find any other matches between two supercharged cars in a final round of Competition Eliminator until this past weekend.
Harry Holton received the Brut "Essence of Racing" award in Pomona and that concluded a season that saw a lot of the greats in sportsman racing honored by the folks at Brut. Besides the $1,000 award that goes with the program, it's nice to see sportsman racers get the recognition that they deserve and nobody is more deserving than the head of the West Coast hemi brigade, Harry Holton. From his first divisional win at Fremont Raceway in 1969 to his current SS/AA car, Harry has epitomized everything that is good about drag racing. If you happen to have some of the early National Dragsters you may remember seeing Harry's picture on the cover in 1969 when he won the SS/BA class at the famous Bakersfield meet and he's been winning ever since.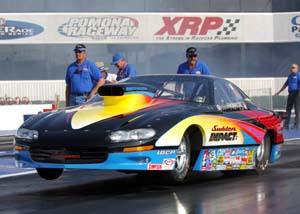 Ray Sawyer
Ray Sawyer ended up winning the Lucas Oil World Championship in Super Gas and he had to outlast a huge contingent of racers to do it. Going into the Division 7 race in Las Vegas there were ten drivers who had a shot at the title and four of them were still alive going into Pomona. Ray, who had a couple of national event final rounds this year and a strong showing on the division level won his first national championship with his high mile per hour race car. One of the drivers who had a shot at the 9.90 title was Rick Beckstrom, who had to go to the final round in Pomona to win the championship. Although he didn't do that in Super Gas he did make the final round in Super Comp where he beat Kevin Kleineweber for the win...The same basic scenario happened to Gary Stinnett who won the Super Comp world championship and then won the race in Super Stock. Amazing, isn't it?....Loreen Johnson had her best weekend in the 9.90 class with a perfect reaction time in one round and a 9.900 in another round. Loreen lost the final round to Mike Blodgett on a double breakout but she still has to be pleased with her performance.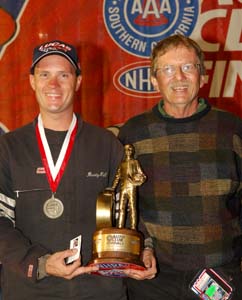 Rusty Hall and Bill Howell
Rusty Hall won the Stock Eliminator class when he beat Ken Etter in the money round. Rusty, part of the hard charging Hall family from Sweeney, Texas, did it in a borrowed car. To make a long story short, Rusty was driving the car that is normally driven by Bill Howell and he never missed a beat in it. Must be a "blue oval" thing, don't you think? After all, the Hall family loves Fords and they all do very well in them. Rusty's opponent, Ken Etter, was looking for his second national event win and his second at Pomona. The other race that Ken won was the 50th anniversary race at Pomona in the summer of 2001.
Three of the world champions this year won their fourth title. Gary Scelzi in the pro class (three Top Fuel and one Funny Car), and Jeff Taylor and Peter Biondo in the sportsman ranks. If you had to make an all star team of sportsman racers this year's champs would be a pretty good place to start. Of course any team that includes Jeff and Peter would be very formidable, wouldn't it? Jeff has now won titles in three different classes, Stock, Super Stock and Comp and he joins Scotty Richardson (Stock, Super Gas & Super Comp) and David Rampy (Super Comp, Comp and Super Gas) as the only ones to accomplish that goal.
We'll have more on the champions in the weeks ahead but for now I'd just like to congratulate all of the sportsman racers for another great season and I can't wait for the start of the 2006 Lucas Oil Drag Racing Series.




NHRA: 10 Most Recent Entries [ top ]

Apr 19- HOUSTON - Friday Schedule
Apr 19- Tige Boats Named Presenting Sponsor of E3 Spark Plugs NHRA Pro Mod Drag Racing Series Portion of NHRA SpringNationals
Apr 19- HOUSTON - Previous Success, Early Win has Funny Car's Courtney Force Excited
Apr 18- Haney Headed for NHRA Pro Mod with Summit Racing on His Side
Apr 18- HOUSTON - Richie Crampton Enjoying Early-Season Success Heading to 31st Annual NHRA SpringNationals
Apr 18- 2018 Mustang Cobra Jet Celebrates 50th Anniversary of Racing Legend with Quickest
Apr 18- New Ford Mustang Funny Car Scheduled to Debut In 2019 NHRA Mello Yello Season Opener
Apr 16- HOUSTON - Fact Sheet
Apr 16- HOUSTON - After Early-Season Mishap Funny Car's Jonnie Lindberg Looks to Get On Track