Thu, 10 Nov 2005, 11:21 PM



What An Ending



By Bob Frey


Photo copyright 2005 Auto Imagery, Inc.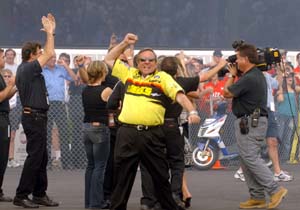 Don Schumacher celebrates.
You knew there had to be some suspense at the last race of the season, didn't you? After all, with three drivers still in the chase for the Funny Car championship a lot of things could happen including a final round match that could have been for all the marbles. Alas, after all three drivers won their first round matches the tension level went up a notch, and when
Ron Capps
and
Gary Scelzi
both lost in round two it came down to
John Force
and one run. One
run
to see if he could extend the championship chase one more round. One
run
to see if he could deprive Gary Scelzi of the championship. And how fitting was it that that one run should be against
Tony Pedregon
, his former driver and teammate? And when Tony ripped off a 4.77 elapsed time to John's quicker but losing 4.75 it was all over but the shouting, and the shouting began right away as
Don Schumacher, Jim Jannard, Mike Neff
, Gary and the rest of the
Oakley / Mopar
team realized that they were the 2005
POWERade
Funny Car champions. The race,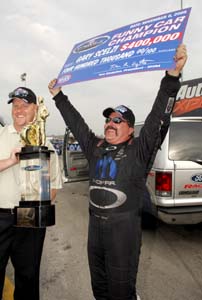 Scelzi celebrates championship.
which goes into the record books as a holeshot win, (or loss depending on your point of view), ended one of the most exciting points races in a long time and made Gary only the second driver to win the championship in both fuel classes. I had a little discussion with
Mike Dunn,
the ESPN analyst and former driver, and he isn't a big proponent of calling certain runs holeshot wins or losses. Because of all the little intricacies of staging, like who staged shallow and who staged deep or even turned out the top bulb, Mike and some others don't think that the description of a holeshot win is always accurate. I pointed out to Mike that as far as the average fan is concerned, when a 4.77 beats a 4.75 it is, indeed, a holeshot win and that's the way that this round will be recorded. When I saw that John had lost that way I went back through the year and checked his stats and
did you know
that this was only the third holeshot loss for John all year long?
Cruz Pedregon
beat him
in
Seattle
and
Eric Medlen
beat him in the final round at Brainerd and, other than that, John had a pretty good record this year. But,
did you know
that of his fifty runs this year that involved green light starts, John was first off the line in only twenty of those matches? Take that for what it's worth but I found it interesting..The competition for the FC championship was intense and as evenly matched as we've seen for years. The fact that Gary was able to win it with a total of thirty-five round wins just goes to show how tough it was to win rounds let alone races and championships.
Did you know
that the fewest rounds that the Funny Car championship had been won with in the past fifteen years was forty-three by Cruz Pedregon in 1992? By comparison when John lapped the field in 1996 he won an amazing sixty-five rounds en route to the title.
Having said that I believe that this was the best year from a fan's point of view that we've had in a long while.
Congratulations to John for all that he has done including that record setting year in '96, but every race this year had a certain level of excitement to it that made it interesting and the only way it could have been better would have been if John had won that second round match with Tony and then had to win the semi-final round in order to win the title. Of course it's easy for me to say that because I don't have to suit up and drive the car or get it ready for another round. All in all, 2005 will go down in the record books as a great year in the Funny Car class and I offer a big word of congratulations to all of the teams and, especially, to Gary and everyone involved with the Oakley Dodge. Enjoy...By the way, right after the race Don Schumacher told me that he has hired
Brian Corradi
to tune the
Matco Tools
car in 2006. Wonder where that leaves
Frank Pedregon
? And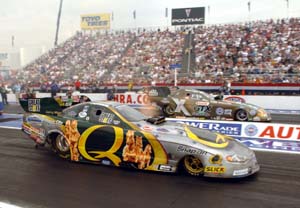 Pedregon defeated Force.
don't be surprised to see another announcement from the "Don" in the very near future about the structure of his team, and I don't believe that it will be that his team is getting smaller..
Del Worsham
set top speed in the Funny Car class at Pomona at 331.36 and that was also top speed of the meet.
Did you know
that the dragster top speed was
David Grubnic's
330.96? And
did you know
that this is the twenty-second time in history that a Funny Car driver left the track with top speed instead of a dragster? It's the first time that it happened this year and only the second time that it has happened at the final race of the year. In 1991
Jim White
set the speed mark in Funny Car at 291.82 while
Don Prudhomme
set the dragster mark at 291.45...The turn around by
Eric Medlen's
team from a demolished car to one that actually made it to the starting line for the final round was one of the most dramatic things that I've ever seen. I would have to guess that they were hoping for a
Tony Pedregon
mistake on the line in the final because I certainly don't believe that car was going to make a full quarter mile run
after

the
damage that it suffered in the semi-finals. Still, it was a great tribute to that team that they even made it to the line at all. Ironically, it was Tony who went into the sand trap, or the mud trap, at the first race this year in
Pomona
..Tony beat both of his brothers and two "Team Force" cars to get his second win of the season.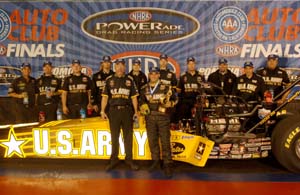 Schumacher and team celebrate win.
What can you say about Tony Schumacher and his Army team that hasn't already been said? That is the most dominant Top Fuel team in history, and while I know that is a bold statement, I would be hard pressed to come up with another team that has done what this group has done over the past two years. Larry Dixon, with Dick LaHaie tuning, was very strong during their two year reign as champions, but this team simply crushes anyone and everyone who gets in their way. With his win in Pomona Tony added two more records to his already impressive resume. He has now won five consecutive races and twenty rounds, two things which had never been done before. Prior to this, Scott Kalitta and Cory McClenathan had the record with nineteen straight round wins in the dragster class and Tony now has gone past that mark and he'll try to continue the streak at Pomona when the 2006 season begins. With the way this team has performed lately I don't know anyone who would bet against them adding to that mark next year. The car just didn't seem to make any bad runs during that five race streak and that includes qualifying runs, and on race day it was just about perfect. Tony is now a three-time POWERade champion and when I asked him what he was going to do during the off-season he said, "play hockey. I love hockey." When I told him that a hockey career during the off-season might mean that he could start the next season minus a few teeth he said, "maybe, but I'll come back with a new attitude and determination." Hey, just what the rest of the Top fuel class wants to hear, right? Tony finished the year with nine wins and there aren't many teams in the sport that can say that they won nine races and it wasn't their best year. In 2004 Tony and the Army team won a record-setting ten races and sixty rounds which is one round shy of the record which was set by Kenny Bernstein in 2001. By comparison, in 2005 they won fifty-six rounds, which gives them a pretty good two year average, doesn't it? With his back-to-back wins at the final race of the year Tony joins a very select list of repeat Top fuel winners. Did you know that only Don Garlits, Joe Amato, Darrell Gwynn and Bennie Osborne have won the last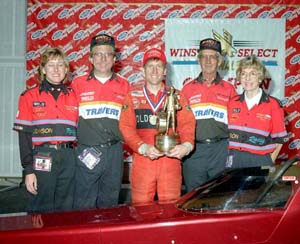 Blaine and family celebrate '95 win.
race of the year in consecutive seasons?....
Alan Johnson
, of course, gets a lot of the credit for the team's success and as long as he stays with them it's going to be a tough job to take the championship away. The win at
Pomona
came on the ten year anniversary of Alan's first Top fuel win with his brother,
Blaine.
Did you know
that of the starting field at that 1995 race there were only three drivers who also started the race this year in Top Fuel? Cory McClenathan, Larry Dixon and Scott Kalitta all qualified for the '95 race and this one, while
Tommy Johnson
was in the field ten years ago but raced in Funny Car this year..Larry Dixon finished the season in second place and that's another solid effort for the
Miller Lite
team..One of the biggest ovations at Pomona this week was for
Dick LaHaie
after Larry lost in round two to Tony. Basically every crew chief
who
was anywhere near the starting line came over to congratulate him and the fans gave him a standing ovation. It was so cool and it was a fitting tribute to one of the greats of the sport..About the only thing that Tony's team didn't win was the
Full Throttle Pit Crew Championship
which went to the
MAC Tools
team and
Rahn
Tobler
.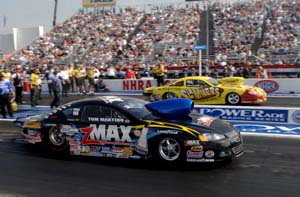 Martino defeated Enders.
The Pro Stock title race was over before we came into
Pomona
but the class still gave us some memorable moments. Among some of the surprises this week were
Erica Enders
being in the number one spot for a while,
Tom Martino's
return as a driver and his return to the final round, an all Mopar final round and those pesky red lights that we saw throughout the Pro Stock eliminations. And just where did all of those red lights come from? Both semi-finals and the final round were decided on the line for the second time in the last four races and two of the three drivers who fouled out then ran quicker than their opponents.
Did you know
that there were forty red lights in the Pro Stock class this year as compared to thirty last year? What's up with that?....
Jeg Coughlin
won his first race since the second Chicago race in 2003 and that's a huge drought for the two-time Pro Stock champion.
Did you know
that three of Jeg's wins were determined on the starting line? He beat
Greg Anderson
on a holeshot in round two and then had both
Jason Line
and Tom Martino foul out against him. Jeg had a .004 reaction time in the second round, a .001 in the semi-finals and a solid .010 in the final. Sounds like time to hang it up to me. Jeg then announced that this was his last race as part of the Don Schumacher team and that he will concentrate on some sportsman racing in 2006. I asked Don about a replacement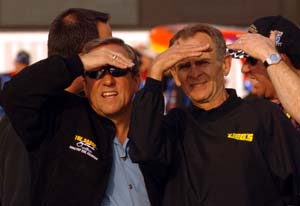 Schumacher and Glidden
for Jeg and he said that an announcement will be made shortly as to who the new driver will be. Any guesses? How about
Bob Glidden
as a driver? Just a thought..
Did you know
that Jeg's
win over Greg in round two was the third time this year that he beat the champ on a holeshot?...
For his part, Tom got into the race when
Larry Morgan
asked him to drive his new
Don Ness
car and all the Jersey boy did was beat Erica on a holeshot in round one,
Richie Stevens
on a holeshot in round two and
Kurt Johnson
when "KJ" fouled out in the semis. Too bad Tom "bulbed" in the final round or he could have had his first win since Sonoma in 2001..
Did you know
that the all Dodge final was the first since
Mark Osborne
beat
Darrell Alderman
in Seattle in 2001?....Greg won his third consecutive championship and he's only the third Pro Stock driver to do that. Bob Glidden and
Lee Shepherd
are the other two
.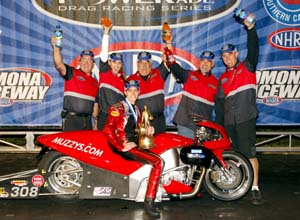 Schnitz celebrates win.
Congratulations to
Andrew Hines
for winning his second Pro Stock Motorcycle championship. Driving the
Vance & Hines Screamin' Eagle
Harley Davidson, Andrew held off the challenge of his teammate,
GT Tonglet
to
win

the
title. Andrew won the title with twenty-five round wins as compared to his 2004 season where he won thirty-one rounds.
Did you know
that Andrew and Gary Scelzi share something in common? They both won the championship despite not winning the most races in their class.
Ryan
Schnitz,
who won the race in
Pomona
, won three races this year to Andrew's two, while
Gary
won three races compared to John Force's five. It's all about winning rounds, isn't it
?...
With his win Ryan finished fourth in the standings behind the two Harley riders and
Angelle Sampey
.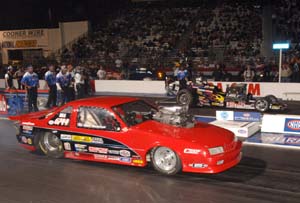 Smithfield defeated Kaplan.
The final sportsman title was decided in Pomona and it went to
Ray Sawyer
who outlasted a huge group of drivers to win the Super Gas championship...
Rick Beckstrom
, who had a chance to win the Super Gas title coming in, didn't win that but he did win the Super Comp title at the race, while
Gary Stinnett
, who won the Super Comp world championship also won the Super Stock crown at the race. These guys are so good at what they do, aren't they?....
Mike Blodgett
won the Super Gas title at
Pomona
and it couldn't have come at a better time. Mike, whose wife Beth, has Lupus, had raffled off a ride on the Goodyear blimp and they had just announced the winner earlier in the weekend before Mike's win. I got to talk with Beth in the winner's circle and she continues to fight against the disease and it was great just to see her at the races. For Mike to win may be the best medicine she could get, other than the prayers from all of her friends. On behalf of Mike and Beth, thanks to everyone who bought tickets for the raffle, it was a huge success and please
keep
Beth in your prayers..
Chuck Smithfield
won the Competition Eliminator title in a historic battle of two supercharged cars. Chuck, who went to the only other final of his career in 1973 when he couldn't start for the final round in
Columbus
, said that this would be his last race and his entire operation is listed for sale in
National Dragster.
Now I ask you, how cool is that? This was the first meeting of two supercharged cars in a Comp final since back in 1973 at the Gatornationals when
"Ohio" George Montgomery
beat
Steve Woods
. That's a long time ago folks!




NHRA: 10 Most Recent Entries [ top ]

Apr 21- HOUSTON - Super Stock Class Eliminations Finals
Apr 21- HOUSTON - Funny Car Qualifying, Session #4 Bonus Points
Apr 21- HOUSTON - Total Qualifying Bonus Points
Apr 21- HOUSTON - Funny Car Eliminations Ladder
Apr 21- HOUSTON - Funny Car Final Qualifying, Session #4 Order
Apr 21- HOUSTON - Top Fuel Qualifying, Session #4 Bonus Points
Apr 21- HOUSTON - Pro Stock Qualifying, Session #4 Bonus Points
Apr 21- HOUSTON - Funny Car Qualifying Notes, Final Session
Apr 21- HOUSTON - Top Fuel Eliminations Ladder
Apr 21- HOUSTON - Top Fuel Final Qualifying, Session #4 Order