Thu, 10 Nov 2005, 12:21 PM



David Baca and Rick Henkelman Together Again



Courtesy of Mickey Schultz



Baca Signs Henkelman as Crew Chief for 2006



PITTSBURG, Calif. --
After tuning the Top Fuel dragster of David Baca to a semifinal appearance at the just completed NHRA Auto Club Finals at Pomona Raceway, Baca announced the signing of friend and former partner Rick Henkelman as crew chief for the 2006 season.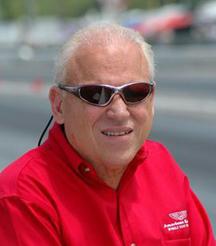 Rick Henkelman
Actually, Henkelman joined the team as crew chief immediately following the NHRA ACDelco Las Vegas Nationals and began immediately to ready the Baca Motorsports dragster for the Pomona event.
At Pomona, Henkelman had everything converted to his program, set up and tune up and the results showed in the fact that Baca qualified third with a pass of 4.485 seconds at 324.28 mph and reached the semifinal running consistent elapsed times in the 4.50-second range.
"It great to have Rick back and to be working with him again," said Baca. "We've raced against each other, been partners in our first venture into Top Fuel racing and Rick has been a tuner for my independent operations. I guess that just says that we've been friends for a long time and both of us are getting older.
"After going our separate ways in 2004, things just didn't move forward without Rick. Some of the choices that I was forced to make in 2005 I wish I could replay and do it my way. If I could have done it my way, and it was my sole decision, Rick would have never had to leave. But that's hindsight and I'm just glad to see that Rick Henkelman and David Baca are back together again.
"That said, we're here to move forward with the program from were we left off at Pomona last weekend. I hope to have some positive announcements regarding funding in the very near future."
The pair -- Henkelman and Baca -- joined the Top Fuel ranks at the season-opening 2002 K&N Filters Winternationals with Cory McClenathan in the driver's seat. At the end of 2002, Baca took over the driving duties for the 2003 season and since that time he has been wearing the dual hats of driver and also of owner - first as partners with Henkelman, then as an independent and more recently as a family operation before returning to his role as sole owner of Baca Motorsports.
The union with Rick Henkelman, from San Jose, Calif., and the formation of Henkelman & Baca Motorsports began at the end of 2001, but Baca's longtime friendship with alcohol Funny Car standout Henkelman dates back to the late 80s when the San Francisco Bay area racers developed a friendly rivalry in the Top Alcohol Funny Car class.
Prior to forming a Top Fuel team with Baca, Henkelman had previously enjoyed a tremendous amount of success in both the NHRA Top Alcohol Funny Car (TAFC) and Top Alcohol Dragster (TAD/A-Fuel Dragster) classes.
Starting in Top Alcohol Funny Car, Rick won the Division 6 TAFC championship in 1994. In 1997, Henkelman switched to an A-Fuel Dragster which competed in the Top Alcohol Dragster class. Here he enjoyed his greatest success, winning both divisional and national events.
1998 was a breakthrough season in TAD with Henkelman going to seven final rounds at national events, winning two. That same year, he also finished in the second position for the national point title.
The following year, he won the Columbus national event and was the Division 7 Top Alcohol Dragster representative at the 1999 Federal-Mogul All-Star Championships. Henkelman retired from active driving at the end of the 1999 season.
For the new millennium, his son Brandon took over the wheel in 2000 and 2001, with Rick handling the tuning duties.
Since leaving Baca Motorsports at the end of 2004, Henkelman has spent his time relaxing and then joined the start-up A-Fuel team of Bill Windham and Big O Tires as crew chief in June. Since hiring Henkelman, the team has enjoyed immediate success qualifying #2 at the Sonoma national event and #2, with a runner up finish, at the Las Vegas Division 7 race.
"I thought I was going to be content sitting on a beach in Bermuda sucking down a Tequila Sunrise, but all I did was get a sun burned butt," said Henkelman, while kidding about his retirement earlier this year.
On a more serious note, he added, "It's gratifying to be back with David and the entire Baca Motorsports team. This group is real talented and I'm confident we'll run with the front runners next season. Next season will be quite a challenge. I fully intend on continuing my crew chief duties for Bill Windham and the Big O Tires team on the A-Fuel car, as well as any other cars they want me to tune."




NHRA: 10 Most Recent Entries [ top ]

Apr 18- Haney Headed for NHRA Pro Mod with Summit Racing on His Side
Apr 18- HOUSTON - Richie Crampton Enjoying Early-Season Success Heading to 31st Annual NHRA SpringNationals
Apr 18- 2018 Mustang Cobra Jet Celebrates 50th Anniversary of Racing Legend with Quickest
Apr 18- New Ford Mustang Funny Car Scheduled to Debut In 2019 NHRA Mello Yello Season Opener
Apr 16- HOUSTON - Fact Sheet
Apr 16- HOUSTON - After Early-Season Mishap Funny Car's Jonnie Lindberg Looks to Get On Track