Wed, 9 Nov 2005, 07:43 PM



Herbert Soars with Thunderbirds



Courtesy of Gabrielle Stevenson



LAS VEGAS --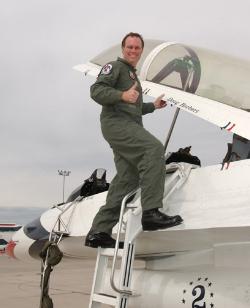 Herbert climbs aboard.
Doug Herbert realized a dream Tuesday that he has had since he was just a child growing up in the Southern California area.
Herbert got a chance to fly with the Air Force's elite flight squad, the Thunderbirds. As soon as Herbert stepped off the stage of Monday night's NHRA awards ceremony in Palm Springs, Calif., he hopped aboard his airplane to get to Nellis Air Force Base. By 9:30 a.m. Tuesday morning, after he spent the better part of a year drag racing across the country, Herbert was more excited than ever.
"It was awesome. It was even better than I thought it would be," Herbert said. "I couldn't believe how smoothly everything went and to be honest, I was just as impressed with the way everyone in the Air Force, and especially the Thunderbirds unit, treated us as I was with the actual flight. They were amazing to work with, they were incredibly professional and I was in awe by the fact that everyone loves their job. They take a lot of pride in what they do as a team and that made the experience even more enjoyable."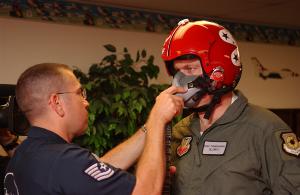 Herbert getting fitted.
Herbert's day started with getting fitted for the appropriate flight gear. The 6'4" veteran Top Fuel driver was given a G suit, flight suit, harness and helmet. When that was done, he was sent to the flight surgeon, Thunderbird #9 Maj. Henry Lau.
"We did a pre-flight briefing that answered all of my questions about how this type of speed and flight maneuvers affect your body," Herbert said. "They also kept telling me that this was going to be the only time I would be in the F-16 fighter jet, so I needed to take full advantage of the flight and to not be shy. If I liked something, I should tell the pilot to do that again. They learned really quickly that I'm just not a shy person. I was there to enjoy every minute of it and they made sure I did."
Once the briefing was over, Herbert met his pilot, Maj. Rusty Keen. At last, they climbed in the Lockheed Martin F-16C Fighting Falcon and took off.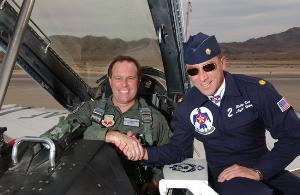 Herbert and Maj. Rusty Keen
"The pilot's nickname is Shredder and that's no joke," Herbert said. "He was cooler than anyone I've ever met. He and I hit it off immediately and he knew I was a drag racer. So as soon as we took off, he went straight for the drag strip (Las Vegas Motor Speedway) and when we were in the middle of the drag strip, he turned 90 degrees straight up and we went 20,000 feet in just 15 seconds.
"I was in the plane for 1.3 hours and we did some unbelievable stuff. We were carving up canyons, rolling upside down, right side up, 9 G turns. You name it, we did it. I can't even begin to describe how incredible the flight was."
The drag racing season is over and the flight of his life is in the record books. Herbert now has to come off the rush of the final week of competing and flying.
"It was a little hectic rushing from the race track to Palm Springs for the awards ceremony and then off to Vegas for the Thunderbirds flight," Herbert said. "But it was all worth it. We finished a career-best spot in the NHRA standings and I will never forget a single second of my experience with the Thunderbirds.
"They have about 100 people working with the Thunderbirds and every one of them made the experience even better. They are a great team and I am just really happy I got to take part in that experience. It was amazing."
ESPN captured the day with Herbert and will air the feature on a future episode of NHRA 2Day.




NHRA: 10 Most Recent Entries [ top ]

Apr 24- CHARLOTTE 1 - Steve Torrence Enjoying Four-Wide Success Heading to NGK Spark Plugs NHRA Four-Wide Nationals
Apr 24- CHARLOTTE 1 - Fact Sheet
Apr 24- Kalitta Motorsports Welcomes NASCAR Stars to the SealMaster Track Walk in Charlotte
Apr 24- zMAX Dragway Celebrates 10th Anniversary
Apr 24- CHARLOTTE 1 - NGK Spark Plugs NHRA Four-Wide Nationals Brings 40,000 Horsepower Thrill Show to zMAX Dragway
Apr 23- HOUSTON - Lucas Oil Drag Racing Series Wrap Up The NHRA Lucas Oil Drag Racing Series Wrap Up
Apr 23- CHARLOTTE 1 - J.R. Todd Aiming for Two Four-Wide Racing Wins in 2018
Apr 23- Mid America Dragway Joins NHRA Member Track Network
Apr 23- HOUSTON - Special Awards
Apr 23- HOUSTON - Sunday Video