Wed, 9 Nov 2005, 07:09 PM



Tommy Johnson Jr. and Mike Green Recieve Contract Extensions with Don Prudhomme Racing



Courtesy of Ted Yerzyk


Photo copyright 2005 NHRA





VISTA, Calif. --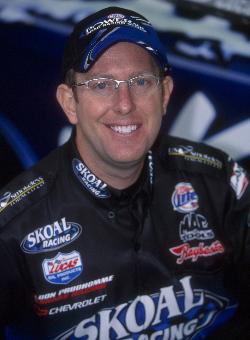 Tommy Johnson Jr.
On the heels of his most successful campaign as a professional driver, veteran Funny Car pilot Tommy Johnson Jr. has signed a two-year contract extension with Don Prudhomme Racing, team owner Don Prudhomme announced today. Crew chief Mike Green also received a two-year extension to remain as the tuner of Johnson's Skoal RacingSM Monte Carlo Funny Car.
"We all agree that the team is doing very well," Prudhomme said. "We want to carry on and improve upon the success that we saw this season. Mike (Green) has been doing an excellent job along with the rest of the team, and T.J. is the best driver in the class. There's no guy I'd rather have driving our car. We've got something strong here and we just need to keep that going."
Johnson, who joined Don Prudhomme Racing prior to the 2001 NHRA season, has scored two victories (Las Vegas 1 2001 and Pomona 1 2005) in nine final-round appearances in five seasons behind the wheel of the Skoal Racing Chevy flopper. Johnson, one of 13 drivers to have collected victories in both the Top Fuel and Funny Car categories, claimed the win at the season-opening Winternationals at Pomona (Calif.) Raceway in February, earned one runner-up finish (Topeka), and advanced to six semifinals on the way towards a career-best sixth place finish in the ultra-competitive Funny Car division. The Iowa native has six career NHRA wins (four Funny Car, two Top Fuel).
"I couldn't be more excited to re-sign with Snake," Johnson said. "We've got such a good thing going right now. I'm really looking forward to this team getting even better. I think that we have a really good team and we're only getting better with time. It feels great to have the contract extension signed. There aren't a lot of premier rides out there, so to be a part of a top-notch team is a great feeling."
Green, 45, began his second stint in the Snake pit at the start of the 2003 NHRA season. He also worked for Prudhomme during the 2001 NHRA season. The veteran nitro tuner has worked with the likes of Cruz Pedregon, Cory McClenathan, Kenny Bernstein, along with playing a crucial role on Gary Ormsby's 1989 title-winning Top Fuel team. Green has visited the winner's circle 38 times, 17 as a crew chief. This season, Green tuned Johnson to the win at Pomona, along with seeing the Skoal Racing car twice post career-best performances, including at 4.698-second, 331.45-mph blast at the fall Chicago event.
"I'm very happy to continue my relationship with Don Prudhomme Racing and Tommy Johnson," Green said. "T.J.'s driving was second to none in 2005, and with the support of Don Prudhomme, I know that we can keep improving our performance and give Tommy (Johnson) a strong enough race car so that we can compete for the championship in 2006."
"Having Mike (Green) lead our team is really important to me," Johnson added. "As a driver, you want to build chemistry with the crew chief and crew. It was key that he stayed aboard after the progress we made this year. We both wanted to stay together here at Snake's, and can't tell you enough how excited I am about '06."




NHRA: 10 Most Recent Entries [ top ]

Mar 18- GAINESVILLE - Top Fuel Round 1 Eliminations
Mar 18- GAINESVILLE - Top Alcohol Dragster Round 2 Eliminations
Mar 18- GAINESVILLE - Super Comp Round 5 Eliminations
Mar 18- GAINESVILLE - Top Alcohol Funny Car Round 2 Eliminations
Mar 18- GAINESVILLE - Top Dragster presented by RacingRVs.com Round 3 Eliminations
Mar 18- GAINESVILLE - Papa John's Extends Official Partnership with National Hot Rod Association
Mar 18- GAINESVILLE - Top Sportsman presented by RacingRVs.com Round 3 Eliminations
Mar 18- GAINESVILLE - Sunday Schedule
Mar 18- GAINESVILLE - Super Gas Round 4 Eliminations
Mar 18- GAINESVILLE - Super Stock Round 4 Eliminations