Fri, 4 Nov 2005, 09:31 PM



Scelzi, Bernstein, Line and Smith Lead Qualifying



Courtesy of NHRA Communications


Photo copyright 2005 Auto Imagery, Inc.





At Auto Club NHRA Finals at Pomona Raceway



POMONA, Calif. --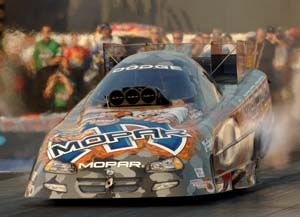 Gary Scelzi
Gary Scelzi raced to the qualifying lead Friday at Pomona Raceway and gained the early advantage in the closest Funny Car championship chase in NHRA history.
Scelzi powered his Mopar/Oakley Dodge Stratus to a 4.696 second run at 329.18 mph at the Auto Club NHRA Finals to move in front of title challengers John Force, who qualified eighth in his Castrol GTX Start Up Ford Mustang, and Ron Capps, who was ninth in his Brut Stratus.
"Yesterday I was nervous because if you go for the throat in the first session and smoke the tires then it seems like you're playing catch-up the rest of the weekend," Scelzi said. "But we ran a safe 4.77 and that allowed Zippy (crew chief Mike Neff) to go for it tonight. That was a good run and it's important to be ahead of John and Ron just for the message it sends them."
Scelzi leads Capps by two points and Force is 28 points back in third place in the deciding race for the $400,000 POWERade world championship in the 7,000 horsepower category.
"I've been on edge since Indy, a lot more than I ever was with my other championship runs, because we're up against the 13-time champ and it's been such a battle," Scelzi said. "But today I was walking up the staging lanes and I saw Frank Hawley and he told me, 'Scelzi, I don't need to tell you how to drive. All you need to do is remember why you started drag racing in the first place, and that was to have fun.' Ever since then my mind has been right and we're just going to try our best and enjoy the ride. Whatever happens, happens."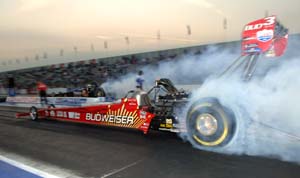 Brandon Bernstein
Brandon Bernstein, Jason Line and Matt Smith also were qualifying leaders at the $1.7 million race, the final of 23 events in the $50 million NHRA POWERade Drag Racing Series.
Bernstein was quickest in Top Fuel, as he drove his Budweiser/Lucas Oil dragster to a 4.491 at 325.45.
"It looks like the other top teams were really shooting for it tonight, especially after they saw us go out there and run a 4.49," Bernstein said. "It either got too cold out or they just pushed it a little too hard because no one was able to pass us. That kind of surprised me."
If Bernstein holds on it would be his third No. 1 qualifying effort of a season that has had its share of ups and downs for the second-generation driver.
"Our season hasn't been the best," he said. "It would mean everything for our guys if we could head into the offseason and get ready for next year with a win here. We've performed well here in the past and Tim (Richards, crew chief) has a good track record here."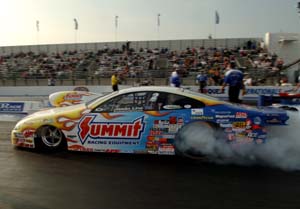 Jason Line
Line clocked a track record time of 6.677 at 206.62 in his Summit Racing Pontiac GTO to lead Pro Stock qualifying and then took a wild ride in the shut down area following the run.
"It was a good lap, but I felt that given the conditions, somebody should have been able to go quicker than that," Line said. "We thought we could go 6.65 but for the most part the run felt pretty good. I doubt that number will hold up. If we get conditions tomorrow as good as they were today, then there are a lot of cars that will be able to pick it up."
The parachutes on Line's car failed to deploy after the run and his car plunged into the sand traps at the end of the track.
"We have some work to do on the car," said Line, who was not injured in the incident. "The front end is a little torn up and the engine probably has to come out, but we'll make it. It could be worse. By the time I realized the parachutes didn't open I was running out of race track. I tried to slow down and keep it straight, but we made it exciting for a few seconds."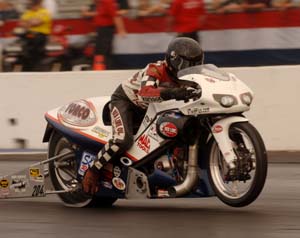 Matt Smith
Smith raced to the qualifying lead in Pro Stock Motorcycle with a track record performance of 7.000 at 189.71 on his Red Line Oil Buell. The time was the third-quickest in NHRA history.
"I got to the other end and they said I'd run a 7-flat," Smith said. "I was like, 'Wow, that's really cool.' Then they said it was a seven-flat with a zero. I was thinking if I'd just tucked a little tighter I'd be in the six-second club right now. I guess we'll have to do it tomorrow. The national record (6.968 seconds, Andrew Hines, Sonoma, Calif., July 2005) is probably just out of reach but I believe we can run a 6.98 or 6.99 in the morning session."
Qualifying continues Saturday with sessions at 11 a.m. and 2 p.m.




NHRA: 10 Most Recent Entries [ top ]

Apr 18- Haney Headed for NHRA Pro Mod with Summit Racing on His Side
Apr 18- HOUSTON - Richie Crampton Enjoying Early-Season Success Heading to 31st Annual NHRA SpringNationals
Apr 18- 2018 Mustang Cobra Jet Celebrates 50th Anniversary of Racing Legend with Quickest
Apr 18- New Ford Mustang Funny Car Scheduled to Debut In 2019 NHRA Mello Yello Season Opener
Apr 16- HOUSTON - Fact Sheet
Apr 16- HOUSTON - After Early-Season Mishap Funny Car's Jonnie Lindberg Looks to Get On Track