Fri, 4 Nov 2005, 11:55 AM



Fuller, Hight, Enders and Schnitz lead qualifying at Auto Club NHRA Finals



Courtesy of NHRA Communications


Photo copyright 2005 Auto Imagery, Inc.





Scelzi, Capps In Field But Force Fails To Qualify



POMONA, Calif. --
Gary Scelzi and Ron Capps are qualified but John Force remains on the outside looking in after one qualifying session Thursday at the Auto Club NHRA Finals at historic Pomona Raceway.
The three drivers will settle the tightest Funny Car points chase in NHRA history during Sunday's 11 a.m. eliminations at the $1.7 million race, the final of 23 events in the $50 million NHRA POWERade Drag Racing Series.
Among the championship contenders in Funny Car, Capps qualified third in his Brut Dodge Stratus, while Scelzi drove his Mopar/Oakley Stratus to a sixth-place effort. Force was 19th overall, outside the 16-car starting order, after his Castrol GTX Start Up Ford Mustang lost traction at the start of his run.
Qualifying continues with one session Friday (2 p.m.) and two sessions on Saturday (11 a.m. and 2 p.m.). Entering this weekend's event, Scelzi holds a two-point lead over Capps and is 28 in front of 13-time world champ Force.
Robert Hight
"We know we're in the show," said Scelzi, who hopes to join Kenny Bernstein as the only drivers to win POWERade world championships in both Top Fuel and Funny Car. "Everything is good. Don't worry about Force. He's going to be fine, too. He's playing with us."
Capps is looking for his first world championship title after finishing second two times.
"It was nice to go down there side-by-side and to get in the show," Capps said. "Force can go for the record, but over here we wanted to get in the show, for all of us."
Force said early in the week that his team's strategy was going to be to take some extra weight off his car and go for the national performance record, worth 20 bonus points.
"The conditions weren't where we wanted 'em and that'll hurt us tomorrow because it'll put us early (in the first qualifying session)," Force said. "We don't change over one run. We've got a light race car and we have to put some weight back on it because last night it weighed too light. Some of the motor stuff we're trying just hopped this thing up. It was running faster than Robert's at the 60-foot mark but just wouldn't go beyond."
Rod Fuller, Robert Hight, Erica Enders, and Ryan Schnitz were qualifying leaders in their respective categories.
Hight led Funny Car, posting a 4.745 at 323.66 in his Auto Club Ford Mustang.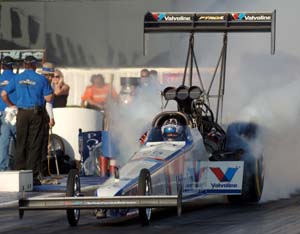 Rod Fuller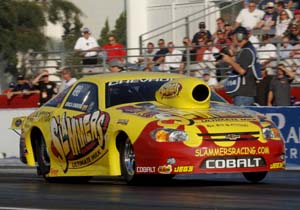 Erica Enders
"That run counted," said Hight, who is one of the nominees for the Auto Club Road to the Future Award, which will be presented to the series' top rookie Monday night at the NHRA Awards Ceremony near Palm Springs. "That'll qualify no matter what. Now we have room to get after it. Hopefully John and Eric (Medlen) can learn from us and get John up there."
Fuller was quickest in Top Fuel, posting a 4.501-second run at 316.08 mph in his David Powers Homes dragster.
"We were pushing for a 4.40 run and it was on a better run than a 4.50 but the car made a weird dart on me at the top end because we lost an oil line that put oil under the left rear tire," said Fuller, who dedicated his leading run to his mother Cathy, who underwent an emergency liver transplant yesterday at the Mayo Clinic in Rochester, Minn. "It was probably on a 4.47 run. We only ran 316 mph and this car will usually run 329 or 330. That number won't hold up for the No. 1 spot; I bet that the top six cars will be in the 4.40s before the end of qualifying. That's OK because we plan on running a mid-4.40 before it's over."
Enders paced the Pro Stock order, covering the distance in 6.696 at 206.29 in her Slammers Ultimate Milk Chevy Cobalt. If she can hold onto the top spot, she would be the first woman to earn a No. 1 qualifying position in Pro Stock.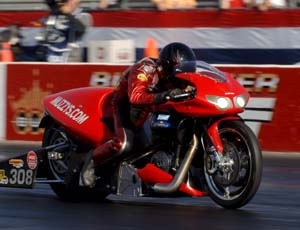 Ryan Schnitz
"It's definitely awesome to be No. 1," said Enders, also a nominee for the Road to the Future Award. "It's a big improvement over the season-opener here. I'm really proud of my team for all of the progress we've made since (the U.S. Mac Tools Nationals at) Indy. We have been steadily improving our qualifying position and have been in the top half of the field the last four or five races.
"I'm not sure that run will hold up through qualifying for No. 1, but these are supposed to have been the best atmospheric conditions of the weekend. That also wasn't our best run; I didn't do a good job shifting and the car didn't leave the line straight. I know that Greg and Jason and Kurt and Warren have more left in their cars as well."
Schnitz rode his Muzzy.com Buell to the top of the Pro Stock Motorcycle order, posting a 7.072 at 185.13.
"It would be great to get up there and take some guys out and finish in the top five," Schnitz said. "Making a good run on your first pass is important to get the data you need for the rest of the event. We had a really good pass and we can definitely use that information. Running that good early also shows your competition that you're ready and on your game, and that they need to step up and get on theirs."
Pro Stock Motorcycle series leader Andrew Hines qualified fifth and his closest competition, Harley-Davidson teammate GT Tonglet, qualified seventh. Hines, the defending series champ, leads Tonglet by 47 points entering the race.




NHRA: 10 Most Recent Entries [ top ]

Apr 23- HOUSTON - Lucas Oil Drag Racing Series Wrap Up The NHRA Lucas Oil Drag Racing Series Wrap Up
Apr 23- CHARLOTTE 1 - J.R. Todd Aiming for Two Four-Wide Racing Wins in 2018
Apr 23- Mid America Dragway Joins NHRA Member Track Network
Apr 23- HOUSTON - Special Awards
Apr 23- HOUSTON - Sunday Video
Apr 22- HOUSTON - Sunday Pro Mod Wrap Up