Thu, 3 Nov 2005, 02:07 PM



Dick LaHaie..He's Done It All



By Bob Frey


Photo copyright 2005 Auto Imagery, Inc.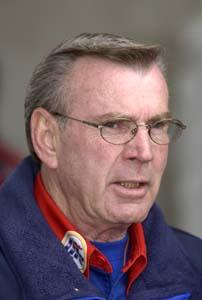 Dick LaHaie
The first time that I can say I remember anything about Dick LaHaie was thirty-three years ago in Tulsa, Oklahoma. I was there as a young announcer working the first National Challenge race, a Labor Day spectacular that was being staged by Don Garlits and his fledgling P.D.A. organization, a loosely knit group of racers who were trying to put on the richest drag race ever. With $25,000 to the winner of each of the three professional classes the race had attracted a lot of attention and a lot of racers including most of the big names in the sport. Those who weren't there were in Indianapolis running the NHRA U.S. Nationals, and, as amazing as it seems, both organizations filled their fields of fuel cars. The one that I was working included thirty-two cars in the Top Fuel class and it had a bump spot of 6.595 and that final position was occupied by a young man from Lansing, Michigan by the name of Dick LaHaie. At the end of the day it had been announced that the staging lanes would close at ten o'clock and that qualifying would end precisely at ten. I remember that Dick had made his last run and then stood by and watched as Jim Nicoll made about three runs in the last hour (at least as I remember it) in an attempt to bump him out of the field. He didn't and Dick became the answer to one of those little trivia questions, "Who was the thirty-second qualifier at National Challenge '72." The race didn't go so well for Dick as he was shutoff on the line in the first round. Over the years Mr. LaHaie has become the answer to a lot of trivia questions. Like "Who is the only man to win a Top Fuel title as both a driver and a crew chief?" And "What man has been the crew chief for two different drivers who won a total of four season championships?" And the list goes on and on because Dick LaHaie, over the course of his career, truly has done it all.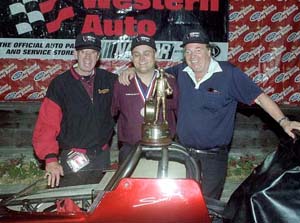 LaHaie, Scott and Connie
Most fans will remember Dick as the guy who took Larry Dixon to consecutive national championships in 2002 and 2003 with a car that was as good as any we've seen since those days in Tulsa over three decades ago. But he is also the man who was calling the shots when Scott Kalitta won his back-to-back titles in 1994 and '95. But the high water mark of his career certainly had to be the year that he won his own championship as a driver. The year was 1987 and, as exciting as the race for the championship is this year in the Funny Car class, it was just as close in '87. In fact, it was so competitive that year that Dick LaHaie, the eventual champ, never led the points all year long until he beat Joe Amato in the semi-finals at the last race of the year. After that emotional ride, literally and figuratively, Dick LaHaie, a man who had been racing for almost a quarter of a century at that time, had finally won drag racing's biggest prize, the NHRA Top Fuel championship and he finally began to get some of the recognition that he so richly deserved. What a lot of people miss though is the fact that in the years surrounding his championship season, Dick finished third, fifth, third and third for a pretty good five year average. Over that stretch of time Dick LaHaie was among the best drivers in the sport and, when he retired from driving after the U.S. Nationals in 1991, he put those same talents to work as a crew chief where he has amassed a record that is the envy of anyone who has ever tried their hand as a crew chief in the sport.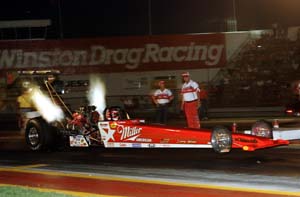 LaHaie in '87.
Dick began racing long before I first saw him at that Tulsa race in 1972. Like many kids who grew up around cars he always knew that he wanted to race. In his early days he grew up admiring the men who raced those fabulous gassers and one of his early heroes was "Ohio" George Montgomery. After racing an E/G Ford coupe, one of his first real race cars, Dick decided to step up and try to compete with the top gas class stars of the day, so the obvious choice was an Oldsmobile powered Henry J. After that he spent some time as a hired driver, the only time in his career that he drove for someone else, and he piloted the "Glass Chariot." That was followed by a fuel roadster that ran in the seven-second zone, and when he realized that roadster bodies were not the way to go, he replaced it with a dragster body. It was also about that time that he began working with a man who had a shop just down the street from the automotive shop that he was operating, LaHaie Automotive Research in Lansing, Michigan. That man's name was Wayne Farr and the two became good friends and racing partners. That friendship and partnership would last for a long time and it worked out perfectly since Wayne made really great race cars and Dick made a lot of power and together they could compete with the best drivers and teams in the sport.
In the early '70's Dick decided to switch to the new-look rear engine dragster and he competed with a car that Wayne built which was equipped with the classic 392 cubic inch Chrysler engine. Competing mostly in the Midwest, Dick made a name for himself on the UDRA circuit where he was the champion in 1970. When he raced he did it with a certain amount of fiscal responsibility, and he vowed to "never let me ego get in front of my wallet." He also was successful because he had a real respect for his cars, the parts and the equipment. Still, he was among the best in the sport and in 1970 he raced the legendary "Sneaky" Pete Robinson in a $10,000 "winner-takes-all" match race at Atlanta Speed Shop Dragway. The race was one of the more highly promoted events of its time and it featured Dick, with his classic 392 and Pete with his SOHC Ford dragster. Dick won the race and he said that the money "it helped fund my racing for the start of that year." As the sport progressed and elapsed times got quicker and speeds got faster Dick moved right along with the trend and he kept pace with the top teams in the sport. Unfortunately for him, like so many other stars in any sport, the road to success had some serious bumps, and 1975 was the worst year of his career. With a new car in his trailer, Dick and his son Jeffrey headed for one of NHRA's premier events, the Gatornationals in Gainesville, Florida. There, during a qualifying run, Dick had a horrendous crash, a crash that severely injured him and severed his left hand. Through the hard work of the doctors in the area they were able to save the hand and reattach it, but it never would be quite the same. Like most racers, Dick was undaunted by the incident and he knew that as soon as he was physically able, and as soon as he had a new car, he would race again. That opportunity came at Indy that same year and, as unbelievable as it may seem, Dick crashed again at Indy. This time the accident came in his new car, complete with canard wings and full front wheel covers, and it was very serious. When told that he may have to spend weeks in and Indianapolis hospital, Dick told his crew to take him home to Michigan. Against the wishes of the doctors, they gave him something for the pain, put him in his truck and sent him home to recover. After the crash Dick said that , "I have God and Wayne Farr to thank for the fact that I'm alive."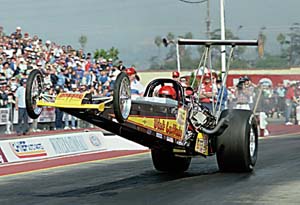 LaHaie in '86.
Dick would return to racing and in the early 1980's when he started getting a lot of national attention because he started beating most of the top teams in the sport. His first national event win came at Englishtown in 1980 when he beat Jeb Allen and it was followed up by several years of very competitive racing. Wins at the sport's biggest races, like the Winternationals and Gatornationals came with regularity and in 1986 he went to the final round at six national events and he finished third in the points behind only Don Garlits and Darrell Gwynn. And all that time he was running with a crew that basically consisted of himself, his son and his daughter Kim, who became the crew chief on the car in 1980, and he did it all with that same eye toward running hard and keeping costs down. At the end of his highly successful 1986 season Dick got an offer to join the growing Larry Minor team. Excited by the thought of finally being able to race with enough money to compete for the championship, Dick agreed, and along with his sponsor Larry Minor, and his teammate Ed McCulloch they formed the "Miller American" racing team. The Top Fuel world would never be the same.
After running a Dave Uyehara built car in 1986, Dick went on a diet, or at least his car did for the '87 season. He put a lot of lightweight titanium parts to the car, put in a smaller engine and headed out to do battle with the top dragsters in the country. He began the season with a win at the Coors Superbowl at Firebird Raceway in Phoenix where his new car took him to a career best time of 5.30. That was followed by some successful outings from a performance standpoint, like a semi-final showing at Pomona, a 5.28 at Gainesville and a win at the Winston All Star race in Texas. But until the Baton Rouge event there were no national event wins for the new team. All of that would change at the Cajun Nationals where Dick beat Joe Amato in a great final round 5.31 to 5.43. He followed that up with wins at Columbus and Sanair and by the time the tour hit Brainerd Dick had set the national record at a blistering 5.17 and he finally began to think that he had a real chance to win the national championship. A holeshot loss to Amato in the finals at Indy seemed like a crushing blow but that was offset by a stunning 5.14 win over Gary Ormsby in the final round at Maple Grove. That time, combined with Gary's 5.22 and Dick's 280 mile per hour run was, at that time, the quickest and fastest side-by-side run in history. Both drivers who were contending for the championship would lose in the first round at the next race in Dallas and when Dick beat Joe in the semi-finals at the Fallnationals the points race got really interesting. At Pomona, the last race of the year, Dick had to go further in the eliminations than Joe did if he wanted to win the title. The two faced off in the semi-finals, and when Dick beat Joe he took the lead for the first time all year and he was crowned the 1987 Top Fuel Champion. Dick raced for a few more years and won some more races after that championship season but he would retire from driving after the U.S. Nationals in 1991. In 1993 he would be hired by his friend and fellow Michigander, Connie Kalitta, to be the crew chief for Connie's son, Scott. Together Dick and Scott would win thirteen races and consecutive national championships in 1994 and '95. His next stint would be a crew chief for Doug Herbert before joining Don Prudhomme's team in 1999. As crew chief for Larry Dixon, Dick would take the "Miller" team to thirty-one wins and back-to-back championships in 2002 and 2003 and during that time they set many single season and career records in the Top Fuel class. During his tenure as crew chief of record for both Larry and Scott they were both setting national records in both the elapsed time and top speed.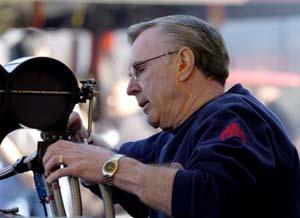 With his announcement that he his retiring after the next race Dick LaHaie can certainly look back on a career that rivals anyone in the sport. When you set out to race the goal of every driver is to win a championship and Dick did that. He then proved that his tuning abilities and skills were equal to or better than anyone in the sport and his record with both Scott and Larry speaks for itself. And when all is said and done Dick LaHaie will be remembered as a guy who truly did it all in the sport, and he did it all his way. Now he will retire to spend time with his wife, Claudia, and his really nice collection of cars. "I'll take some time off, go on a couple of vacations, let the cards fall where they may and pick up the ones I like," he said. When I told Dick how enjoyable it has been to watch him race and win over the years he said, "You know, all I ever wanted to do was race. I didn't worry about interviews or television or publicity or anything like that. I just wanted to go out and have my stuff run better than anyone else's." And he did that most of the time. He went on to say that one of his proudest moments was when he won his first race as a crew chief with Scott Kalitta in 1993. "We ran so well going into that race, we had been to the semis but had never won a race until that weekend in Topeka. At that race we ran 308 miles per hour and won the race. I still have an engraved piston with the elapsed time, 4.80 and the speed, 308.64 on it. That race ranked right up there with anything that I've done."
As he heads into the next chapter of his life Dick said that he wishes the "Miller Lite" team, Larry Dixon and his successor, Donnie Bender, nothing but the best. "Those guys are like family and Donnie's earned the right to get the job and I know that he'll do well. I'll follow the team and I know that I'll get really excited when Donnie gets his first win as a crew chief." After all, nobody knows better than Dick LaHaie how great that feeling is.




NHRA: 10 Most Recent Entries [ top ]

Mar 18- GAINESVILLE - Pro Mod Sunday Wrap Up
Mar 18- GAINESVILLE - Sunday Wrap Up
Mar 18- GAINESVILLE - Pro Mod Championship Points
Mar 18- GAINESVILLE - Bonus Points
Mar 18- GAINESVILLE - Championship Points
Mar 18- GAINESVILLE - Mickey Thompson Top Fuel Harley Series Championship Points
Mar 18- GAINESVILLE - Bonus Points
Mar 18- GAINESVILLE - Summary of Eliminations in Top Fuel
Mar 18- GAINESVILLE - Summary of Eliminations in Funny Car
Mar 18- GAINESVILLE - Summary of Eliminations in Pro Stock