Tue, 1 Nov 2005, 09:09 PM



And The Winner Will Be...



By Bob Frey


Photo copyright 2005 Auto Imagery, Inc.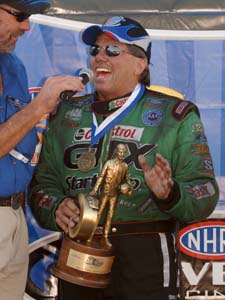 John Force
..your guess is as good as mine. If you believe the poll on
NHRA.com
it looks like
John Force
will win the championship in a runaway this weekend. With almost 20,000 people voting the champ got about fifty percent of the vote and that's very interesting considering his situation coming into
Pomona
. As it stands, John needs to pick up more than a round on both the points leader,
Gary Scelzi
, and the second place guy,
Ron Capps
and the way I see it that isn't going to be easy. In fact, if the truth be known, I got together with a few of my friends right
before Indy and we each picked the driver who we thought would win it all and, believe it or not, I took Ron Capps at that time. If you recall, going into Indy
Robert Hight
was the point's leader, Ron was second,
Gary
was third and John was fourth. Of course after his first round loss to
Whit Bazemore
at Indy Ron slipped to third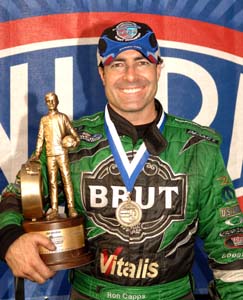 Ron Capps
place but he has been very solid since then and that's why I still believe he's the guy to beat on Sunday. I'm sure by now you know that this is about as good as it gets and as close as the Funny Car title chase has ever been and I know that, as a fan, I'm am really looking forward to the last race of the season. In fact, I wish it were Sunday right now although there could be some suspense before that. Because of the fact that he has publicly stated that he intends to go for the national record and the twenty bonus points that go with it, there could be the possibility of John smoking the tires in qualifying and, perish the thought, maybe paying the price by not qualifying. I know what you thinking, Bob you're an idiot, and while that may be true the way John sees it if he doesn't set the record he may not have a real shot at overtaking the leaders and so he'll go for it. With his incredible streak of qualifying at an amazing 368 consecutive races you have to like his chances but, like all good things, even this streak eventually has to come to an end. I remember one particular race at
Arizona
during the streak when John came into the final round not qualified and the team made a nice, conservative run to make the show. When asked about his approach to that run crew chief extraordinaire
Austin Coil
said "that was a great act of cowardice" and vowed never to take a conservative approach again if faced with the same situation. Let's face it, if you happen to be in that situation would you rather not qualify by going for it or by being careful and not running quick enough to make the show? And the way the fields have been lately, with record low bump spots being recorded at two of the last four races, there really isn't any room for error. So, like I often say, you better bring your "A" game this weekend because you're going to need it..Since I mentioned
Austin
,
did you know
that he was the crew chief on the car that went to the final round at the NHRA Finals in 1975? Yep, Austin was tuning for
Denny Savage
and the
Chi-Town Hustler
as they made one of their rare national event appearances back then and they went all the way to the final round before losing to
Don Prudhomme
who had one of the most dominating weekends of any Funny Car driver at any race in history..About John's streak..
did you know
that the last time he failed to make a starting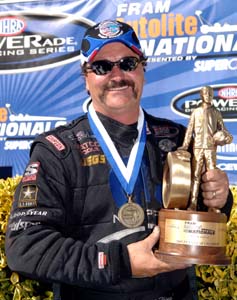 Gary Scelzi
field was at the final race of the 1987 season? That's right, John failed to qualify at this race in 1987, and John didn't just miss the field he finished 24
th
behind guys like
R.C. Sherman, Brad Tuttle
, and
Ed Mohr
to name just a few.
Did you know
that the guy who qualified number one at that race will be a crew chief here this weekend?
Mark Oswald
took the top spot at the '87 "Finals" and he'll be the guy tuning
Mike Ashley
this weekend. The man who will tune Ron Capps' car this weekend,
Ed McCulloch
, was also in that class of '87 and he qualified fourth while
Scott Kalitta
made the Funny Car field in the fifteenth spot.
And
did you know
that the last time John Force didn't make the show
Ronald Reagan
was president, the Minnesota Twins were World Series champs, the New York Giants won the Super Bowl and
Cher
won the academy award for best actress? The simple fact that
Cher
won an academy award should have been proof that there was something seriously wacky in the universe in 1987. Whatever.it's been a long time since John was a spectator on Sunday and, while I don't think it will happen this weekend, if
Cher
can win an academy award it should be proof that anything can happen.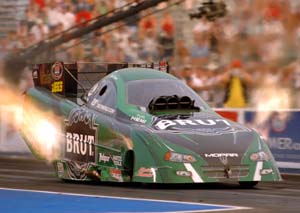 Ron Capps
Each of the racers involved in the NHRA version of "the chase" has a great opportunity to put their names in the record books. John could win his fourteenth title,
Gary
could become only the second guy to win the championship in both fuel classes (along with
Kenny Bernstein
) and Ron could become the first guy besides a "Force" or a "Pedregon" to win the title since 1989. Of the three, Ron would appear to have the toughest task if history means anything.
Did you know
that in his nine previous appearances at the
Automobile Club of Southern California NHRA Nationals
Ron has only gone past the second round one time? Once!! He also has five first round losses at this race so now would be a good time for the
"Brut"
team to reverse their previous trends. By comparison,
did you know
that
Gary
has seven starts at this race and on six of those occasions he has gone to at least the semi-finals and he had never lost in round one at this race? John, in addition to missing the '87 field, also failed to qualify back in 1981 but then he wasn't the John Force we know now, was he? And if those qualifying points are important,
did you know
that John has qualified in the top half of the field at this race an amazing twenty times? Not since 1986 has John started at this race from the bottom half of the field and that, in itself, is amazing, but then so is John. John also has ten final round appearances here including six wins. But,
did you know
that John has never won this race in an odd numbered year? John won it in 1988, 1994, 1996, 2000, 2002 and last year. Now I'm not saying that means anything I just like pointing these little things out to you. I also think that the way the teams qualify will be huge this weekend, and by that I mean the way they are paired up on the ladder could go a long way toward deciding who wins the championship. And if
Robert Hight
or
Eric Medlen
line up against John in the first or second round I don't want to hear a lot of whining about them "taking one for the team." It will be the right thing to do and you would do it too if it were your team and please, please don't say that you wouldn't. There was a lot of talk in the press this week about teams on the NASCAR circuit "helping" their teammates who are contending for the championship and everyone said that it's the right thing to do, so why should our guys take so much flack for doing the same thing? Another thing to look for after the qualifying is done will be those all important first round pairings. The way the Funny Car class has been recently there are no easy draws in the first round so those pairings will be very interesting to see..By the way, a friend of mine e-mailed me an editorial that someone wrote this past week about how boring the Funny Car qualifying was at Las Vegas and that may have been the silliest thing that I've heard since someone said that Robert and Eric should try to beat John this weekend. But then everyone is entitled to their opinion, aren't they? Even me!!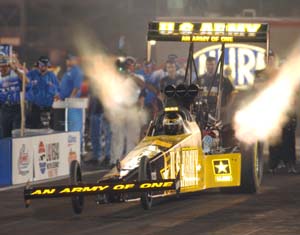 Tony Schumacher
There will be some racing this week other than in the Funny Car class and while it may pale by comparison it is still very noteworthy.
Did you know
that
Tony Schumacher
, who has already clinched the Top Fuel title, will be trying to match or surpass a couple of long-standing records in the class? Tony has already won sixteen consecutive rounds and that leaves him three short of the class record of nineteen and he has already been to six straight final rounds and that ties the current record. If the
Army
team can have the kind of weekend that we know they can Tony could put his name in the record books a few more times. That is and has been one of the most awesome cars in the history of the sport and, since I don't have to race against them, I can say that it has been a pleasure to watch this team in action..With that NHRA Owner's Cup up for grabs it could turn out to be quite a weekend for
Don Schumacher
if one of his Funny Car teams could add a championship to the one that his dragster already has. I wonder what would mean more to Don, winning two championships in one year or the $800,000 that would go with it? What'd you say, that's as silly a statement as that editorial that I mentioned? You may be right..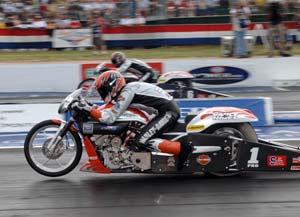 Hines vs Tonglet
The Pro Stock Motorcycle class isn't over yet but I have to admit that I like
Andrew Hines'
chances. The defending champ leads his fellow
Vance & Hines
rider,
GT Tonglet,
by forty-seven points which means that GT would have to pick up three rounds on Andrew and that will be very tough although not impossible.
Did you know
that at this race last year Andrew went out in the first round? And
did you know
that he lost to GT at that event?...
Angelle Sampey
is currently in third place but she would need
Cher
to win another academy award in order to have a shot at her fourth championship.
If you are a real sportsman racing fan you have to put the Las Vegas Division 7 race on your schedule for next year. I worked the race this past weekend and it is a joy to be there. The track takes a lot of pride in providing the teams with a great racing surface and they treat them very well. With close to 900 racers it's the biggest division race in the country and a quick look at the bump spots in the two alcohol fields will tell you how tough it is just to qualify. It took a quick 5.500 to make the dragster field and a tough 5.746 to be among the top eight in the alcohol funny car class. One of the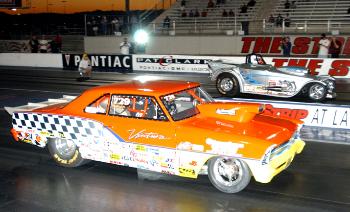 Greg Ventura vs Robert Coleman
big things at the race this year was the competition for the Super Gas title and there were about ten drivers who all had title aspirations in the house. At the end of the day it was
Greg Ventura
who stopped
Robert Coleman
but not before Robert had run his consecutive win streak to an amazing fifteen rounds. After winning the national event at "The Strip" last week Robert won seven more rounds before losing to Greg in the final round. It was some show and hearty congratulations also go out to
Gary Stinnett
who won his second Lucas Oil championship when
Brad Plourd
went out early in the Super Comp elimination. Just to show you how much fun it was to be at the event,
Steve Torrence
, who will be crowned the alky dragster champ this year,
Gene Snow
and
Dave Hirata
were all there just watching. Like I said, if you love good sportsman racing you have to put the Las Vegas D-7 race on your schedule for next year...
Jay Payne
won the Top Alcohol Funny Car class when he beat
Steve Gasparrelli
in the final round and with it Jay won his 50
th
divisional race and that puts his in rather select company.
Did you know
that Jay joins
Frank Manzo
(84),
Bob Newberry
(64),
Vern Moats
(55) and
Pat Austin
(54) in the fifty-win club in the TA/FC class?...Let's hope for good weather this weekend and may the best team win.




NHRA: 10 Most Recent Entries [ top ]

Mar 20- GAINESVILLE - Lucas Oil Drag Racing Series Wrap Up
Mar 19- GAINESVILLE - Sunday Video
Mar 18- GAINESVILLE - Pro Mod Sunday Wrap Up
Mar 18- GAINESVILLE - Sunday Wrap Up
Mar 18- GAINESVILLE - Pro Mod Championship Points
Mar 18- GAINESVILLE - Bonus Points
Mar 18- GAINESVILLE - Championship Points
Mar 18- GAINESVILLE - Mickey Thompson Top Fuel Harley Series Championship Points
Mar 18- GAINESVILLE - Bonus Points
Mar 18- GAINESVILLE - Summary of Eliminations in Top Fuel