Tue, 1 Nov 2005, 06:11 PM



Music About to Stop in Funny Car's Game of Musical Chairs with One Event Left



Courtesy of NHRA Communications


Photo copyright 2005 Auto Imagery, Inc.





Force, Scelzi and Capps Vie to be the Last Man Standing in Historic POWERade Series World



POMONA, Calif. --
Championship Chase Well, this is it.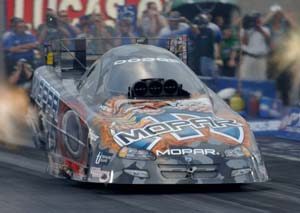 Gary Scelzi
After months really of stunning twists and turns in NHRA's Funny Car category, the season-ending POWERade Series race, the $1.7 million Auto Club NHRA Finals at historic Pomona Raceway, has finally arrived.
There are no more second chances. There are no more what-ifs. There are just four rounds of qualifying (Thursday through Saturday, Nov. 3-5) and up to four rounds of eliminations (on Sunday, Nov. 6). And then a POWERade Series world champion will be crowned.
One of the most riveting and entertaining (for the fans, at least) seasons in memory, one that featured nine lead changes and six different Funny Car drivers led for at least one event, will have reached its dramatic climax.
And regardless of who emerges from among John Force, Gary Scelzi and Ron Capps, caught in the vortex of the hottest three-way competition ever for a POWERade Series world championship, at least they will finally be able to exhale.
So who will be holding the $400,000 bonus check when the racing's done?
For starters, Scelzi enters the event with a two-point lead on Capps and a 28-point lead on Force.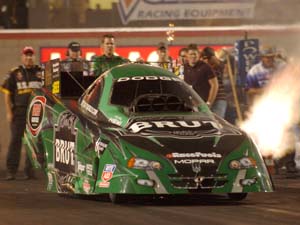 Ron Capps
But while Force will start from the outside, he certainly has every other number on his side. The NHRA icon and fan favorite is a 13-time world champ and he's won an NHRA-record 119 events, including 11 in Pomona.
Scelzi is no slouch himself. He is a three-time world champ in Top Fuel - he's seeking to join Kenny Bernstein as just the second driver in NHRA history to win championships in both Top Fuel and Funny Car - and he's won 32 events, including three in Pomona (but none in Funny Car).
Which brings us to Capps, who is seeking his first POWERade Series world championship - he has finished second twice, in 1998 and 2000, both times to Force - and who has 17 career wins, including one in Pomona (in 1998).
Is this heady company for Capps, seeking his first world championship against two guys with a combined 16 world championships to their credit? Judging by his new pre-race routine, which includes a pit stop in the latrine, you'd have to say yes.
But Capps is certainly not backing down. And what a story the 40-year old from Carlsbad, Calif. would be.
Here's a guy who's never won a POWERade Series world championship and, incredibly, although he has been in the mix all year long, he has never been in first place at any point in the 2005 season. He has been oh-so-close - he's only two points behind Don Schumacher Racing teammate Scelzi right now - but he's never led at any point during the season (he has previously spent five events in first place in his career, four in 1998 and one in 2000).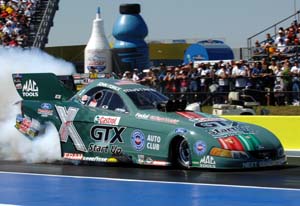 John Force
He can end both of those shutouts with a win in Pomona.
Capps holds his own destiny. Win four rounds Sunday and he'll not only have his first lead of the season, he'll have his first POWERade Series world championship . and he'll have won it against two of the giants of the sport.
You might even say he'll have stolen it from two of the giants of the sport. Having never led for one of the first 22 events while Force and Scelzi have combined to lead the class for 12 of the 23 events in 2005 - Force led for eight events and Scelzi for four - well, that would be the stuff of cat burglar legend.
Force most recently led following his win at the O'Reilly Fall Nationals in Dallas. He transformed a 43-point deficit into a 36-point lead over Scelzi (and 57 points over then-third-place Capps).
But with still two events remaining, Force made what turned into an eerily prophetic statement after that win: "We made magic (Sunday). But (at the ACDelco Las Vegas Nationals) it can be turned right back around. I'm no miracle worker. (In Vegas), I could go out there and lose in the first round (which he did to Del Worsham) and Scelzi could be right back in the points lead (which he was)."
It was Force's 10th first-round exit in 2005 - nearly half of the 23 events - and yet he remains right there in the mix to win another championship.
In the other classes:
While Greg Anderson (Pro Stock) and Tony Schumacher (Top Fuel) have clinched 2005 POWERade Series world championships, the Pro Stock Motorcycle world championship still remains up in the air.
Andrew Hines is the defending POWERade Series world champion and with nine No. 1 qualifying positions earned so far in 2005 he appears to have a tough motorcycle to beat.
Still, his Screamin' Eagle Vance & Hines Harley-Davidson teammate, GT Tonglet, lurks 47 points behind. U.S. Army rider Angelle Sampey, the winningest woman in NHRA history, trails by 91 points and is still mathematically in contention.

Funny Car (through 22 of 23 events): 

Lead changes: 9

Points leaders: 6 
Tommy Johnson
Phil Burkart
Whit Bazemore
John Force
Robert Hight
Gary Scelzi

Current Standings: 
Gary Scelzi 1,458
Ron Capps 1,456
John Force 1,430

Pro Stock Motorcycle (through 14 of 15 events): 

Lead changes: 4

Points leaders: 4 
Andrew Hines
Steve Johnson
GT Tonglet
Antron Brown

Current Standings: 
Andrew Hines 1,003
GT Tonglet 956
Angelle Sampey 911





NHRA: 10 Most Recent Entries [ top ]

Apr 20- HOUSTON - Pro Stock Qualifying, Session #1 Order
Apr 20- HOUSTON - Pro Modified Qualifying, Session #1 Order
Apr 20- HOUSTON - Pro Stock Qualifying Notes, Session #1
Apr 20- HOUSTON - Pro Modified Qualifying Notes, Session #1
Apr 20- HOUSTON - Top Fuel Harley Qualifying, Session #1 Order
Apr 20- HOUSTON - Super Comp Eliminations Ladder
Apr 20- HOUSTON - Super Comp Round 1 Winners
Apr 20- HOUSTON - Top Fuel Harley Qualifying Notes, Session #1
Apr 20- HOUSTON - Super Stock Round 1 Winners
Apr 20- HOUSTON - Super Gas Eliminations Ladder