Fri, 28 Oct 2005, 05:47 PM



GM Racing/NHRA Drivers will Visit American Soldiers in Germany



Courtesy of Jeff Romack


Photo copyright 2005 NHRA





USO-Sponsored Trip will Swing iInto Action Following NHRA Finals



DETROIT --
A USO-sponsored trip to Germany to visit wounded American troops will be a part of the post-season travel plans for four GM drag racing competitors. Six-time NHRA Pro Stock champion Warren Johnson, two-time NHRA Pro Stock champion Jim Yates, NHRA Funny Car driver Tommy Johnson Jr., and NHRA Top Fuel veteran Cory McClenathan will represent GM Racing and the NHRA during a November support mission to the Landstuhl Regional Medical Center (LRMC).
The visit is being spearheaded by the Army Special Forces Association, Randall Shughart Chapter 64 based in Carlisle, Pa. The Randall Shughart Chapter of the Special Forces Association has taken on the mission of supporting the wounded at LRMC with t-shirts, caps, sweat pants, sweatshirts, international calling cards and other items. Chapter members make frequent visits to LRMC to distribute the items to the wounded and to thank them for a job well done. Accompanying the racers on the trip are Chapter President SFC (R) Wayne Reed and MAJ (R) Dieter Protsch.
Operation "Support Our Wounded" will swing into action just days following the 41st annual Automobile Club of Southern California Finals in Pomona, Calif., on Nov. 6. The drivers, along with a contingent from GM Racing, and the Army Special Forces Association, will depart the United States on Saturday, Nov. 12. After arriving in Frankfurt, Germany on Sunday, Nov. 13, the group will spend three days visiting with wounded troops, hospital staff and military personnel assigned to the Kaiserslautern Military Community before flying back to the United States on Nov. 16. They will be based at Ramstein AB, the largest Air Force base in Europe and responsible for the aeromedical evacuation missions that bring the wounded troops to Landstuhl hospital. As part of the troop morale tour, the drivers will be visiting Air Force squadrons on base to see how they fly and maintain their fleet. The USO is providing air transportation for the group's trip to Germany, and GM Racing will ship 1,000 souvenir gift bags to Landstuhl for distribution during the visit.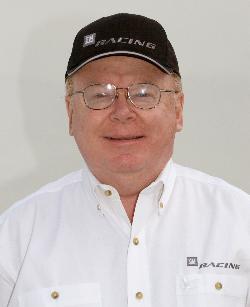 Fred Simmonds
"GM Racing, the NHRA, race teams and sponsors have been supporting Operation 'Support Our Wounded' for over a year, and we've been planning this trip since January," said GM Drag Racing Group Manager Fred Simmonds. "This visit would not be possible without the excellent support from the USO, the Ramstein Services Squadron and the many sponsors who have made significant donations for our souvenir gift bags. Summit Racing, Performance Marketing Group, TMG Sports Marketing, ProCal, Cruisin Sports, Cagnazzi Racing and NHRA have all played a vital part in this team effort. Our objective is quite simple: tell the American troops how much we appreciate all the sacrifices they've made so that you and I can enjoy the many freedoms we have in America."
Landstuhl Regional Medical Center, located just 10 minutes from Ramstein Air Base, is the largest American hospital outside the United States and one of two special hospitals in Europe. There are specialists at LRMC in all areas of medical treatment, except for the rarest of cases, which are treated at Walter Reed Hospital in Washington, D.C. Ramstein Air Base is the headquarters for the American Air Force in Europe plus some NATO units.
The four NHRA competitors making the November trip to Germany are some of the most widely recognized names in NHRA POWERade drag racing. When asked by Simmonds (a former U.S. Army Captain) if they would be available for this special post-season project, each one enthusiastically accepted the invitation and the opportunity to visit the American troops.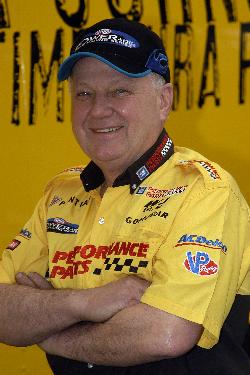 Warren Johnson
Six-time NHRA champion Warren Johnson (1992-93, 1995, 1998-99, 2001) drives the GM Performance Parts Pontiac GTO. Commonly referred to as "The Professor" of Pro Stock, the 62-year-old Johnson has surpassed numerous milestones during a career that spans from 1971 to 2005. In 477 career national events, the legendary racer, innovator and engine builder has captured 95 victories (second all-time to John Force's 119), 136 No. 1 qualifying awards, 818 round wins (.693), six U.S. Nationals crowns, made 148 final-round appearances, set low elapsed time of the meet 139 times and ran top speed at 204 events. Johnson was the first Pro Stock competitor to exceed the 180-mph barrier (1982), the 190-mph barrier (1986) and the 200-mph barrier (1997), and he has set the national speed record on 25 separate occasions and the national elapsed-time mark 11 times. Originally a native of northern Minnesota, Johnson now has WJ Enterprises which is based in Sugar Hill, Ga.
"To be selected from the drag racing fraternity and to represent our sport in showing our appreciation for what the troops have done in maintaining our freedom is definitely an honor," said Johnson. "I had one other overseas trip to Japan to represent drag racing in 1991, and that was certainly an honor, but this is even more so because if it weren't for the American soldier, first and foremost, we wouldn't be able to enjoy the freedom that we have in this country."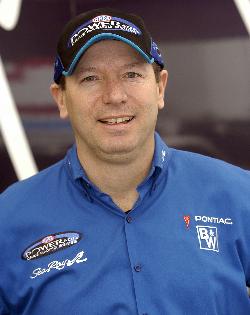 Jim Yates
Jim Yates drives the Sea Ray Boats Pontiac GTO and is a two-time NHRA champion winning back-to-back Pro Stock titles in 1996-97. In 333 career races spanning 17 years, the 52-year-old Virginia resident has captured 24 victories, advanced to 56 final rounds, earned 29 No. 1 qualifying awards and won 377 eliminator rounds (.593). Yates has finished second in the NHRA points standings three times, in the top five of the Pro Stock standings eight times and in the top 10 of the points standings 13 times. Yates best season was in 1997 when he won the points title, scored nine national-event victories, advanced to 12 final rounds, captured nine No. 1 qualifying awards and won 58 eliminator rounds (.817).
"I'm excited about going to Germany," said Yates. "I look at visiting with the men and women who have sacrificed everything for this country as a privilege. It means a lot to me to be able to give what support I can to some of the finest people our country has. Back here in the 'States' we're very fortunate to have the freedom to do what we do and to race all over the country. It makes you feel pretty good when you can say thank you and return a little something to those who make it all possible."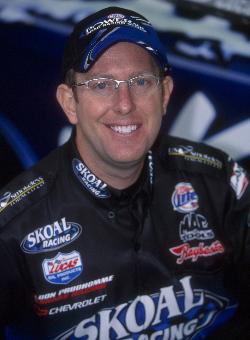 Tommy Johnson Jr.
Tommy Johnson Jr. is the driver of Don Prudhomme's Skoal Racing Chevy Monte Carlo Funny Car. At the age of 20, Johnson made his first start as a professional driver at the NHRA Nationals at Phoenix and captured his first career victory at Seattle in 1993 driving a Top Fuel Dragster. Johnson won his first Funny Car race at Reading in 1999 driving for Joe Gibbs and was hired by Don Prudhomme to drive the Skoal Racing Chevrolet in 2001. The 37-year-old Avon, Ind., resident has scored six career wins, raced in 18 final rounds, earned five No. 1 qualifying awards and notched eight top-10 finishes (five in Funny Car).
"Visiting the American troops at Landstuhl is something I've been looking forward to since Fred first approached us about it last spring," said Johnson. "Without a doubt, this is one of the biggest things I've ever been involved in my career. It's quite an honor to be a part of this support mission, to visit our troops that have given so much for this country, and I'm sure we'll also get a chance to talk a little racing while we're there. To all of the men and women at Landsthul, we'll be seeing you soon."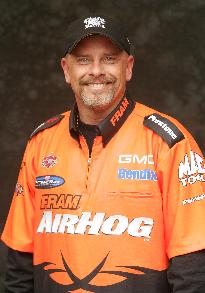 Cory McClenathan
Cory McClenathan drives the Carrier Boyz/Fram Air Hog Top Fuel dragster and has also accumulated an impressive record during his tenure as an NHRA competitor. McClenathan made his Top Fuel racing debut at the 1991 Winternationals in Pomona, Calif., and finished 10th in the points standings in his rookie campaign. In May 1992, McClenathan won his first national event at Memphis and ended the year second in the points standings, just 92 points out of first despite the fact he missed the NHRA Nationals in Montreal. In his 14 years as a Top Fuel driver (excluding 2001 when he entered just one event), the Southern California native has 28 wins, has raced in 47 final rounds and earned 29 No. 1 qualifying awards. The 42-year-old McClenathan has ended the season in second place three times (1992, 1995, 1997-98), twice in third place (1994, 1996), in the top five of the points standings eight times, and 14 times in the top 10.
"I think it's awesome that GM Racing and the USO have made it possible for us to visit the troops at Landstuhl," said McClenathan. "I can't think of a better way to end the season than to spend some time with the men and women that are keeping our country out of harm's way. They are keeping my family safe, and on a personal note, allowing me to do what I love best - race for a living. I can't wait to thank them in person."




NHRA: 10 Most Recent Entries [ top ]

Apr 19- HOUSTON - Friday Schedule
Apr 19- Tige Boats Named Presenting Sponsor of E3 Spark Plugs NHRA Pro Mod Drag Racing Series Portion of NHRA SpringNationals
Apr 19- HOUSTON - Previous Success, Early Win has Funny Car's Courtney Force Excited
Apr 18- Haney Headed for NHRA Pro Mod with Summit Racing on His Side
Apr 18- HOUSTON - Richie Crampton Enjoying Early-Season Success Heading to 31st Annual NHRA SpringNationals
Apr 18- 2018 Mustang Cobra Jet Celebrates 50th Anniversary of Racing Legend with Quickest
Apr 18- New Ford Mustang Funny Car Scheduled to Debut In 2019 NHRA Mello Yello Season Opener
Apr 16- HOUSTON - Fact Sheet
Apr 16- HOUSTON - After Early-Season Mishap Funny Car's Jonnie Lindberg Looks to Get On Track