Fri, 28 Oct 2005, 01:37 PM



The Man From Down Under



By Bob Frey


Photo copyright 2005 BME Photography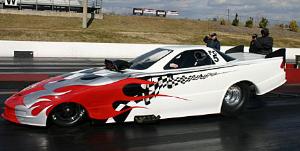 Jeff Burnett
A lot of Americans have gone to Australia to race. Mike Dunn, the ESPN analyst, still gets his annual nitro fix by going down to Australia every winter (our winter, not theirs) to drive a Top Fuel car. Gary Densham used to make regular pilgrimages there to do some match racing and pick up some money in the off season. Now that I think about it, wasn't it in Australia where Gary bailed out a down-on-his-luck racer by the name of John Force some years ago? And we all know how that ended up, don't we? Yes, the continent in the Pacific has provided a lot of American drag racers with some great racing moments and a lot of fond memories. But most of the guys who go down there to race come back home and that's why it's a bit of a surprise to find out that one of Australia's best drag racers came here and never returned to his native country. Jeff Burnett, now one of the top alcohol funny car racers in the Division 3 area, was among the best racers "down under" and he was also one of the best innovators and creators of parts for fuel burning race cars. "I came here about four years go," Jeff said. "I was making parts for cars down there and then I hooked up with (car and chassis builder) Murf McKinney and we went into the business of making funny car bodies. In order to make the business go I had to move here and I've been here ever since." And he's been making great parts for race cars ever since, too.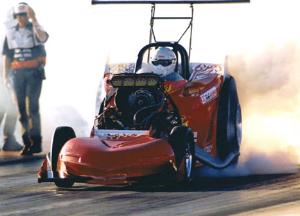 Burnett in his altered Down Under.
When Murf and Jeff first got together they were making Pontiac and Chevrolet bodies for funny cars and, after doing that for a few years, Jeff bought the entire operation from Murf. In addition to the bodies Jeff also was specializing in fuel injector units, spoilers for the Monte Carlo and Toyota Funny Cars and wings for the alcohol cars. "I started building the injectors while I was still in Australia and they were very well received by the racers. Today I'd have to say that the injectors and my wings are the biggest part of my business." Of course making good race car parts is one thing, but getting the top teams to run them is something else. "I've been knocking on the doors of the major teams for several years now and it's tough to get them to change but I think we're making progress." Some of that progress came a few weeks ago at a test session at Indianapolis Raceway Park when Jimmy Prock, the crew chief for Robert Hight, and one of the troika of crew chiefs for "Team Force," put one of Jeff's injectors on the car. "I guess my persistence finally paid off," Jeff said. "I've been talking to them for about three years and they finally put my product on their car. They liked the way it worked and how it responded right at the hit of the throttle and how consistent it was," Jeff said. "They've ordered a couple and I hope this will open the door to some other teams trying my injectors."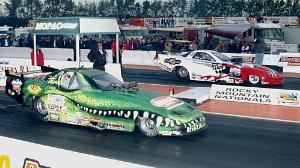 Edmonton Final, McMillen vs Burnett.
For those who are not familiar with Jeff Burnett's race car that may be because you haven't been to any IHRA races in the past few years. "I ran the IHRA races for a while and did pretty well. I won the Edmonton race last year but that was a long way from home," the Indiana resident said. "I decided that a good way to meet the racers and be with the guys who can use my products was to come over and race on the NHRA circuit and so I am now a member of the Division 3 contingent." Jeff didn't waste much time showing the NHRA teams what he could do on the track. He went to his first D-3 race at Indianapolis earlier this year and he made it to the final round before losing to Danny Townsend. Then, at the next race in Stanton, Michigan, he went one step further and won the race, reversing the Indy rolls and beating Townsend in the final round. "It's kind of a mixed feeling when I go to the races," he told me. "It's basically me and one other guy at the shop so when we're racing not a lot of work is getting done. But I have to be at the races to meet the potential customers and show them my products and tell them why they should be using them."
Before he came to the states Jeff was a very accomplished racer in his home country where he raced "just about anything that had wheels" and he was very successful. "We had a class that included the alcohol dragsters, funny cars and altereds and I had the first altered in that class that ran in the five-second zone. I set track records at virtually every track in the country." Today he races his alcohol funny car in one of the toughest divisions in the country and he says that it is a great way to meet other racers and promote his products. "Basically our main products are carbon fiber injectors and the spoilers that a lot of the fuel cars use. I like to think we make a product that is better than what the competition offers and that all of the top teams will use." He also makes a couple of specialty parts for some other racers like Competition Eliminator standout Brian Browell. "We made a wing with a neutral profile," he said. "The rules say that his car needs a wing but he didn't need a lot of the down force so we made one that basically offers no drag. It's pretty neat." And so are the other products that Jeff and his companies, Jeff Burnett Racing and Composite Specialties, Inc. manufacture. "We use a process that's called 'pre-preg' and it provides a better, stronger more resilient part for the race car. Right now one of the biggest segments of our business is in the Pro Mod class. These guys love our stuff and a big percentage of them are using it."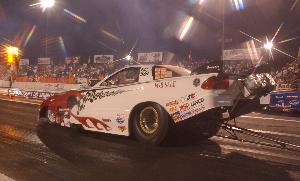 In addition to winning his first divisional race and participating at his first MAC Tools U.S. Nationals this year, Jeff Burnett has established personal bests numbers with a 5.706 at the Maple Grove national event and a strong 249.30 mph run at the Chicago race. He has also continued to make inroads with some of the top teams in the sport who are using his products. And if you happen to catch Jeff at the races, or now that he's done racing for the year, at his shop, feel free to ask him about his theories on racing, you'll find them very interesting, but whatever you do, don't ask him about the time he took a new body from his Indiana shop to Maple Grove, Pennsylvania for Jim Dunn, it just may change your whole opinion of this really bright man from down under!
To find out more about Jeff and his products go to www.compositespecialtiesinc.com.




NHRA: 10 Most Recent Entries [ top ]

Apr 23- HOUSTON - Lucas Oil Drag Racing Series Wrap Up The NHRA Lucas Oil Drag Racing Series Wrap Up
Apr 23- CHARLOTTE 1 - J.R. Todd Aiming for Two Four-Wide Racing Wins in 2018
Apr 23- Mid America Dragway Joins NHRA Member Track Network
Apr 23- HOUSTON - Special Awards
Apr 23- HOUSTON - Sunday Video
Apr 22- HOUSTON - Sunday Pro Mod Wrap Up