Tue, 25 Oct 2005, 11:39 PM



I Can't Believe That It's Come To This



By Bob Frey


Photo copyright 2005 Auto Imagery, Inc. & Robert Grice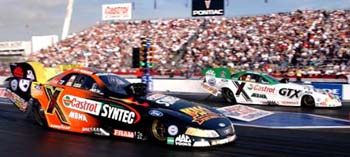 Pedregon vs Force at '02 Finals.
NHRA's 600
th
race surely was one of the best, wasn't it? Besides the fact that the race was conducted at
The Strip at Las Vegas Motor Speedway
, which has to be one of the best facilities ever, the performance of the cars, the outcome of the races and the domination by the
U.S. Army
car made it a great weekend for fans of drag racing all over the country. OK, so maybe the
John Force
fans weren't really excited about the event, but then they've had a lot to cheer about for the past decade and a half. Having said that, I don't think that anyone would be willing to bet against John,
Austin Coil, Bernie
Fedderly
and the rest of the
Castrol GTX Start-Up
team as we head into
Pomona
. The Funny Car championship certainly will get most of the attention next week and there are so many possibilities that it would almost be impossible to detail all of them. Let's just say that it's been a long while since the final race of the year was as important as it will be this year.
Did you know
that John Force won the championship in 2002 when he beat
Tony Pedregon
in the semi-finals at the last race of the year and that was the latest that John has ever clinched the title? Well, I have a feeling that if John wins it this year it may be a little later than the semi-finals. However it plays out, it should be one of the truly great weekends in
Pomona
next week.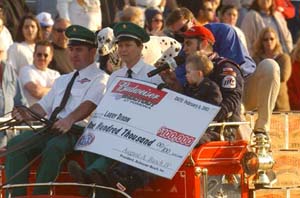 Dixon rides the Wagon in '03.
Tony Schumacher
has a pretty good race car, doesn't he? After winning the
Budweiser Shootout
for the first time the "Sarge" went out and won the race on Sunday to put his name in the record books again. A check of the history books may indicate that Tony is only the second driver to double-up, but in fact he is the third. Or maybe he's the fourth. Let me explain.
Joe Amato
won the Shootout on Saturday and then he won the
NHRA Finals
on Sunday in 1990.
Gary Scelzi
won the NHRA Finals in 2000 and he won the 2000 Shootout too, although he didn't win that until the Winternationals in 2001 because of a rain out at the initial race and, since he won the two races at different events, he wasn't credited with doubling-up.
Larry Dixon
won the 2002 Shootout which was contested at the 2003 Winternationals
which he also won. By then the rules had been clarified and Larry was given the double-up bonus. If you don't believe me, just visit his garage at home and you'll see that he still has the ceremonial check hanging up. Like I said, a quick glance at the record book may be a little confusing, but for the record, Tony is the third guy to get credit for a "double.".Since I mentioned Joe I should point out that when he won the race he also won the championship on Sunday in 1990 in what was the closest Top Fuel title race ever.
Did you know
that Joe wasn't crowned the champion until after he beat
Gary Ormsby
in the final round at that final race? I was there and I have to tell you that was, possibly, the single most exciting race that I have ever attended. Now we have the possibility of three drivers running for the title and you can only imagine what may happen. Anyway, the 1990 "Finals" will be a tough race to match for sheer drama and excitement but the 2005 version of the race will give it its best shot. By the way,
did you know
that Joe Amato could have lost that final round and still won the championship? A little thing like setting low elapsed time and the points that went with it could have propelled Joe to the title even if
Gary
beat him to the finish line. None of that mattered after Gary fouled out and,
just for the record, Joe did set low elapsed
Schumacher celebrates great weekend.
time in the final round and he won the championship going away.literally..With his win Tony joined
Scott Kalitta
and
Cory McClenathan
as the only drivers to win four consecutive Top Fuel races. He is still a couple of rounds shy of the record for the most round wins in a row but he'll have a shot at that next week.
Did you know
that the record is nineteen straight round wins in the TF class and Tony now has sixteen? So even though he has won the title, Tony still has something to shoot for at the last race of the year. Plus, don't be surprised if his crew chief,
Alan Johnson
, isn't trying some new things in order to get a running start on the '06 season. Tony also hit a little milestone in his career with his four round wins in Vegas.
Did you know
that Tony now has 302 round wins in his career? By comparison,
Larry Dixon
has 398 round wins, Cory McClenathan has 372,
Doug
Kalitta
has 272 and
Scott Kalitta
has 268.
..While the top spot is locked up there is still a battle for the second spot and for the fourth thru sixth spots in the
POWERade
standings. Larry Dixon
is currently in second and he is just six points ahead of Doug Kalitta who is in third.
David Grubnic, Doug Herbert
and
Morgan Lucas
all have a shot at finishing as high as fourth in the points depending on what happens in
Pomona
.
Did you
know
that Doug Kalitta has finished second in the past two seasons and that Doug Herbert has never finished as high in the points as he is right now?...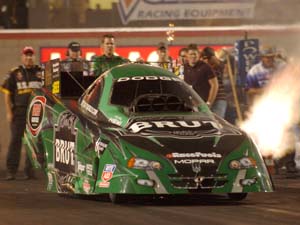 Ron Capps
That Funny Car deal will be decided in
Pomona
but your guess is as good as mine as to exactly when that will happen. Gary Scelzi and his
Oakley Dodge
lead
Ron Capps
and the
Brut
car by two scant points and Ron is twenty-six points up on John Force. With twenty points per round up for grabs and some valuable points available in qualifying every run by those three teams will be extremely important. When it's all over including the shouting, everyone will look back on certain moments during the season as potential turning points for each team. John's ten first round losses could turn out to be his downfall, while
Gary
will always think about that red light in
Dallas
and Ron will remember the
Bristol
race which had rain and only one round of qualifying. Ron was inserted into the field after that one round of qualifying based on his standing in the top ten but he didn't get any qualifying points for his effort. Of those ten first round losses that John has,
did you know
that Ron is the guy who beat him at three of those events
?...
Del Worsham
handed John his latest round one loss and it was the first time that
Del
has ever beaten John in an opening round encounter.
Did you know
that those two have raced each other fifty-eight times but that this was only the sixth time they've faced each other in round one? And if you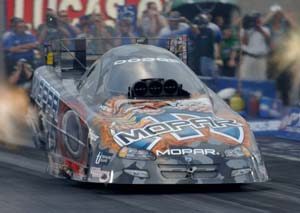 Gary Scelzi
were wondering when the last time John lost in round one at the final race of the year, well, you'd have to go all the way back to 1992 when
Gary Bolger
took him out in the opening stanza. Of course I find it a bit ironic that John is battling Ron Capps for the title for a couple of reasons.
Did you know
that John's first championship was won in 1990 and he didn't clinch that until the final race of the year? Of course you did. But
did you know
that the guy John beat for that title was
Ed McCulloch
? And
did you know
that
Bernie Fedderly
was Ed's crew chief? And in 1998 when John won the title,
did you know
that Ron Capps finished second that year? Of course you did. But
did you know
that John won the title with only three national event wins while Ron had five? And this year, just how many wins do
they
each have? You guessed it, John has five and Ron has three. Oh, by the way, Gary Scelzi also has three wins heading into
Pomona
..
Robert Hight
and
Eric Medlen
are nine points apart in the battle for fifth place in the standings.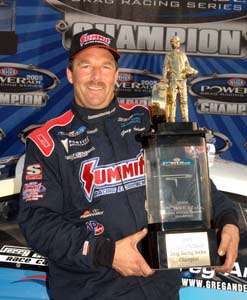 Greg Anderson
Greg Anderson
almost had a perfect weekend. He was awarded the championship and the big ceremonial check for locking up his third consecutive title, but he wasn't able to win the race like Tony did.
Kurt Johnson
was the last man standing in Pro Stock and what better place for the
AC Delco Chevrolet
to win than the AC Delco Nationals? Kurt now has four wins on the season, one more than his dad, Warren. With his win "KJ" all but locked up second place in the standings and, as a reward, he and his wife, Kathy, headed for a well earned vacation in
Hawaii
.
Did you know
that this will be the fourth time that Kurt has finished second in the standings
?.
.I always like to throw these little teasers out there because they always get so much reaction. With her performance lately, three semi-finals at the last three races, how about
Erica Enders
for "Rookie of the Year?" I have to think that Robert Hight is the odds on favorite but, if you read all of the criteria for the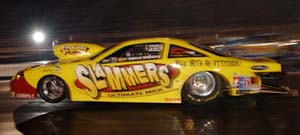 Erica Enders
selection, Erica isn't a bad choice. Not only is the on-track performance considered, but what the drivers have done for their class, how they have handled the fans and the media and how much positive exposure they have generated are all factors. Based on that, the driver of the
Slammers Ultimate Milk
car could rate strong consideration. Of course I know what will happen when the winner is announced. If it's Robert everyone will say that's because he is sponsored by the
Automobile Club of Southern
California
, the presenters of the award. If it's Erica, you'll hear that "it's because she is a girl" cry. Maybe I'll just vote for
Jack Beckman
and be done with it. Speaking of Jack, he stopped by the announcing booth over the weekend and he did a great job talking about the cars from both a mechanical and a driving point of view. If
Mike Dunn
ever gets that team of his together, I think I'll recommend Jack for the TV gig.



Ellis vs Sampey

Chip Ellis

is also on the roster for the Rookie of the Year and he didn't hurt his chances with his second win at the AC Delco event. Chip took the

G-

Squared,

S & S Buell

into the winner's circle after

Angelle Sampey

fouled away her chances in the final round. I still say that something has to be done in the bike class to eliminate the fouls.

Did you know

that there were five red lights in the motorcycle class and that there was exactly one in the other three classes combined? For the year there have been

forty-eights

fouls in the bike class and that's a bunch. Anyway, congrats to Chip and it was nice to see

Ken Johnson

at the track with the team, he is quite an inspiration to all of us.The point's leader,

Andrew Hines

, and the number two guy,

GT Tonglet

, both went out in the first round and that helped Angelle keep her slim title hopes alive. Of course the extra twenty points for a win would certainly have helped Angelle's chances. As it is, Andrew is forty-seven points up on GT who is another forty-five points ahead on the U.S. Army rider...I hope that

Karen Stoffer

is doing well after her bizarre accident in the pits after the race. From what I hear she is resting comfortable but, obviously, won't be able to race in

Pomona

. Our best go out to Karen and her husband, Gary, and we hope she makes a full and complete recovery..I was told this past weekend that two of the Pro Stock Motorcycle riders who are currently in the top ten in points are looking at switching classes next year. One may go to the Pro Stock car class while the other may be in a fuel car next year. Wonder who they could be?
Newberry celebrates win in Reynolds.
The Lucas Oil ranks got another couple of champions when
Bob Newberry
won the Division 2 race this past weekend and when
Jeff Taylor
locked up the Competition Eliminator crown. After starting out at Atco, and then deciding to go south when it rained in
New Jersey
, Bob won the Top Alcohol Funny Car class in
Georgia
and that locked out Frank Manzo and it also prevented
Steve Gasparrelli
from being able to win the title.
Taylor
won when his closest competitor,
Michael Stone
, lost in the first round of Comp in Vegas. Both Bob and Jeff will are multiple national championship winners..Speaking of multiple winners, how about that
David Rampy
? David won in both Comp and Stock in Vegas and became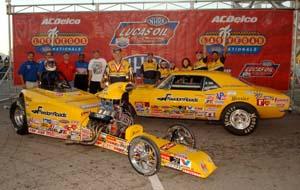 Rampy Doubled Up
only the fourth driver to win two classes at the same event more than once.
Pat Austin, Edmond Richardson
and
Jeff Taylor
also have "double-doubled." Pat was the first to do it and just where
do you
that he accomplished the feat. How about
Phoenix
'92. I knew that would be the answer to a question someday. Pat doubled in
Topeka
in 1991 and then repeated his feat at the
Arizona
race a year later..
Hugh Meeks III
gave his title hopes a huge shot in the arm when he won the D-2 race in
Georgia
. Hugh may have only one real serious threat right now and that's
Greg Luneack
who will have to have two very good races in the next two weeks if he hopes to catch and pass Hugh. Should be fun and the final championships should come into focus this week at the Division 7 bash in
Las Vegas
. See you there.




NHRA: 10 Most Recent Entries [ top ]

Apr 19- HOUSTON - Friday Schedule
Apr 19- Tige Boats Named Presenting Sponsor of E3 Spark Plugs NHRA Pro Mod Drag Racing Series Portion of NHRA SpringNationals
Apr 19- HOUSTON - Previous Success, Early Win has Funny Car's Courtney Force Excited
Apr 18- Haney Headed for NHRA Pro Mod with Summit Racing on His Side
Apr 18- HOUSTON - Richie Crampton Enjoying Early-Season Success Heading to 31st Annual NHRA SpringNationals
Apr 18- 2018 Mustang Cobra Jet Celebrates 50th Anniversary of Racing Legend with Quickest
Apr 18- New Ford Mustang Funny Car Scheduled to Debut In 2019 NHRA Mello Yello Season Opener
Apr 16- HOUSTON - Fact Sheet
Apr 16- HOUSTON - After Early-Season Mishap Funny Car's Jonnie Lindberg Looks to Get On Track