Tue, 25 Oct 2005, 11:29 AM



LaHaie to Retire Following 2005 NHRA Season



Courtesy of Ted Yerzyk


Photo copyright 2005 Auto Imagery, Inc.





Bender Tabbed to Replace LaHaie as Crew Chief on Miller Lite Dragster in 2006



VISTA, Calif. --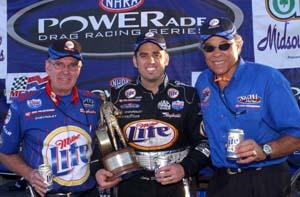 LaHaie, Dixon and Prudhomme
One of the more successful partnerships in NHRA drag racing will come to an end following the conclusion of the 2005 NHRA POWERade Drag Racing Series season, as five-time NHRA champion Dick LaHaie will retire as crew chief of the Larry Dixon-driven Miller Lite dragster, Don Prudhomme Racing announced today. Assistant crew chief Don Bender will take over the tuning responsibilities of the Miller-backed rail in 2006.
"To do this for as long as I have, you have to be addicted to this sport," LaHaie said. "I have no other explanation. It's in your blood. It's like the worst of drugs, but I've finally kicked the habit. Everything revolves around time. Whether it's getting the car down the race track or when you have to leave for the airport, it's all about time, and the time has come for me to do something else."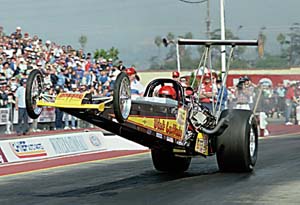 LaHaie at WinterNats.
LaHaie, 63, scored his first career victory at the 1980 Summernationals in Englishtown, N.J. He won five races en route to capturing the 1987 NHRA Top Fuel title, and collected 15 career Top Fuel victories before retiring from driving following the 1991 NHRA season. He scored his final win as a driver at Houston Raceway Park in 1990. After a year away from the track, LaHaie was hired by Kalitta Motorsports where he tuned Scott Kalitta to 13 victories and consecutive NHRA Top Fuel crowns (1994-95). He then tuned Doug Herbert's dragster for two seasons before joining Don Prudhomme Racing. LaHaie amasse! d 46 wins as a crew chief and totaled 61 career wins.
"I will absolutely miss it," LaHaie said. "Will I go through withdrawal? There's no doubt in my mind. This is like your extended family. I'll miss the closeness with the crew; it's going to be hard. The amount of people that have told me that they wished I wouldn't retire is overwhelming.
"I'm ok with my career. From winning at Englishtown in 1980 to ending my career by winning the U.S. Nationals, it's been pretty filling. I haven't won as much as some, but I've had a good life."
LaHaie, the only competitor to win a Top Fuel championship as both a driver and crew chief, joined the Snake Racing camp in September of 1999. The LaHaie/Dixon tandem scored the first of many wins that October (Houston Raceway Park). LaHaie helped Dixon to become the winningest active Top Fuel racer, calling the shots for 31 of Dixon's 38 career Top Fuel victories. The Miller Lite team has three wins in seven final round appearances this season, including the prestigious U.S. Nationals at Indianapolis.
"I'm disappointed he's retiring, but for selfish reasons," Dixon said. "We've done a lot together. He's spent his entire life in this sport. I love and care about Dick (LaHaie) and he deserves to enjoy the things in life away from the race track. I'm thrilled that he gets to do it on his terms. He's given so much to the sport and the Top Fuel class. I feel honored to have been able to race with him.
"He's brought up some very capable people in this sport, his daughter, Kim, the Oberhofer brothers (Jim and Jon) and Jimmy Prock," Dixon said. "I think Dick is very excited to see Donnie (Bender) get his shot. If he's half as good as Dicko, then we might just surprise a few people next year."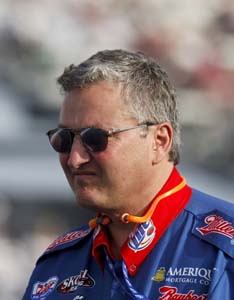 Donnie Bender
Prudhomme, who collected four consecutive NHRA Funny Car championships from 1975-78, earned his first championship as a team owner in 2002 when the LaHaie/Dixon combination combined for nine wins on the way towards claiming the 2002 NHRA Top Fuel championship. Dixon won eight races in 2003 en route to successive championships. Dixon's win at Las Vegas in April was team owner Don Prudhomme's 100th career victory.
"Dick (LaHaie) has contributed a ton to our race team and the sport of drag racing," Prudhomme said. "He's one of the best ever and it's very well deserved. It didn't come as a complete shock to me because I work closely with him and I see what he goes through. It's a grueling pace to run at this level, so I wasn't that surprised.
"Dick LaHaie is a class act. He's made sure that we're in good hands once he leaves with Donnie Bender taking over and John Collins working as his assistant. I'm sure he'll be there for those late night phone calls if we need to talk to him about the race car, and I'm sure he'll be calling us. He's got nitro in his veins. He'll miss it as much as we'll miss him."
Bender, 45, joined Don Prudhomme Racing in December 1999 and has served as LaHaie's assistant crew chief since the 2000 NHRA season. Prior to joining the Snake Racing stable, Bender, an Ohio native, spent 10 years at Kalitta Motorsports working with drivers Scott and Doug Kalitta. Bender got his start in the sport working on Jim Head's race team in the mid-1980s.
"When you get into the business, you work to get this opportunity," Bender said. "Needless to say, I'm very excited to have the chance to work with Larry (Dixon) and the team next year. I'm well aware that it's a performance-related job and I know that we have to produce positive results. I've learned a lot working with Dick (LaHaie) over the years, so hopefully I can use what I learned from him to help benefit our team."




NHRA: 10 Most Recent Entries [ top ]

Aug 19- BRAINERD - Top Fuel Final, Round 4 Eliminations
Aug 19- BRAINERD - Funny Car Final, Round 4 Eliminations
Aug 19- BRAINERD - Pro Stock Final, Round 4 Eliminations
Aug 19- BRAINERD - Pro Stock Motorcycle Final, Round 4 Eliminations
Aug 19- BRAINERD - Top Alcohol Dragster Final, Round 4 Eliminations
Aug 19- BRAINERD - Pro Stock Snowmobile Final, Round 3 Eliminations
Aug 19- BRAINERD - Top Alcohol Funny Car Final, Round 3 Eliminations
Aug 19- BRAINERD - Top Sportsman presented by RacingRVs.com Final, Round 5 Eliminations
Aug 19- BRAINERD - Super Gas Final, Round 6 Eliminations
Aug 19- BRAINERD - Top Dragster presented by RacingRVs.com Final, Round 5 Eliminations