Tue, 25 Oct 2005, 09:49 AM



Pontiac Wins Ninth NHRA Manufacturer's Cup



Courtesy of Jeff Romack


Photo copyright 2005 Auto Imagery, Inc.





Another Record Breaking Year For The Automobile Designed For Action



DETROIT --
Chalk up another record-breaking year on the drag strip for the automobile designed for action. In a memorable season that saw the exciting and highly competitive introduction of the GTO into NHRA Pro Stock competition, and a third consecutive POWERade Pro Stock driver's championship, Pontiac captured its third straight NHRA Manufacturer's Cup and its ninth NHRA crown since 1996.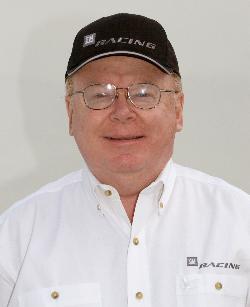 Fred Simmonds
"On behalf of everyone at Pontiac and GM Racing, I'd like to thank all the drivers, teams and crew members who made this NHRA Manufacturer's Cup possible," said Fred Simmonds, GM Racing, group manager drag racing. "It's been a long, successful season with many accomplishments to be proud of, and we appreciate all of the hard work that made Pontiac's ninth NHRA Manufacturer's Cup a reality."
The performance numbers tell an impressive story for Pontiac in 2005, and a review of this year's on-track statistics speaks volumes about the accomplishments of the NHRA's official car. Led by the triumvirate of Greg Anderson, Warren Johnson and Jason Line, Pontiac Pro Stock drivers have captured 15 victories (68.2%), advanced to 23 final rounds, earned 15 No. 1 qualifying awards, set low elapsed time of the meet at 16 races and top speed 15 times (through 22 of 23 races). The introduction in July of the GTO at the Mile-High Nationals at Denver only galvanized Pontiac's dominating on-track presence. In 10 races, the GTO has won 6 eliminators, advanced to nine final rounds and captured the raceday pole seven times.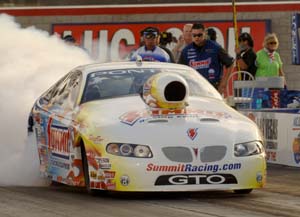 Greg Anderson
Greg Anderson became the first NHRA Pro Stock driver since Bob Glidden's run in 1985-89 to win three consecutive titles. The Summit Racing Pontiac GTO driver joins Glidden and Lee Shepherd as the only Pro Stock drivers who have captured three consecutive NHRA crowns. It was also Pontiac's eighth NHRA Pro Stock driver's title since 1996.
"My hat's off to my entire crew," said Anderson. "They have done this, it hasn't been me. I've just been one small part of the equation and they have done it. For them to make that car go fast time after time is just incredible."
Anderson blazed his way to the 2005 POWERade championship by winning eight national events, advancing to 10 final rounds and earning seven raceday pole awards. In March at the Mac Tools Gatornationals in Gainesville, Fla., the 2004 Driver of the Year drove his Pontiac to both ends of the national record (records he previously held) with a run of 6.633 seconds at 208.23 mph. Anderson also introduced the GTO into Pro Stock competition at the Mile-High Nationals in Denver and quickly showed the new car's potential by capturing the No. 1 qualifying spot and setting low elapsed time of the meet. Anderson also gave the GTO its first victory in NHRA Pro Stock competition on July 31 at the Fram/Autolite Nationals in Sonoma (Calif.) and he won his third straight U.S. Nationals in Indianapolis on Sept. 5.
"It took a couple races, but for the most part, this Pontiac GTO has been something special," said Anderson. "The GTO is by far the best racecar I've ever had - it's a dream to drive. My hat goes to all of the engineers at GM Racing who created such an outstanding racecar. It's definitely the car of the future in NHRA Pro Stock competition."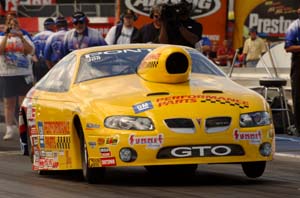 Warren Johnson
It didn't take long for Warren Johnson to return to the winner's circle in 2005. After advancing to the final round at the season-opening Winternationals in Pomona, Calif. the Professor of Pro Stock ran the table at Houston in early April with a dominating performance. Johnson drove the GM Performance Parts Pontiac to his 93rd career victory, captured his 131st No. 1 qualifying award and ran low E.T. and top speed of the meet. After months of fastidious engine development work by WJ Enterprises, the Houston win also gave the new GM DRCE3 powerplant its first victory in NHRA Pro Stock competition.
"There's so much work involved in these cars right now that I'm at the shop usually around 6:00 in the morning to about 9:00 or 10:00 at night, and that's seven days a week," said Johnson. "That pace gets a little tiring after awhile, but at the same time I'm still having fun doing what I'm doing, so I'm not complaining about it - it just goes with the territory."
Johnson's Pontiac continued on its torrid pace throughout the rest of '05 winning three national events, advancing to five final rounds and posting six No. 1 qualifying awards. The Professor's most recent pole award came at Brainerd (Minn.) on Aug. 13, the same weekend in which he debuted his new GTO and ran low E.T. and top speed of the meet.
"The GTO is definitely more stable down track," said Johnson. "The aero package is basically identical to the Cutlass as far as front and rear numbers, which was really a car ahead of its time as far as a racecar envelope was concerned. The GTO has the same numbers, but it has a smaller frontal area and therefore it takes less horsepower to push it through the air. The GTO has tremendous stability, and in my estimation, it is the best car out here right now.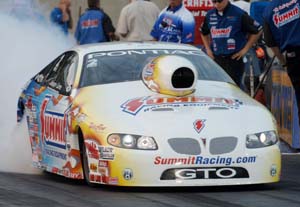 Jason Line
After winning Rookie of the Year honors in 2004, Jason Line didn't let the usual talk of a "sophomore jinx" affect his on-track performance this year. In 2005, the 36-year-old Line has driven his Summit Racing Pontiac to four national-event victories (Gainesville, Chicago 1, Englishtown, Chicago 3), seven final-round appearances, one No. 1 qualifying award and his second top-five finish. Line posted the top speed of the meet twice this year and his 208.17 mph at Chicago is the fastest run recorded so far by a driver in a Pontiac GTO Pro Stock Car.
"Count me as a believer," said Line. "The GTO is the best racecar in the NHRA POWERade series right now and certainly lives up to its heritage as a performance icon. The more time we have to work with the car, the GTO will only get better and better. Next season should be a lot of fun."
Pontiac is the Official Car of the National Hot Rod Association and the title sponsor of the 42nd annual Pontiac Performance Nationals at National Trail Raceway in Columbus, Ohio on May 18 - 21, 2006.




NHRA: 10 Most Recent Entries [ top ]

Mar 22- LAS VEGAS 1 - Defending Funny Car Winner Tommy Johnson Jr. Excited for Four-Wide Racing
Mar 22- NHRA Northwest Nationals Tickets on Sale Now
Mar 21- LAS VEGAS 1 - Fact Sheet
Mar 21- LAS VEGAS 1 - Event Preview
Mar 20- Strong Stable of Contending Pro Stock Racers Vie for Final Starting Position for K&N Horsepower Challenge
Mar 20- GAINESVILLE - Special Awards
Mar 20- GAINESVILLE - Lucas Oil Drag Racing Series Wrap Up
Mar 19- GAINESVILLE - Sunday Video
Mar 18- GAINESVILLE - Pro Mod Sunday Wrap Up
Mar 18- GAINESVILLE - Sunday Wrap Up