Sun, 23 Oct 2005, 10:01 PM



Schumacher has Dominating Weekend in Las Vegas Sweep



Courtesy of NHRA Communications


Photo copyright 2005 Auto Imagery, Inc.





Scelzi Moves into POWERade Series Points Lead in Funny Car



LAS VEGAS --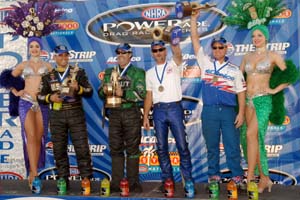 Schumacher, Capps, Ellis and Johnson
Tony Schumacher completed a dominating weekend at The Strip at Las Vegas Motor Speedway by racing to the Top Fuel victory Sunday at the ACDelco Las Vegas NHRA Nationals.
Ron Capps, Kurt Johnson and Chip Ellis also were winners at the $1.8 million race, the 22nd of 23 events in the $50 million NHRA POWERade Drag Racing Series.
The newly crowned Top Fuel world champion won more than $200,000 for the weekend, including today's final which paid more than $50,000 including contingency, the $100,000 Budweiser Shootout on Saturday and a $50,000 bonus from NHRA for sweeping both events.
In the process, Schumacher tied NHRA Top Fuel season records for consecutive victories (4) and consecutive final rounds (6). It was Schumacher's eighth victory of the season and the 29th of his career.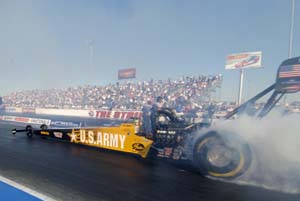 Tony Schumacher
Schumacher drove his U.S. Army dragster to a 4.486 second run at 327.19 mph to hold off final round opponent Dave Grubnic, who clocked a 4.587 at 324.28 in his StriVectin-SD dragster. In earlier rounds he beat Clay Millican, Brandon Bernstein and Doug Herbert.
"Getting four wins in a row, winning the Bud Shootout, all the other stuff, it starts to blow you away," said Schumacher, who on Friday secured his third world championship title, worth $400,000. "A season is defined by little moments and we had our struggles early on. But starting at Denver we really turned a corner. It's all credit to Alan (Johnson, crew chief). He's so good and this team is just great. It was an unbelievable weekend for Schumacher Racing."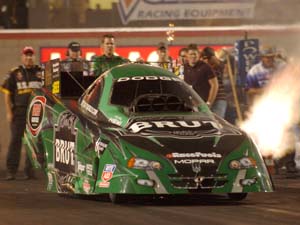 Ron Capps
Capps scored the Funny Car victory in a Schumacher-owned Brut Dodge Stratus by outrunning teammate Gary Scelzi in the final-round. Capps clocked a 4.780 at 325.69 to hold off Scelzi's charging Mopar/Oakley Stratus, which posted a 4.819 at 324.51.
With the runner-up finish, Scelzi moved into the series points lead in what is setting up to be the closest Funny Car points finish in NHRA history. With the victory Capps cut Scelzi's lead to two points with one race remaining. John Force, the defending and 13-time world champion is in third, 28 points back. It was Capps' third victory of the season and the 17th of his career.
"Athletes always talk about peaking at the right time, and that's what we're doing," said Capps, who defeated Tim Wilkerson, Mike Ashley and Tony Bartone in the first three rounds. "I'm still in awe. This has been an enjoyable ride and I feel really good going into Pomona. We've got a really fast hot rod right now and I'm looking forward to the battle. I've got that gut-ache, like Force is always talking about, and that's just the way it is. It is going to be an exciting finish for the fans."
Capps has finished second in the points order two times in his career. Three-time Top Fuel world champion Scelzi is trying to join Kenny Bernstein as the only drivers in NHRA history to win world championship titles in both nitro categories.
"We needed to make a move at this race and we were able to do it, and just about pulled off the perfect weekend," Scelzi said. "Pomona is going to be a lot of fun to watch for the fans, but it's going to be a fight. You can't forget about Force, because he's really steamed right now and you can never count that team out. It's going to be such an exciting finish and all three of us want it really bad."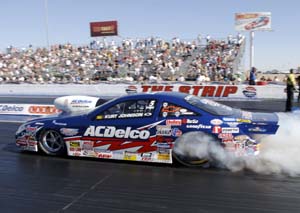 Kurt Johnson
Johnson powered his ACDelco Chevy Cobalt to the Pro Stock victory over the newly crowned series champion Greg Anderson. Johnson used a holeshot start and posted a 6.839 at 202.27 to defeat Anderson's quicker Summit Racing Equipment Pontiac GTO, which clocked a 6.821 at 202.27. It was Johnson's first win at The Strip in four final round appearances, his fourth of the season and 32nd of his career.
"We've been to the finals a few times here and it always seems to be Greg in the other lane," said Johnson, who earned early round wins over Bob Panella, Jeg Coughlin and Erica Enders. "We always race hard and it seems like (the race) is always decided by a few thousandths (of a second). It just seems like he's always on the good end of that. But this is Vegas and your luck is bound to change and today it did.
"It just feels really good to finally win this race for my sponsor, ACDelco."
Ellis was the automatic Pro Stock Motorcycle winner on his G-Squared/S&S Buell when Angelle Sampey fouled at the start on her U.S. Army Suzuki. In a rematch of the '04 final here, it was Ellis' second consecutive victory at this event and third of his career.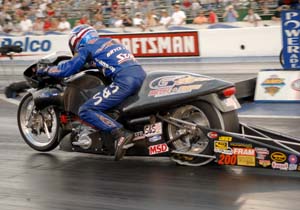 Chip Ellis
"I don't know what it is about this track," said Ellis, who defeated Matt Guidera, Matt Smith and Tom Bradford to advance to the final. "I've raced a bunch of different bikes here in different series but I think every time I've come here no matter what I'm riding I've either won or was runner-up. This win is very special to me because I am dedicating this win to my four-year-old daughter (McKenzie) who is celebrating a birthday today."
Defending series champ Andrew Hines lost in the first round and will bring a 47-point lead over his Screamin' Eagle Vance & Hines Harley-Davidson teammate GT Tonglet into the final race.
The NHRA POWERade Drag Racing Series continues with the Automobile Club of Southern California NHRA Finals, Nov. 3-6, at historic Pomona Raceway in Southern California.
Sunday's final results from the Fifth annual ACDelco Las Vegas NHRA Nationals at The Strip at Las Vegas Motor Speedway. The $1.8 million race is the 22nd of 23 in the $50 million NHRA POWERade Drag Racing Series.
Top Fuel -- Tony Schumacher, 4.486 seconds, 327.19 mph def. David Grubnic, 4.587 seconds, 324.28 mph.
Funny Car -- Ron Capps, Dodge Stratus, 4.780, 325.69 def. Gary Scelzi, Stratus, 4.819, 324.51.
Pro Stock -- Kurt Johnson, Chevy Cobalt, 6.839, 202.27 def. Greg Anderson, Pontiac GTO, 6.821, 202.27.
Pro Stock Motorcycle -- Chip Ellis, Buell, 7.243, 187.63 def. Angelle Sampey, Suzuki, foul.
Competition Eliminator -- David Rampy, Roaster, 7.402, 178.21 def. Bo Butner III, Chevy Cavalier, 8.743, 154.26.
Stock Eliminator -- David Rampy, Chevy Camaro, 11.500, 112.18 def. Don Wann, Plymouth Satellite, 11.737, 112.07.
Super Comp -- Matt Constant, Dragster, 9.046, 163.91 def. Jason Kenny, Dragster, 9.042, 168.28.
Super Gas -- Robert Coleman, '27-T Ford, 10.251, 119.25 def. Jon Brazeau, Chevy Corvette, foul.




NHRA: 10 Most Recent Entries [ top ]

Apr 19- HOUSTON - Friday Schedule
Apr 19- Tige Boats Named Presenting Sponsor of E3 Spark Plugs NHRA Pro Mod Drag Racing Series Portion of NHRA SpringNationals
Apr 19- HOUSTON - Previous Success, Early Win has Funny Car's Courtney Force Excited
Apr 18- Haney Headed for NHRA Pro Mod with Summit Racing on His Side
Apr 18- HOUSTON - Richie Crampton Enjoying Early-Season Success Heading to 31st Annual NHRA SpringNationals
Apr 18- 2018 Mustang Cobra Jet Celebrates 50th Anniversary of Racing Legend with Quickest
Apr 18- New Ford Mustang Funny Car Scheduled to Debut In 2019 NHRA Mello Yello Season Opener
Apr 16- HOUSTON - Fact Sheet
Apr 16- HOUSTON - After Early-Season Mishap Funny Car's Jonnie Lindberg Looks to Get On Track