Sun, 23 Oct 2005, 12:17 AM



Schumacher Races to Budweiser Shootout Victory and Anderson Clinches Third POWERade Series World Title



Courtesy of NHRA Communications


Photo copyright 2005 Auto Imagery, Inc.





LAS VEGAS --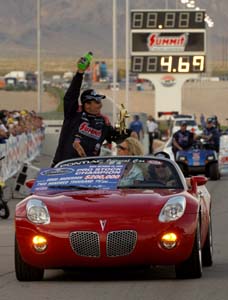 Anderson celebrates championship.
Tony Schumacher raced to the Budweiser Shootout victory and Greg Anderson claimed his third consecutive Pro Stock world championship title Saturday at the ACDelco Las Vegas NHRA Nationals at The Strip at Las Vegas Motor Speedway.
Morgan Lucas, Gary Scelzi, Anderson and Ryan Schnitz will lead their respective pro categories into Sunday's 11 a.m. eliminations as the top qualifiers of the $1.8 million race, the 22nd of 23 events in the $50 million NHRA POWERade Drag Racing Series.
Schumacher's stellar season continued as he raced to the $100,000 Budweiser Shootout victory with a 4.572-second run at 326.95 mph in his U.S. Army dragster and defeated Scott Kalitta in a photo-finish, who posted a 4.593 at 321.81 in his Mac Tools/Jesse James dragster. The lucrative bonus race is contested annually for the season's eight-quickest Top Fuel drivers.
Schumacher wins Budweiser Shootout.
"Man, that was intense," said Schumacher, who at the start of the final-round run was on and off the throttle in the first 60-feet and managed to slip past Kalitta's charging dragster by seven-inches at the finish line. "I didn't expect that I would have to pedal it right there, but I didn't want to give up that $100,000 without fighting for it. I wish everyone could experience that rush because then they'd know why we do what we do. It's just great to win the Budweiser Shootout and get $100,000, 50 cases of beer, and a ride with the Clydesdales."
If Schumacher can win tomorrow he could earn nearly $200,000 for the race, which includes a $50,000 bonus from NHRA for sweeping the weekend. On Friday Schumacher clinched his third POWERade Series world championship, worth $400,000.
Anderson claimed his third consecutive Pro Stock world championship by qualifying No. 1 and mathematically eliminating second place driver Kurt Johnson. Anderson raced to a performance of 6.818 at 201.97 in his Summit Racing Pontiac GTO to secure his seventh No. 1 qualifying effort of the season and the 40th of his career.
"This weekend just keeps getting better and better and we'd love to get through the field tomorrow and cap it off in style," Anderson said. "It feels great to clinch the championship here in front of (team owner) Ken Black's hometown fans. I love this place and I consider Las Vegas to be my home track.. It has been very good to me."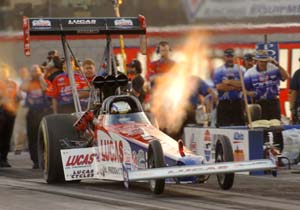 Morgan Lucas
Lucas claimed his second No. 1 position of the season in Top Fuel, posting a 4.508 at 322.88 in his Lucas Oil dragster.
"The conditions were better tonight so we were able to pick up a little bit," Lucas said. "Jim (Dupuy, crew chief) has a real good handle on this car right now and it says a lot about his ability and what kind of a guy he is. I am not sure if the fans were cheering for me or Schumacher there but we really enjoyed that ride back down the return road and soaked it all in."
POWERade championship contender Scelzi drove his Mopar/Oakley Dodge Stratus to a track record run of 4.746 at 327.90 to lead the quickest Funny Car field in NHRA history. It was Scelzi's fifth No. 1 of the season and the 41st of his career. Following qualifying, Scelzi trails 13-time champ John Force by 32 points in the closest Funny Car points race in NHRA history.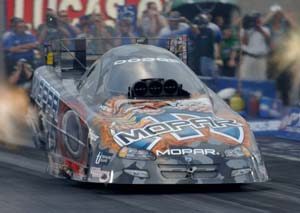 Gary Scelzi
"Running late tonight gave us a chance to run in perfect conditions," Scelzi said. "I know we won't have conditions like this tomorrow but we did learn that this racetrack can hold a lot more than we've been giving it."
Scelzi's closest competition for the season championship also posted top-five qualifying performances. Ron Capps qualified second with a 4.754 at 326.71 in the Brut Dodge Stratus and Force powered his Castrol GTX Start Up Ford Mustang to a 4.766 at 317.57.
"This is a must-win race," said Scelzi, a three-time Top Fuel world champion. "Then we've got to go to Pomona (Calif.) and win there. The games are over. We need to do our thing and get it done and let everyone else worry about us."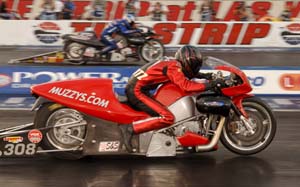 Ryan Schnitz
It was the first No. 1 qualifying performance of Schnitz's career. He rode his Muzzy.com Buell to a leading time of 7.205 at 183.67 in Pro Stock Motorcycle.
"I really wasn't expecting to hang onto (the top position) today," Schnitz said. "We knew Andrew (Hines) was going to make a big run at us and he did. I think it was just a little bit warmer and everyone couldn't quite match what we were able to do yesterday. I've been around long enough now that I know how hard it is to be No. 1 so I think I'll really be able to enjoy this."




NHRA: 10 Most Recent Entries [ top ]

Apr 21- HOUSTON - Sunday Schedule
Apr 21- HOUSTON - Saturday Video
Apr 21- HOUSTON - Saturday Wrap Up
Apr 21- HOUSTON - Super Stock Class Eliminations Finals
Apr 21- HOUSTON - Funny Car Qualifying, Session #4 Bonus Points
Apr 21- HOUSTON - Total Qualifying Bonus Points
Apr 21- HOUSTON - Funny Car Eliminations Ladder
Apr 21- HOUSTON - Funny Car Final Qualifying, Session #4 Order
Apr 21- HOUSTON - Top Fuel Qualifying, Session #4 Bonus Points
Apr 21- HOUSTON - Pro Stock Qualifying, Session #4 Bonus Points