Sat, 22 Oct 2005, 11:27 PM



Anderson Clinches Third Straight POWERade Series World Championship



Courtesy of NHRA Communications


Photo copyright 2005 Auto Imagery, Inc.





LAS VEGAS --
Greg Anderson clinched his third consecutive POWERade Series world championship in Pro Stock Saturday by qualifying No. 1 at the ACDelco Las Vegas NHRA Nationals at The Strip at Las Vegas Motor Speedway.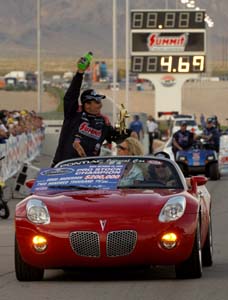 Anderson celebrates championship.
Anderson, 44, needed to earn at least 33 points at this event to mathematically eliminate all opponents and clinch the world championship. Anderson earned $200,000 from NHRA and POWERade for winning the series crown.
"My hat's off to my entire crew," said Anderson, who drives the Summit Racing Pontiac GTO owned by Las Vegas businessman Ken Black. "They have done this, it hasn't been me. I've just been one small part of the equation and they have done it. For them to make that car go fast time after time is just incredible. I can't say enough about them, they are the greatest. They are the three-time defending POWERade champions. I couldn't dream of having a better group of guys working for me and doing all they can, giving up their personal lives for me. I'm a lucky man because of that."
After winning an NHRA-record 15 events en route to the 2004 world championship and the Speed Channel Driver of the Year Award, Anderson found increased competition in 2005.
In fact, he was downright human in the first quarter of the season with no wins and two first-round exits, including one at the hands of Richie Stevens at Bristol, Tenn. that left him in fourth place in the POWERade Series standings (171 points behind Warren Johnson).
"The first part of the season was poor by our standards," said Anderson, a native of Duluth, Minn., who currently resides and maintains his shop just outside Charlotte, N.C. "But just when everyone started thinking this wasn't going to be our year and that the chase was wide open, our guys dug down deep and found another level. The fact we've won this trophy tells you all you need to know about this group."
Things took a sudden turn for the better for Anderson at Atlanta where he found the winner's circle for the first time in 2005. He followed that victory with wins at Columbus and Topeka, Kan. to re-insert himself into the world championship race rather emphatically.
A semifinal loss to Jeg Coughlin one event later at Chicago in June was enough to give Anderson his first points lead of the season.
He and his old boss, Warren Johnson, traded places atop the Pro Stock standings three more times over the next three events before Anderson took the lead for good with his win at Sonoma, Calif.
It began a stretch of five wins in seven races that increased his lead to 244 points entering the ACDelco Las Vegas Nationals.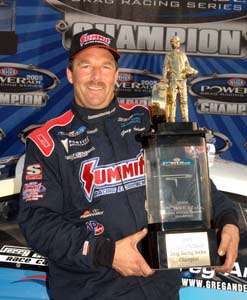 Anderson with his championship trophy.
"This feels great," Anderson said, "especially since we got to do it here in Las Vegas where Ken and his family live. We absolutely, positively would not be standing here today without his support and it's so fitting to give him his third championship trophy here."
In 21 races entering Las Vegas, Anderson has eight wins in 10 final round appearances. He also has been the No. 1 qualifier seven times, recorded the low elapsed time eight times, and he has recorded the three quickest runs in NHRA Pro Stock history: 6.633 seconds (Gainesville, March 2005), 6.646 seconds (Chicago, Sept. 2005) and 6.649 seconds (Gainesville, March 2005).
Anderson, who broke into the sport as a crew member for the late John Hagen in the early 1980s, was hired by Warren Johnson in 1985 and worked there as crew chief for 12 years where he helped Johnson win multiple NHRA POWERade world championships. He started his driving career in 1998 on a limited schedule. He moved into the cockpit full-time in 2001 and won his first national event. In 2002 he finished third in the POWERade Series world championship chase and claimed his first POWERade Series crown in 2003 during what many called the greatest Pro Stock season in NHRA history. That was until his 2004 campaign.
By winning the crown in 2005, Anderson joins NHRA greats Bob Glidden (10), Warren Johnson (6), the late Lee Shepherd (4) and Darrell Alderman (3) as the only Pro Stock drivers to win three or more world championship titles. He is only the third driver in the 200 mph category to win three consecutive titles, joining Glidden and Shepherd.
"All along through this incredible run we've been asking if we do belong among the best of the best," Anderson said. "But when you have a team that is as well-rounded and adaptable to change as this group, and you see their ability to stay at the top for so long, you realize how special this time is for all of us. We do belong, and we don't plan on giving in any time soon."




NHRA: 10 Most Recent Entries [ top ]

Apr 18- Haney Headed for NHRA Pro Mod with Summit Racing on His Side
Apr 18- HOUSTON - Richie Crampton Enjoying Early-Season Success Heading to 31st Annual NHRA SpringNationals
Apr 18- 2018 Mustang Cobra Jet Celebrates 50th Anniversary of Racing Legend with Quickest
Apr 18- New Ford Mustang Funny Car Scheduled to Debut In 2019 NHRA Mello Yello Season Opener
Apr 16- HOUSTON - Fact Sheet
Apr 16- HOUSTON - After Early-Season Mishap Funny Car's Jonnie Lindberg Looks to Get On Track