Sat, 22 Oct 2005, 02:51 PM



Budweiser Shootout Field Set During Draw Party



Courtesy of NHRA Communications


Photo copyright 2005 Auto Imagery, Inc.





LAS VEGAS --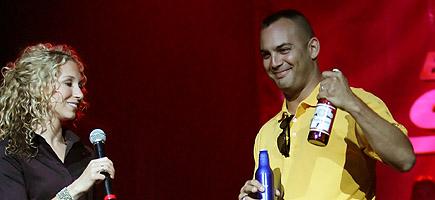 Schumacher, number one qualifier.
The eight-car field for the lucrative Budweiser Shootout was set on Thursday evening during a draw party at The Joint in the Hard Rock Hotel and Casino. Defending Budweiser Shootout champion Dave Grubnic, who drives the Zantrex-3 dragster owned by NHRA legend Connie Kalitta, was the lucky No. 8 wild card spot winner among the eight Top Fuel drivers eligible for the position.
The Budweiser Shootout, a special race-within-a-race bonus event that pays the winner $100,000 is contested annually during the ACDelco Las Vegas NHRA Nationals at The Strip at Las Vegas Motor Speedway. The first-round begins at 1:30 p.m. Saturday, with subsequent rounds to follow at 3:15 p.m. and 4:50 p.m.
Grubnic will face Budweiser Shootout No. 1 qualifier Tony Schumacher in the opening round. Schumacher, who raced to a record 10 No. 1 qualifying positions during the season in his U.S. Army dragster to claim the top spot, is looking for his first Shootout victory. It is the second year for the new qualifying format and the second time that the original No. 8 qualifier for the Budweiser Shootout gained entry to the bonus event via the wild card position. Last year Larry Dixon earned the wild card spot and went on to post a runner-up finish.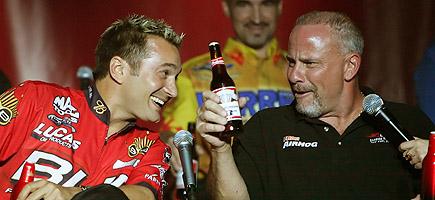 Bernstein and Cory Mac.
Qualified drivers in positions 2-7 participated in wild card drawings to determine their first-round pairings. The results of those random drawings included: Morgan Lucas vs. Scott Kalitta; Cory McClenathan vs. Brandon Bernstein; and Doug Kalitta vs. Dixon.
If a driver wins the Budweiser Shootout and the ACDelco Las Vegas NHRA Nationals, he will earn a $50,000 double-up bonus from NHRA, bringing his potential winnings for the weekend to nearly $200,000.
Budweiser Shootout first-round pairings, based on results of wild card drawings:


1. Tony Schumacher, U.S. Army dragster  vs.  
8. Dave Grubnic, Zantrex-3 dragster

4. Doug Kalitta, Mac Tools dragster  vs.
5. Larry Dixon, Miller Lite dragster

3. Cory McClenathan, FRAM AirHog dragster  vs.
6. Brandon Bernstein, Budweiser/Lucas Oil dragster

2. Morgan Lucas, Lucas Oil dragster  vs.
7. Scott Kalitta, Mac Tools/Jesse James dragster

Second round:
Schumacher-Grubnic winner vs. D. Kalitta-Dixon winner
McClenathan-Bernstein winner vs. Lucas-S. Kalitta winner

Final-round: 4:50 p.m.





NHRA: 10 Most Recent Entries [ top ]

Mar 22- LAS VEGAS 1 - Defending Funny Car Winner Tommy Johnson Jr. Excited for Four-Wide Racing
Mar 22- NHRA Northwest Nationals Tickets on Sale Now
Mar 21- LAS VEGAS 1 - Fact Sheet
Mar 21- LAS VEGAS 1 - Event Preview
Mar 20- Strong Stable of Contending Pro Stock Racers Vie for Final Starting Position for K&N Horsepower Challenge
Mar 20- GAINESVILLE - Special Awards
Mar 20- GAINESVILLE - Lucas Oil Drag Racing Series Wrap Up
Mar 19- GAINESVILLE - Sunday Video
Mar 18- GAINESVILLE - Pro Mod Sunday Wrap Up
Mar 18- GAINESVILLE - Sunday Wrap Up